---
Winter is on it's way so remember to order your IG clothes (and collars!) from Helen Lister, an English IG breeder of Cruft's winners (who I have known from our first IG over 20 years ago, so I can recommend her things. Explore:
http://www.togsfordogs.net/
---
August the 21st
and another lovely coursing day. Dull and cloudy but just right for the dogs to run. Dasher enjoyed greeting everyone and ran well although he left the hare to come to me, regretted this and ran back to the hare!!! Oh well, he's just a beginner! Santi on the other hand, sized up the field in seconds, he KNOWS the hare won't dash into trees but will turn, so he shot straight across to cut it off, whilst poor Dasher faithfully followed it round! See us all here:
www.youtube.com/watch?v=O9ShTo_ogJw
There was a very attractive Whippet puppy of only 12 weeks who came to watch the coursing! Dasher (and everyone else) loved him!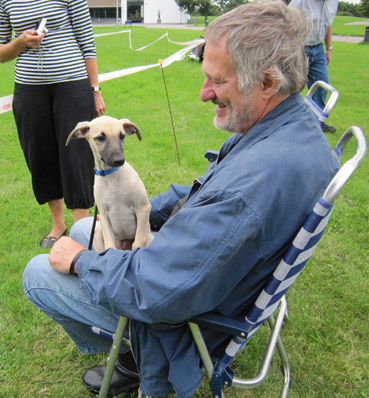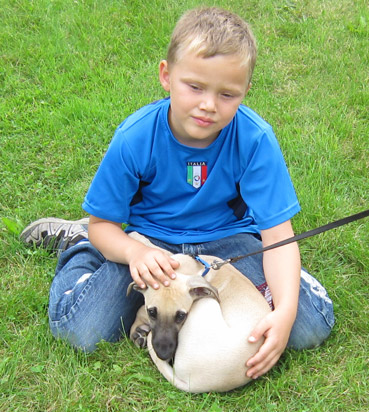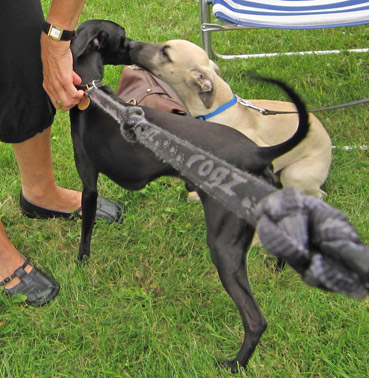 (Hvis ejerne af hvalpen ser disse fotos, kan I kontakt mig så jeg kan sende store filer lige til at printe ud, hvis I vil?)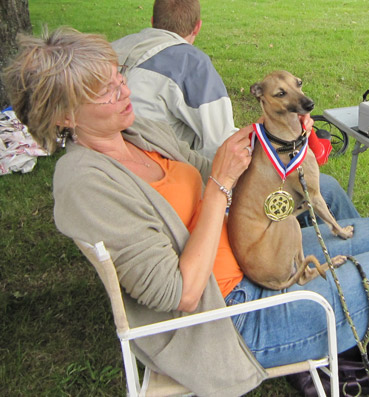 Show and Lure coursing Champion "Santi" shows off his latest medal from the European Championships, won in Chardonnay in France in July where has was 3rd best!

---
August 11th 2010

Dasher and Timmi relax lying behind me on the guest bed! Timmi was 8 years old on the 7th of August and as beautiful as ever!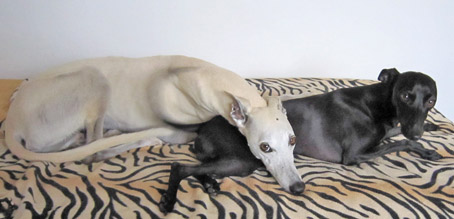 August 5th 2010
Nothing whatsoever to do with Dasher or dogs, but we went to Næstved Familie Zoo to meet Craig Busch "The Lion Man" known all over the world from his tv series about his big cats and he has "a way with them"and a natural talent that is wonderful to see. He lives in New Zealand and founded "Zion Wild Life Park", but a series of financial and personal crisis have gone all wrong for him, so he is no longer in charge there, but he owns the animals and wants to come back and continue his work for theses threatened species.
Visit his site and help him if you can, these animals are all threatened - by stupid mankind! See my video taken yesterday evening at Næstved Family Zoo (a great place for children, as they can go in to many of the animals), where he "excites" the tigers and they have to work for their food! The huge male is the only white tiger in Scandinavia, (they are very rare) and his mate is very light coloured so they think she carries the gene for white tigers. She is due to give birth in a few weeks - although one can see nothing, they are hoping. So keep an eye on their site too, there are links to them from the YouTube video:
www.youtube.com/watch?v=VZ95zjYvQlk
---
August 4th 2010
Dasher LOVES laser lights that he can run after! Never gets tired of it, even tho' there is nothing to catch. Our son has given us an extra strong laser bought in Thailand that almost is strong enough for sunlight. After two mornings of dull weather and Dasher enjoying a good run around the garden after this new light, this morning was too sunny for it. But he REFUSED to come in, he just sat demonstrativly in the grass and demanding his "go" with the light! So I fetched it with a sigh and by showing it to him in my shadow, I got him to run, but not far as he really couldn't see what he was running after! (When it is gloomy weather, the light is perfectly clear anywhere in the garden.)
Here he is: www.youtube.com/watch?v=zi8gbVkYCiA
The 3rd of August:
Just had three days of intensive grandchild entertainment, (it goes both ways!) and Dasher is SO sorry that he's gone home now. They had lots of fun together. Of course, sitting in his cage appears to be a "must" for all children!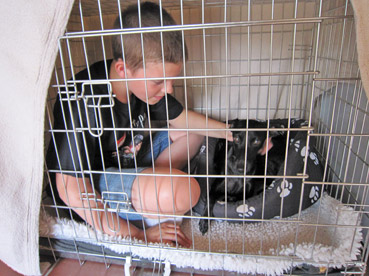 Below: Can I come in too?....yes! Two dogs and one "big for his age" child of ten in one cage - amazing!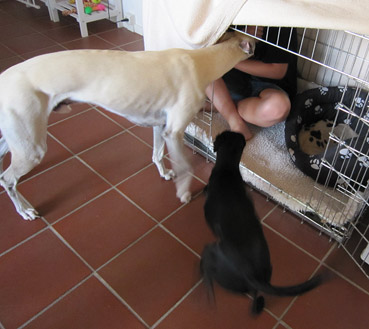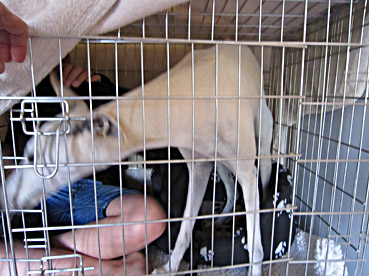 Childrens hands are so loving and tickly...Dashers tail's wagging so hard the camera can't photograph it!!!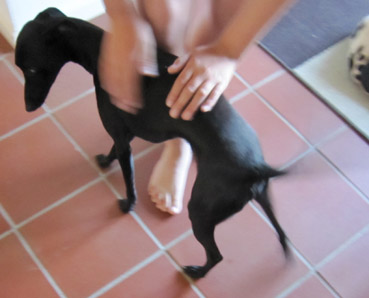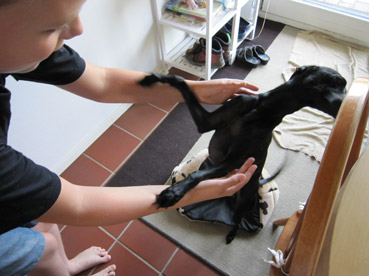 30th of July
The "boys" aways have a day of depression when the "girls" go home again. Dasher was hard hit and didn't know what to do with himself and wandered around restlessly. But now he's back in top form and VERY lively! The days are cooler now, we have all been suffering from the nearly non-stop heatwave for over a month.
Today, I uploaded another video to YouTube showing my dogs (males) running to and fro for exercise. Taken in the heatwave when the "girls" were staying, they are unable to concentrate on the "whistle game" in the heat and are a shambles! NOTHING stops the "girls" though - they run with the same drive and enthusiam no matter what the weather! See the "boys" here:
www.youtube.com/watch?v=mW5kpMMHsLA
and compare with the "girl's" concentrated run: www.youtube.com/watch?v=ELi-zO25Oc0.

the 26th of July
and the "girls" are due home today, I can truly say that they have had a wonderful time!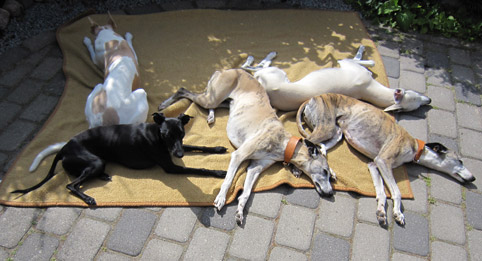 Last photo aken of them!

the 25th of July
Below: Dasher waiting for some fun to begin together with favourite girlfriend Dharma!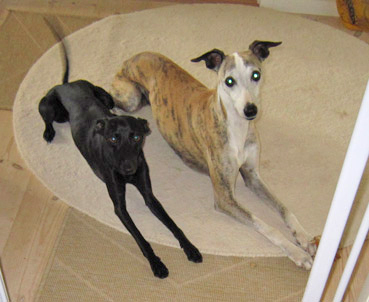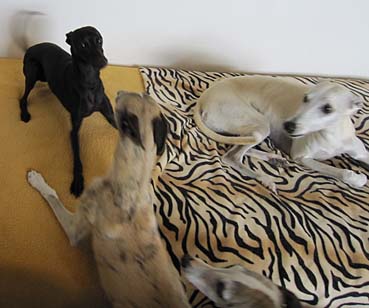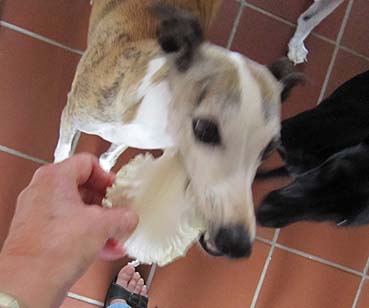 Left: Dasher is always starting a mad game, indoors or out. He wants to "use" the precious time with 2 lovely "Whippet ladies" to play with! After a few minutes, I put a stop to it as it is far too dangerous - accidents can so easily happen when Whippets and Italians play at a VERY high speed and VERY wildly and Whippets are much bigger and heavier - its risky to say the least.
Right: Our "boys" have taught the girls to eat Chinese cabbage. Above is Dharma taking a leaf to prove it's true to the owners! However, I mostly cut it up into small squares and thrown it around in the grass for them to seek out and eat. All my dogs adore the crispy white stem of chinese cabbage (white cabbage too) and have inherited the knowledge through generations each time I have acquired each new puppy over the years. We have a tradition that it is "dessert" after their dinner each day and they find it hard to forgive if we have, on a very rare occasion, run out! We and the canaries, eat the green part.
Maybe it gives them valuable fibre in their diet? After 3 days of totally ignoring it, the girls finally came around and ate it together with the boys!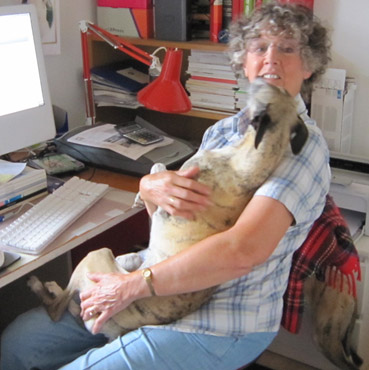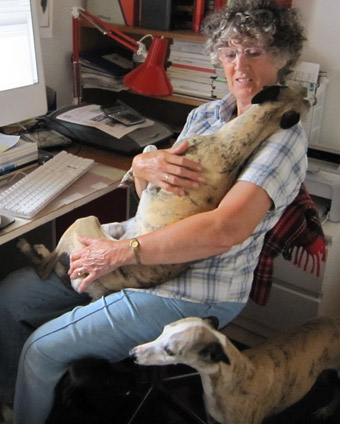 Fanny is always the slowest "to feel at home here" with us each time they stay, but after 2-3 days, she suddenly sprang up on my lap as I sat at the computer and said she HAD to have a proper cuddle! Svend ran to get the camera. Afterwards, I gave Dharma a cuddle on my lap so she wasn't left out.
The 22nd of July
It is essential that sighthounds run every day. They love it and "live for it" and it keeps them looking beautiful and also happy in the mind. Here is how we exercise them in the back garden. This is done AS WELL as any other exercise they may have!
My husband and I are positioned as far away from each other as we can and each have a bag of VERY small tit-bits. (Frolic broken into 4 parts! The reason we use Frolic is simply beacuse it is nice and damp as against ordinary dry dog food particles and can be broken up so small.)
We call it "the whistle game" as we used to have whistles to call them to and fro, but now we don't need these now.
Just 10 times forwards and back, (or before they get tired or loose interest), three times a day, (must be before meals!!!) is perfect for them and they are well satisfied. Here is a video of Dasher who has just run with Magnus and Timmi, but he won't come in when it is our holiday guest's turn and so he runs with them as well! We have sand at the "corners" because in wet weather or during the winter, the grass turns to deep mud pools whilst the sand keeps it "nice" at all times.
www.youtube.com/watch?v=ELi-zO25Oc0
July 20th. and more photos from yesterday.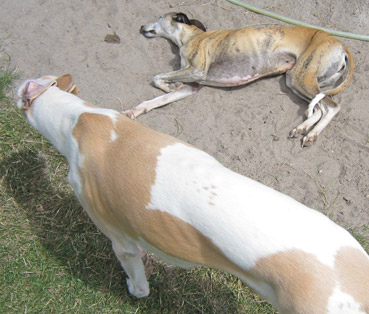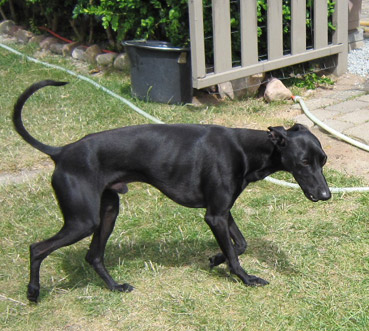 Fanny sunbathes the hottest place: On the sand "race track"! Right: Dasher's had enough, on way in to to our cool house.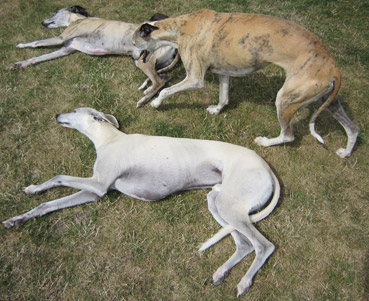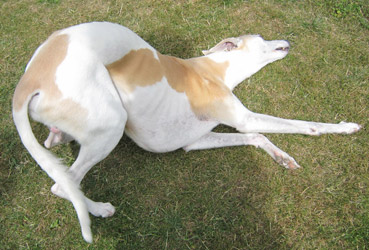 More sunbathing. Right: No photos of Magnus for ages, so here's one where he is scratching himself on the grass!

19th July
Yesterday Dasher went to lure coursing a new place and with a record long run: 635 metres! The first run, together with his IG friend Santi, was a fiasco as they both lost sight of the lure and came racing full speed back to us after only about a third of the way. After a long pause they tried again and this time was also a fiasco as the starter lost her concentration and clapped us on the back (the start signal) far too late so poor Santi had long lost sight of the white plastic in the grass, whereas Dasher decided to give chase unsighted and managed to catch up with it. He ran the full round well tho' he was very tired at the end and they cruelly let the lure get way ahead of him, so he decided to give up and come back to mom without "killing" it first! I really admire the way he always knows where we are at all times, never loosing his inner "compass", even tho' it's a strange place and very big.
See it all plus much more on: www.youtube.com/watch?v=5GGH0CuJNWo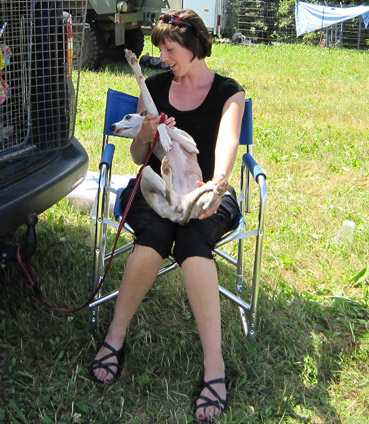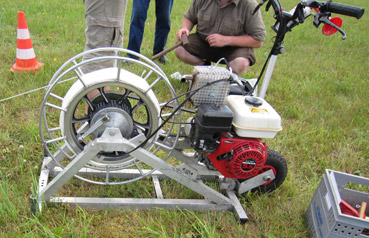 The only relaxed Whippet at the place - doing stretch exercises. All others were slightly hysterical in anticipation of the chase! Right: Our machine.

16 - 17th July
Looking after after our friends two Whippets girls for 10 days! (They look after our dogs when we go away!) Dasher was only minutes finding which one was the most playful, see them here on a video - I just love seeing him trying to be as cute as possible to another dog and using all the language that dogs have, which is amazingly varied:
www.youtube.com/watch?v=v1WKooYFLr8
Photos from the garden. Hopeless to try to get them all together and if they sunbathe together on the lawn and I go to fetch my camera, they all get up to come with me! The girls look like they are having a good time, huh?! All the dogs get on really well as they have known each other for about 8 years. although Dasher is new, he always gets along with others.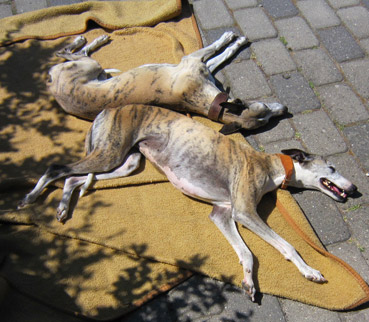 "Frying" in the sun!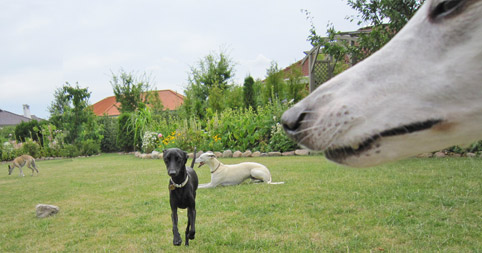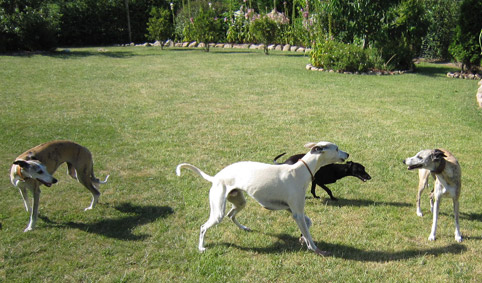 Below: Evening rest after dinner and a tiring, hot day: Fanny tries out Dasher's cage - but looks nervous as I get up to photograph!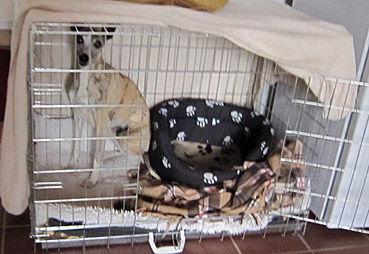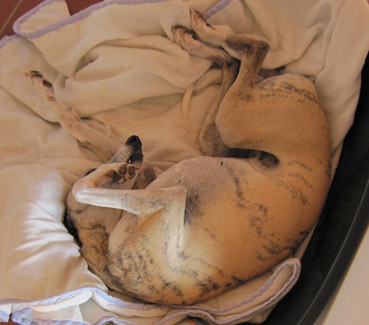 Right: Fanny sleeps it off after dinner!

9th July 2010
Dasher's gloomy attitude when he realises we have dressed up to go out for the evening and he is not going with us!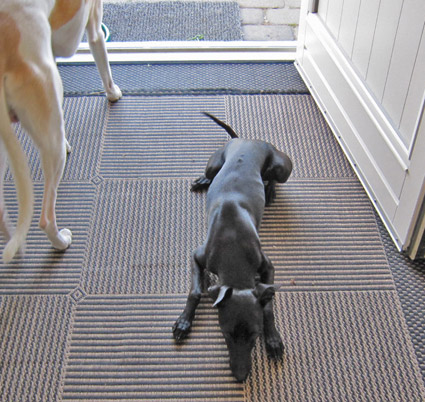 8th July 2010
Dasher's leg seems ok (so no bandage now) and we let him run around a bit - he is overjoyed at the freedom. Two neighbour girls visited and took him for a walk (around the garden, I never let children walk my dogs) and then with Timmi too. It is lovely seeing Timmi being walked by someone else, he is very beautiful at the moment - but his bad toe will never be right.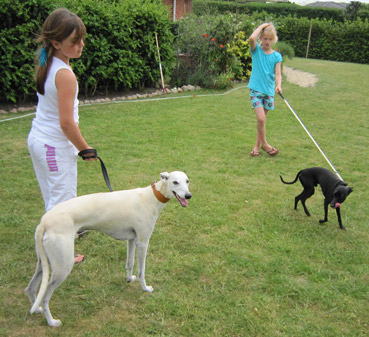 5th July 2010
At last Dasher is limping less - but I have also given him a light elastic support bandage which seems to help a lot. Coursing tomorrow and we are so sorry not to be able to go.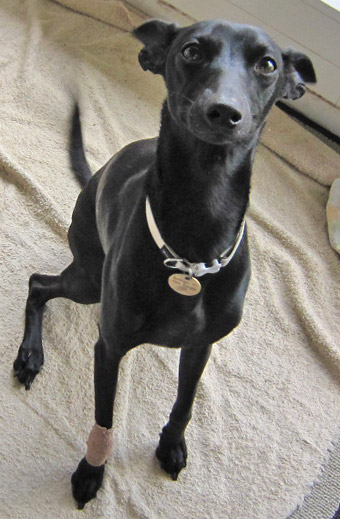 3rd July 2010
Family get-together and belated birthday-gift-giving day in 35 degrees C and beautiful blue skies. Here is a photo-mix:
Dashers cage works like a magnet for all children, here is my grandson!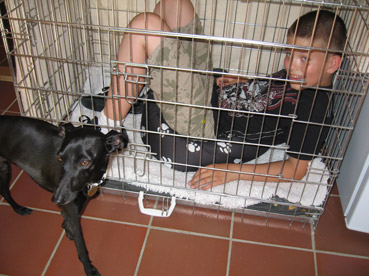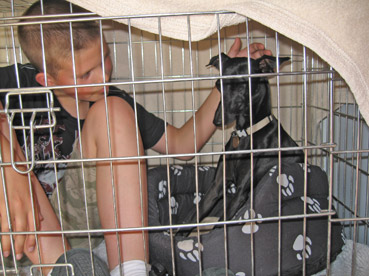 The dessert with homemade merange base and our homegrown strawberries (over 2 kilos of the best !) with blueberries.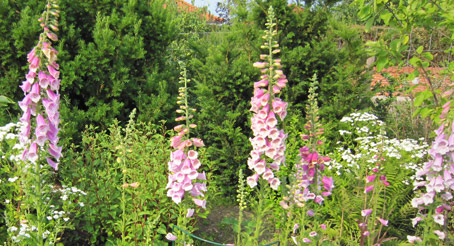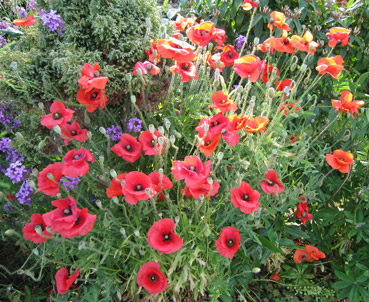 Flowers from the garden right now!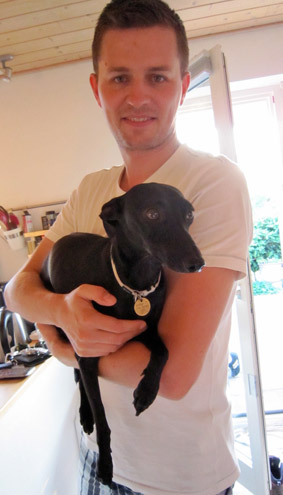 ONLY our youngest son can carry Dasher around! Dasher completely relaxes and enjoys it. Otherwise, he leaps down after about 10 seconds and you CANNOT hold him! He is still limping slightly, I'm afraid.

2nd July 2010
We cut Dasher's nails again today. He is still limping but me holding his foot and him standing on 3 legs didn't bother him any! I would just like to remind everyone how we do it - it is SO easy and painless:

HOW TO CUT YOUR IG's NAILS!!!
I use Svend's old nailclippers. (He's got a new pair!) They are far better than dog clippers - for a small dog.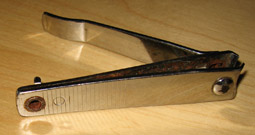 I've invented this way of doing the deed! You might like to copy the idea as it works so well, the dog's happy about it and you get the ghastly job done with almost no stress!
Step 1: Prepare the table. Cutting nails on table height is best. Put a folded blanket on the table to prevent the dog's claws from scratching. Find something that can function as a little "table" for your dog to eat off - that is at the dog's head height. I use a cardboard box. Then smear something delicious like liverpaté, cream cheese, even butter will do, all over the top. I used the Danish "leverpostej" (Liver paté made from pig's liver.) Anyway, it wants to be delicious and "lickable" and take time to be removed from the surface. Not just a blob of something, but a large area! See here: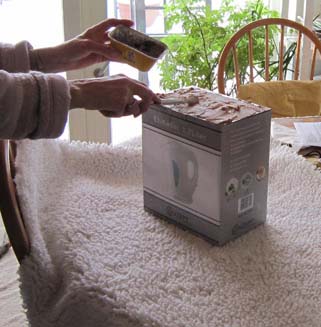 Put this box on the table beside the blanket.
Step 2: Prepare the dog. Put collar on the dog with room for a hand to hold firmly so there's no chance of the dog falling on the floor. Svend is my "dog holder"! The "holder person" has his/her work cut out to steady the dog and keep it licking. The clipping person (me) is free to concentrate on the individual nails.
Step 3: Lift the dog onto the table and the "holder person" then puts left hand inside collar and holds it with a death-lock grip and right arm around the dog's chest and squashes the dog tightly against him or herself - so this dog isn't going anywhere!
The dog will immediately spot the delicious treat of liverpaté placed right on nose level. He has a choice: Make a fight and try to get down or lick up the liverpaté and concentrate on that. Dasher couldn't resist the liverpaté so he started licking whilst I, with reading glasses firmly perched on my nose, got on with the cutting! It works a treat!
Tuesday the 29th of June
Poor Dasher's a bit out of action at the moment. Sunday, he leapt up on the sofa at high speed and hit his right front foot hard on the corner of the coffee table! He's jumped up a million times, but this time he was clumsy. The joint swelled at tiny bit, but later appeared normal, but he must have huge bruising. He has been limping ever since, so we are keeping him from all running and jumping and his walks are only 10 minutes long. He is being very good about this, probably because the weather has turned VERY hot and probably also the pain he can feel. So no lure coursing for a few weeks and no Puppy playground either until I am sure he is fit again.
He was at the Puppy playgound last week, will send a video soon, but he was shut in with some very large, boisterous dogs, so he spent most of his time keeping out of their way. It is extremely dangerous for IG's to play with very large dogs.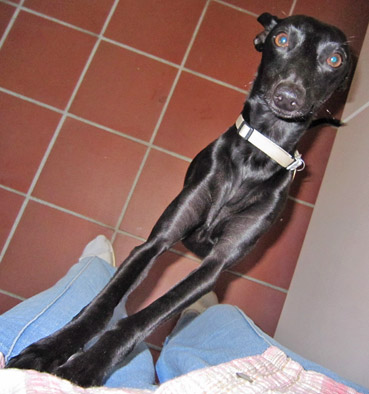 Here he is showing you his bad right joint! The collar reminds us constantly that he's an "invalid" - and to put the leash on him when in the garden.
Sunday the 20th of June
Dasher has learnt to wear a racing muzzle and was allowed to run against his hero Santi - who held his own, expert as he is - he knows all the cutting corners tricks! The run was 433 metres long and no photos of the end as we had quite a long way to run round some bushes to pick him up - but he left the lure and faithfully ran to find us amongst the crowd of people and dogs!
The place was breathtakingly beautiful and the weather held off from raining for once! No still photos, but see small clips from the day on YouTube:
www.youtube.com/watch?v=vDGwoAvXk0c
June 17th
Dasher at the puppy playground - two large puppies far younger than him ganged up together and chased him around but he was too nimble for them!
www.youtube.com/watch?v=tku-iOjmHJM

June 16th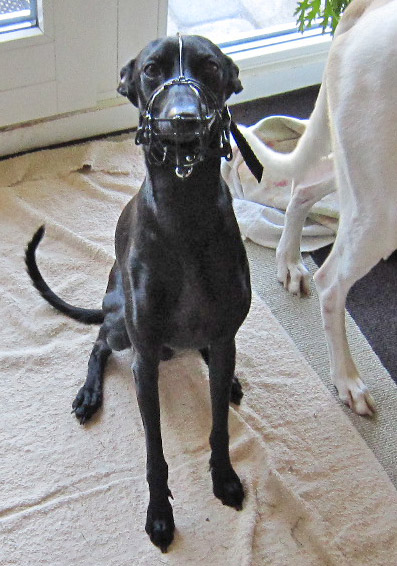 Finally, after months of talking to friends and getting lots of email advice - even from America where lure coursing is much more developed - and buying a muzzle too small, I have got a nice plastic-coated racing muzzle from Sweden, www.greyhoundwhippetstore.com - this part of Denmark's nearest neighbour. They were several weeks sending it, so I nearly gave up, but it finally came yesterday! (It is the smallest size Whippet muzzle actually! This, I'm told, is worn by all IG's.) Today I tried it on - of course he hated it and as Earl with Bill the American IG coursing start (see Billsrun.htm) told me, it needs bending and slight adjusting to fit his head, but it is acceptable and safe wearing apparel for "His Majesty" (as we often call him!) during coursing. It is fun seeing him run alone at top speed but it will be more than double as fun to see him race against another Italian and the FCI rules require that all dogs use a racing muzzle. I'm really looking forward to next Sunday to see if he will run with it on.
I have practised him getting used to it by running round the house and the garden with him running after me as he knows I have a handful of tit-bits and I can feed him one through the muzzle. He hates it, but quickly got used to it – so long as he is "paid" for wearing it!!!! I will do this several times every day now where I get him to understad that he CAN run with it on.
Here are some pictures.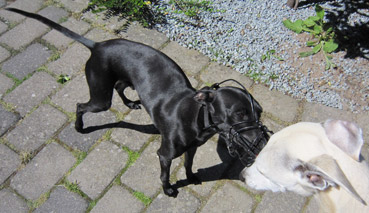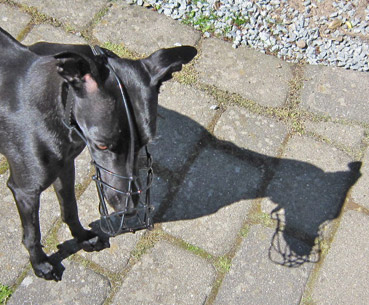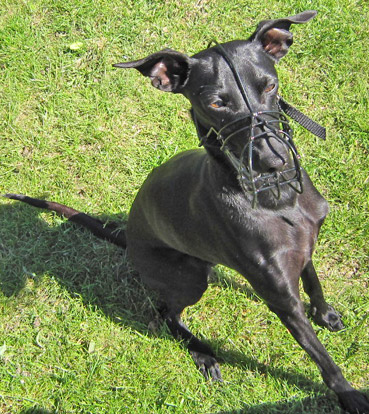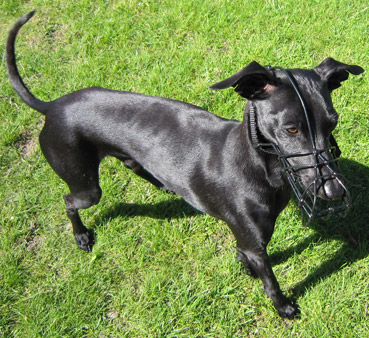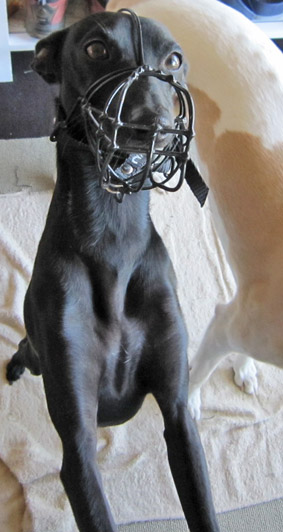 Mom, will you take it off now please?

June 14th
Today, we drive Kris and Nardo back home and have a lovely walk on THEIR beach. Dasher became quite interested in wading out in the sea! See here: www.youtube.com/watch?v=S9gOoh46D6Y
Just a tiny clip I'm afraid.

June 13th
At last, a tiny bit of sun broke though the cloud, tho' still rain every day, today was better.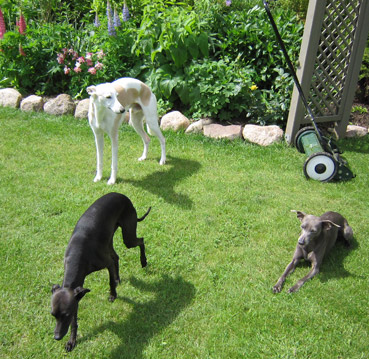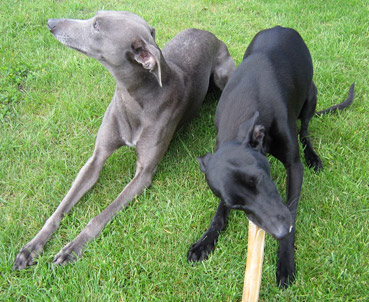 Left Nardo with Magnus and Kris enjoying the sun. Right Dasher has a chew bone and Kris doesn't mind!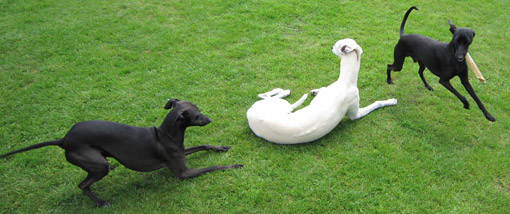 Nardo and Dasher tease good natured Timmi by running round and round!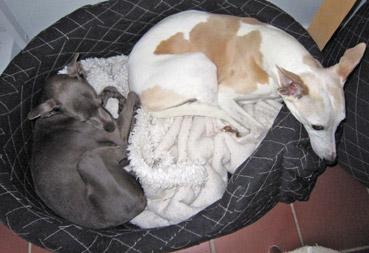 Evening and Kris has unwittingly taken Magnus's favourite bed (the one nearest ME!) so Magnus very slowly and carefully crept in beside him! But he looks very uneasy!

June 11th
Still looking after Kris and Nardo and it's going really well and they are very affectionate towards us. This afternoon, in between rain showers, Dasher tried SO hard to get them to play with him. He found an old plastic sack that he loves to play with (see previous video) and he did all he could to show them what fun it would be if they joined in - to no avail, they were not interested at all! Playing with dirty old rubbish sacks is beneath two such finely bred dogs!
See here: www.youtube.com/watch?v=WiSHfizPwYo
June 10th
Dasher goes coursing again! He is brilliant at it! Here is a video with firstly, his run, I was at last able to film him as an IG friend started him for me) then Vincenza who starts really well, but later looses sight of the lure and you can see her poor owner running at top speed in the distance urging her on to the end, then various clips of dog owners and bystanders (and Santi is a really smart get-up!) then my friend's galgo who was so keep she kept doing false starts and finally a rough haired galgo runs well. These shots were taken at evening training, the long, light Danish sommer evenings are wonderful tho' this one was in between rain showers and with gloomy grey skies...
www.youtube.com/watch?v=yOba-qjXh9s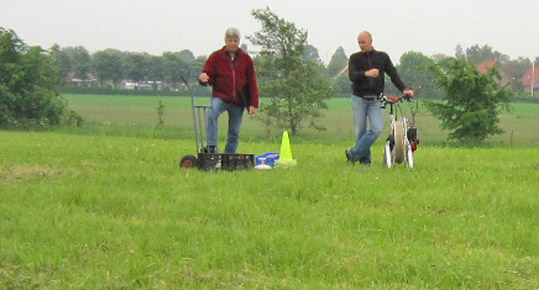 Our hare machine operator and new upcoming apprentice waiting patiently!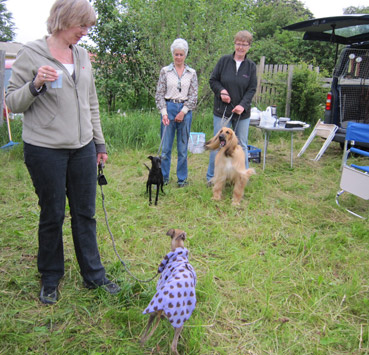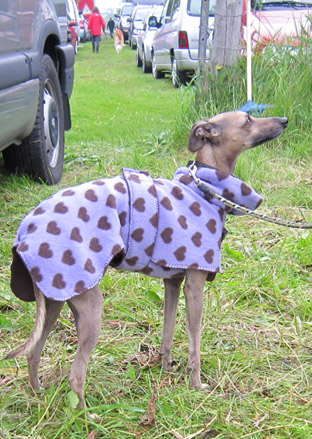 Santi's smart hand sewn get-up!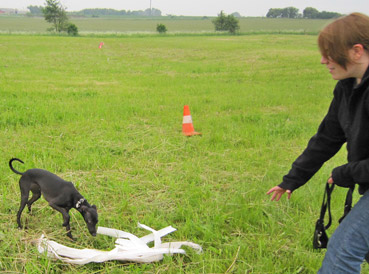 Vincenza after her run - she's sniffing the rather old and very "high" rabbit skin!!!

June 9th
From left: Nardo, Dasher and Kris still in the rain - but it's just stopping at lunchtime. I have just appeared at the garden gate and they are all clearly thinking: "What does she want?"



Earlier, after a walk, they play in the garden in the pouring rain - hence the coats.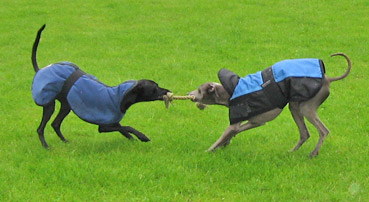 June 8th
Yesterday, IG's Kris (left) and Nardo (right) came in the afternoon (with their owner of course!) to be looked after here for a week.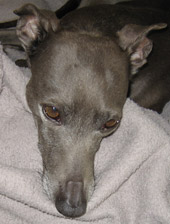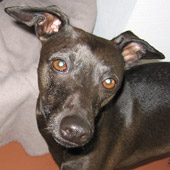 They recognised us all from their stay here in February (see DashersIGblog10) and have just fallen into the life here once again and are very lively and happy.
Today, Tuesday, Dasher visited the Young dog playground (not puppy for once) and fell in love with a Beagle of 10 months who was barely over her first season and clearly smelt far too good to miss, so he and another dog just followed her devotedly around. They played very well for a while, but the whole time Dasher and the other dog were just waiting a chance to jump on her! Separated into another enclosure when they finally became little pests, he spent the rest of the time looking longingly at her through the wire! The playtime was almost a waste of time! So not one photo!
Better luck next time!
June 3rd
and Dasher is once again at the puppy playground.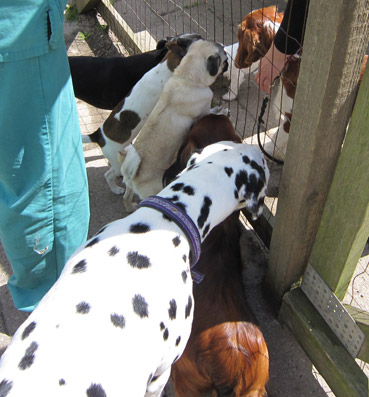 This time, amongst other dogs, he played really well and had some good chase games with a Welsh Springer Spaniel of 1 1/2 years. Here's a video showing some of their antics! www.youtube.com/watch?v=Fbmp5fGlhH0
May 30th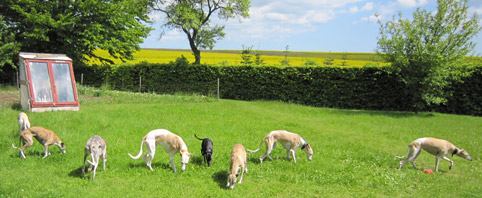 We went with our 3 dogs to have lunch with friends who have 2 Whippets (and 3 small children) and three other friends came too with, between them, 3 Whippets and a fawn bitch IG - 9 dogs in all. Our friends have a garden of 3000m2 full of interesting paths and small flower-beds and areas enclosed with low beech hedges and masses of VERY old trees - a wonderful, idylic place surrounded by fields. (Only a small, open part of the garden is seen on these photos.)
The weather was cold but some sun and we were lucky as it's pouring with rain today - and rained heavily the day before!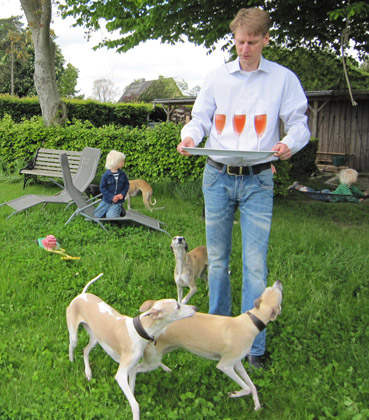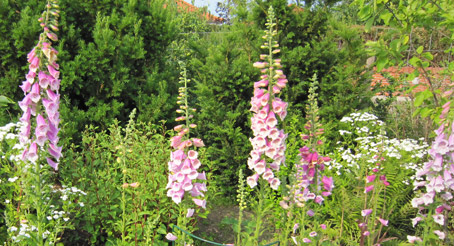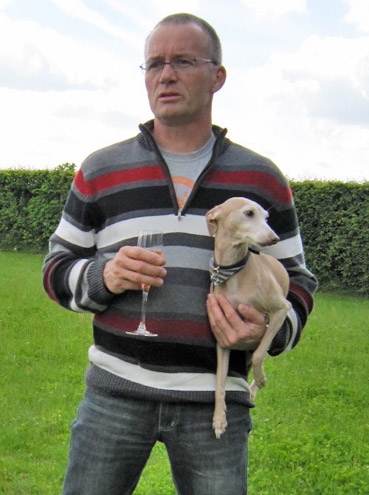 The other IG is older and likes to spend most of her time in someone's arms! Here she is with her owner and below with our host!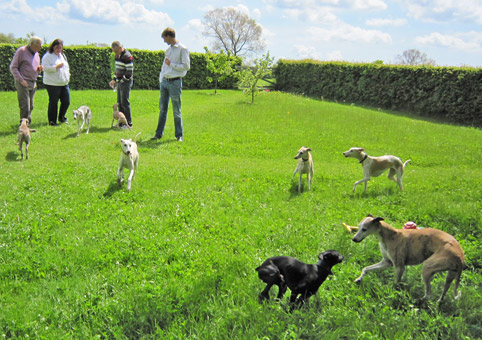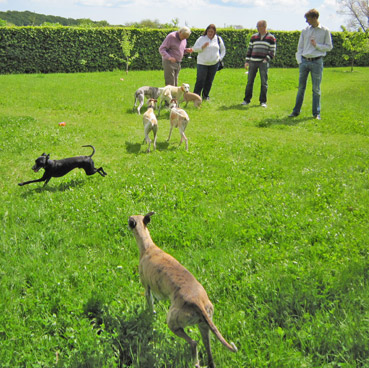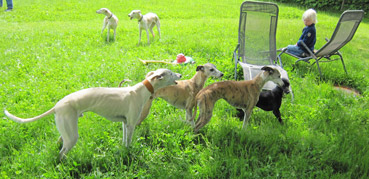 The dogs all know each other and get along well and Dasher proved to be the life and soul of the party and got all the other dogs chasing at top speed after him! Unfortunately I only got one short clip worth showing:
www.youtube.com/watch?v=f-kruTD30MM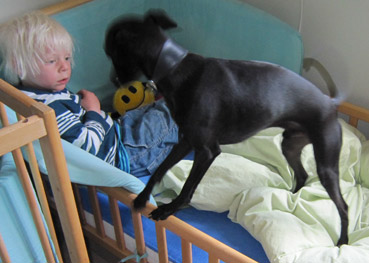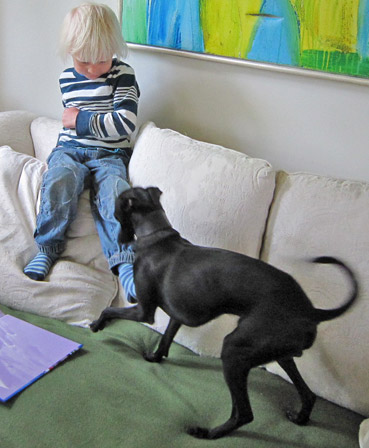 Dasher wonders what "children" are and how to play with them!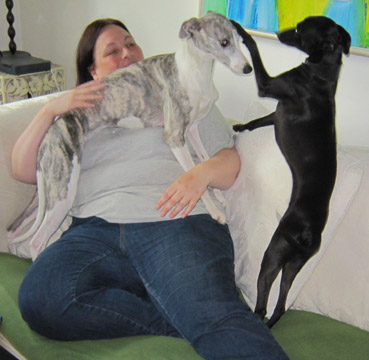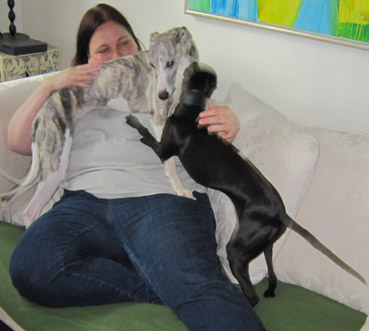 Dasher being affectionate to "Sophie", she was very tolerent and sweet natured.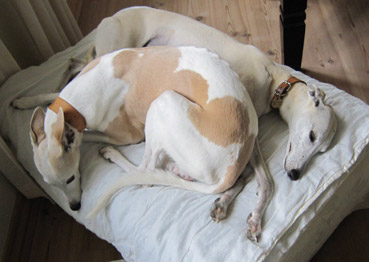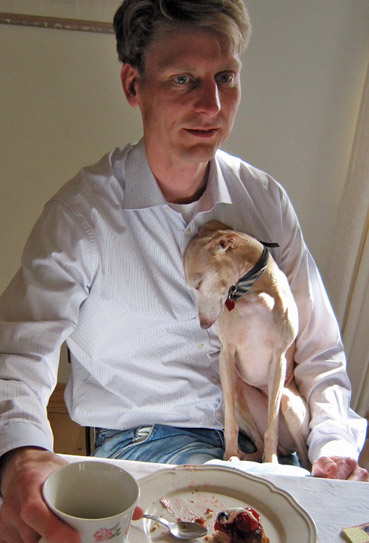 The dogs are tired after all the fun! Left Magnus and Timmi, right Augusta.

May 28th
Dasher at the vet's puppy playground! He met the tan Prazsky krysarik (Prague Ratter) dog again and he still felt aggression towards him and was so scared that his whole back went up to start with! However the dog is really wise and somehow or other it came about that they chased and ran around in happy play several times and he showed Dasher he too had a good set of white teeth when Dasher growled aggressively so Dasher showed respect and they got along really well, tho' Dasher had his doubts at times! I was pleased to see that he could overcome his original dislike and see the dog is actually rather nice and a good playmate! Here he is standing beside it while his best friend, a Dachshund is just along side. They play very lovingly together, chasing about whilst rubbing necks sensually together!


It was getting surprisingly hot and here is a calm scene with the three vet's two elderly Spaniels and a puppy Pug being petted by a puppy owner whilst they enjoy the sun.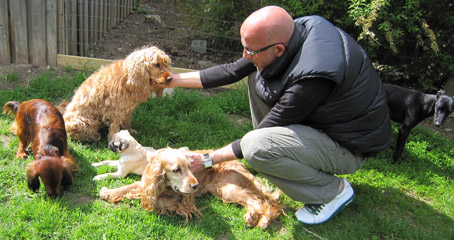 May 20th
Dasher at the vet's puppy playground again! Once again he couldn't find anyone special to play with tho' he played with a variety of puppies it was only for a short while - and he found one for the first time that he did not like. The tan smooth-haired young dog seen below right for some reason made him feel aggressive.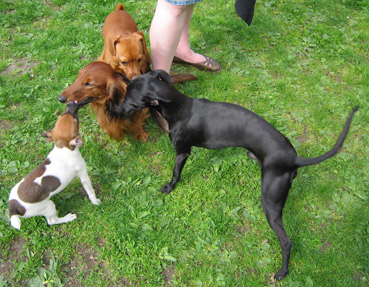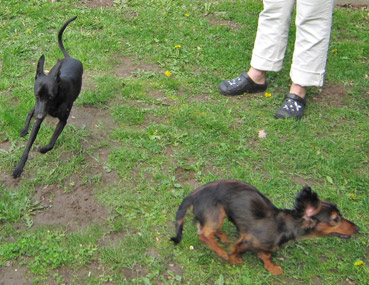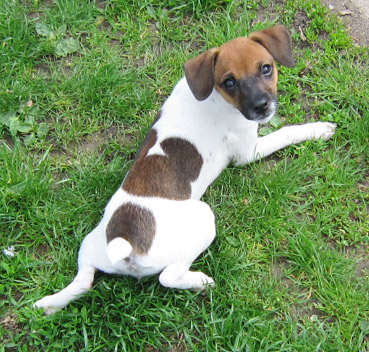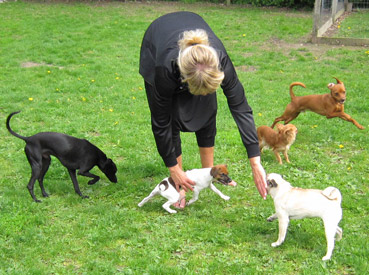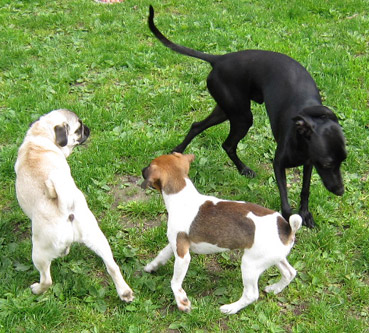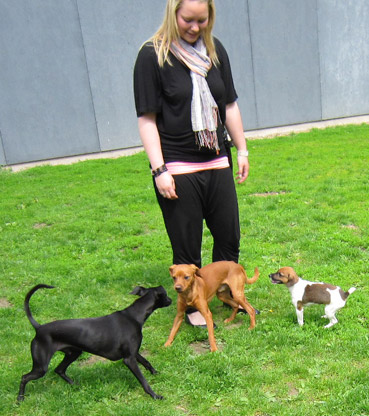 May 12th
Yeah yeah, Dasher is fine, just not done anything remarkable, puppy playground closed and no new photos. However, on Saturday one of our sons took funny close-ups of Timmi! Here are two - really weird!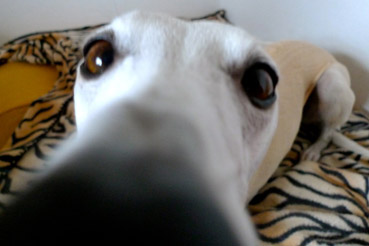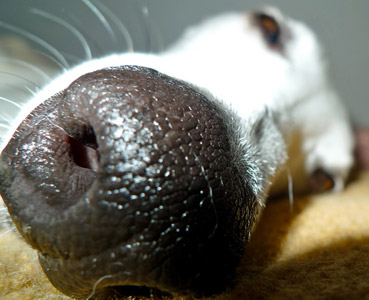 May 4th.
DASHER IS 1 YEAR OLD!!!
Here he is at 9 weeks, one of the first photos I took when we got home with him. He is watching the two Whippets have a pee in the garden, it was late evening and he barely knew them. The next picture is Svend petting him whilst watching tv on the evening of the 4th - age one year! How time flies. I must do better than this...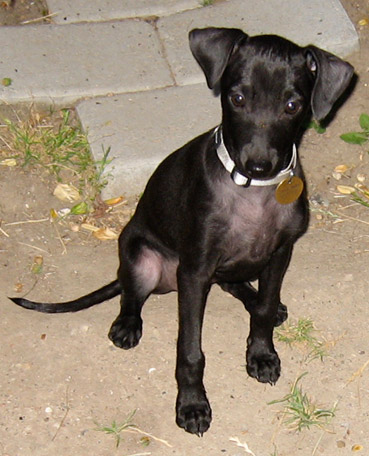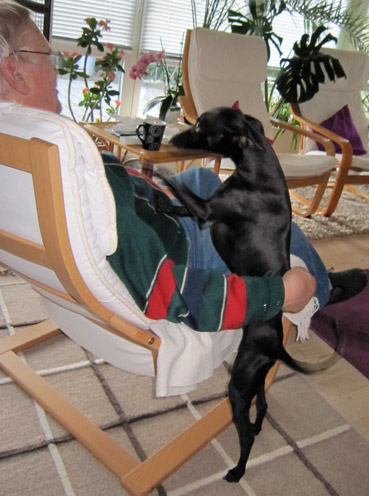 May 2nd.
MAGNUS IS 10 YEARS OLD!!!
Here he is relaxing in the evening in his favourite position - and underneath, my favourite photo of him taken in 2007.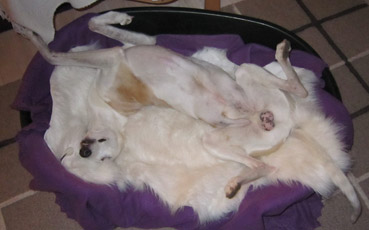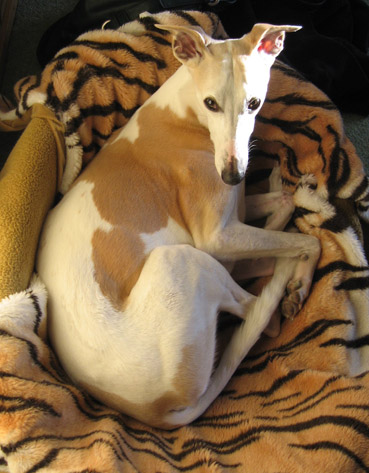 The 1st of May
Dasher and three sisters plus Vincenza and Santi all meet up to coursing today! Never before have we been so many IGs together - and Santi raced with Vincenza - they ran SO well. No photos I'm afraid as it rained or drizzled and I am afraid my camera will be ruined. Here's one of the few photos I took, with Dasher straining after Zoe and Sally. I videoed Zoe's first run, but it's not worth putting on YouTube. (The quality, not Zoe's fault!) She ran well, faltered to see where her dad was, he encouraged, so she ran on to the finish! Sally was like a pro.!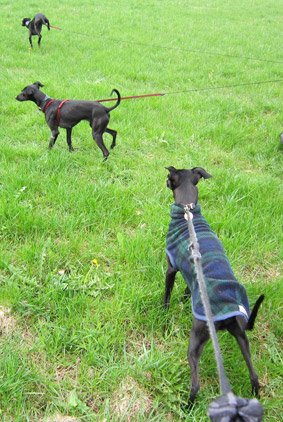 ---
The 29th of April
Dasher meets up with a "relative" Vincenza and both run perfect lure coursing rounds of 423 m -
twice in one evening
- and they were not even panting afterwards like the bigger breeds!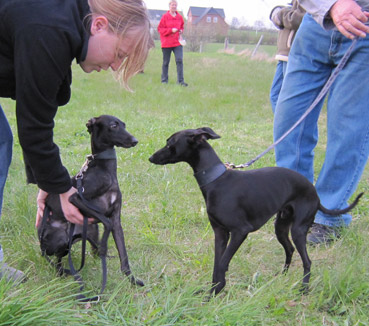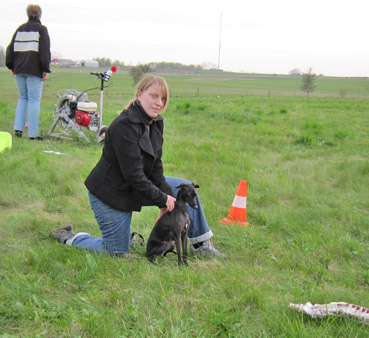 Left: We try to get them to pose together - impossible! Right Vincenza and owner just before the off! See the video on YouTube of Vincenza's second run of the evening:
www.youtube.com/watch?v=AmEza9pEZ7c

The 27th of April
We visit the beach at Kobaek Strand for the last time - dogs are forbidden on Danish beaches from May to September - but poor Timmi hurt his toe all over again so had to be left behind. Such a shame when it seemed to be getting better at last.
A stiff cold wind was blowing - hence the winter coats.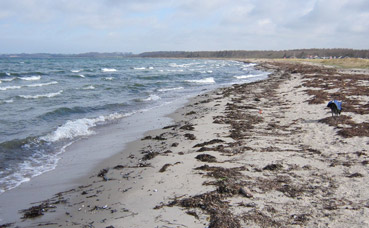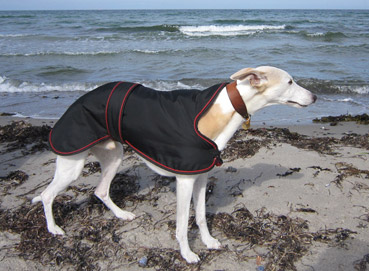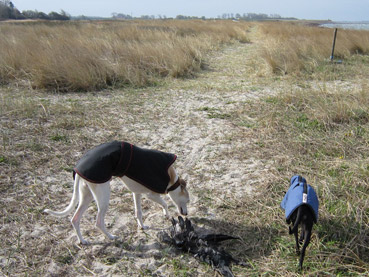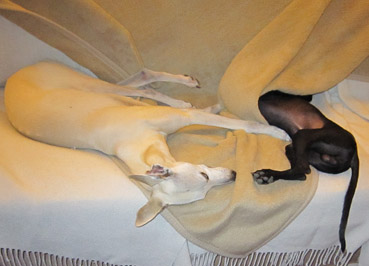 A dead bird interests them. To the right, evening on the sofa with Timmi and Dasher!

---
The 24th of April
Dashers sisters Zoe and Sally needed looking after whilst their owners were at a special birthday party and they had a great time chasing Dasher around his own garden! He had a hard job managing the two girls! They will all sleep well tonight!
See the wild racing around in our garden here:

www.youtube.com/watch?v=wazaiZ9jgek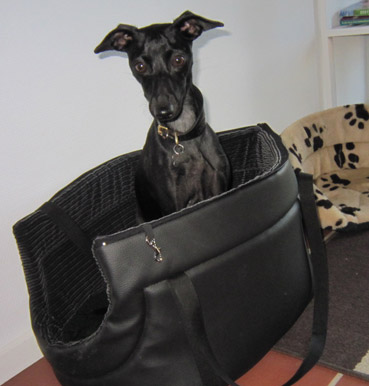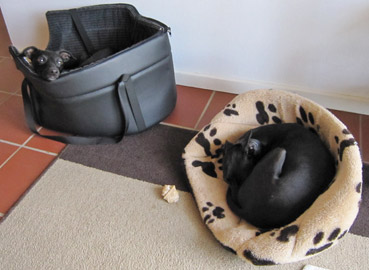 Left: Sally is the spitting image of Dasher! Right: Sally takes a siesta in Dasher's favourite bed whilst Zoe uses her own.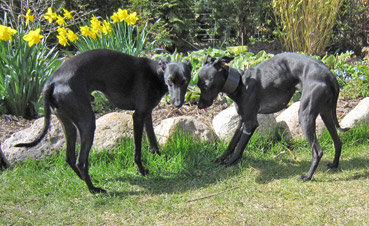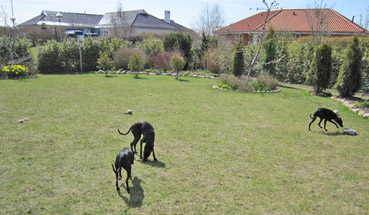 Dasher is very keen on big sister Zoe and the feeling is mutual - but she knows how to keep him from being TOO familiar!!!
The 23rd of April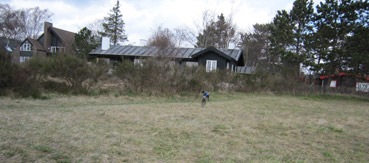 We had a wonderful day with lunch at our friend who has Kris and Nardo - after a lovely long beach walk. Dasher was an angel on the beach, coming to me all the time, getting praise and a tit-bit and then running off again. He is getting used to having his freedom and relaxing with the experience instead of playing hard to catch! It was bitterly cold and no sun so he wore his "Togs for Dogs" coat - the other two are more used to it as it's "their" beach and they walk there every day of the year!
www.youtube.com/watch?v=Ae73LVlzQ9Q
The 22nd of April
Dasher was at the puppy playground today. He had a good time but found it difficult to find a friend to play with for any length of time! See him here with small clips of video where they are all playing: www.youtube.com/watch?v=mwu02JWb63Y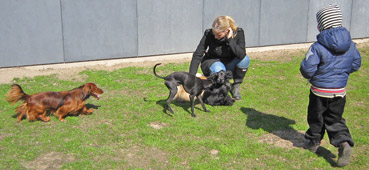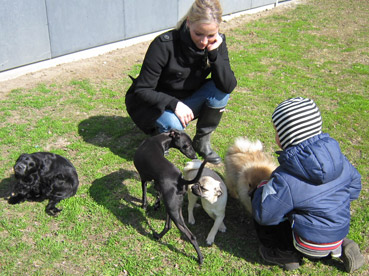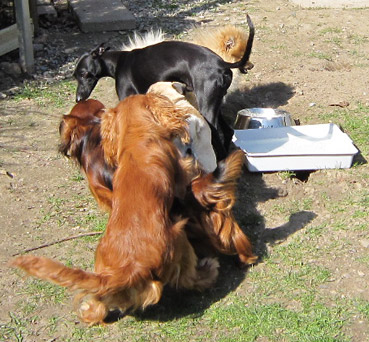 ---
The 16th of April

Yesterday, Dasher played at the Puppy playground again that our local Animal Hospital holds. There were plenty of playful dogs of all shapes and sizes and he had a VERY good time. Here are some photos and a short video.
http://www.youtube.com/watch?v=rnXODuneSwE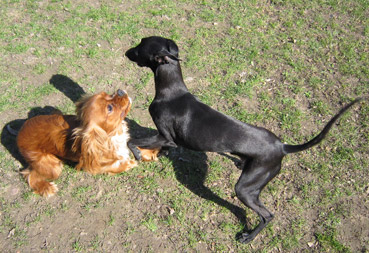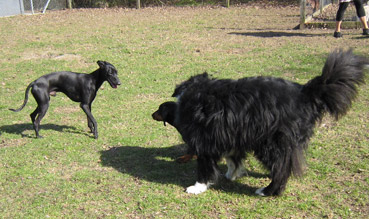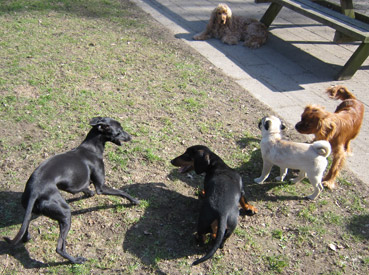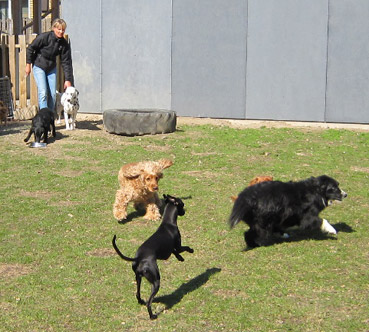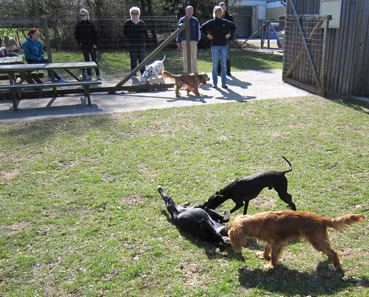 The 11th of April
Yesterday evening, two beautiful prinesses came to visit Dasher and Whippets!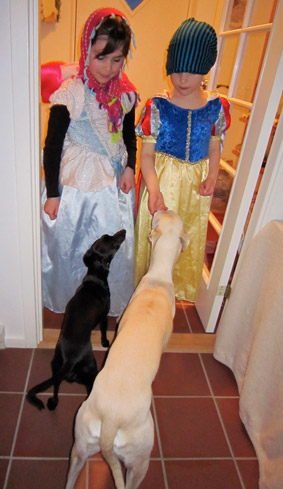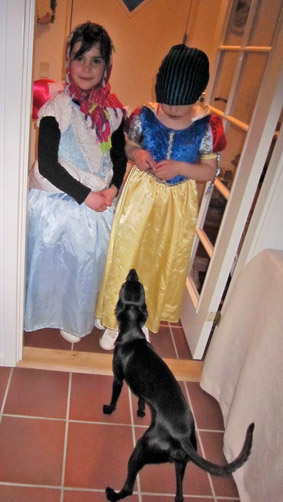 The scene later on the sofa!