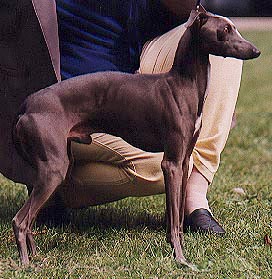 A beautiful and very winning Danish IG: Vindhauses Othello.
The Italian greyhound has been used for hunting and chasing in the past and in Germany and Finland I know they nowadays race on race tracks just as keenly as Greyhounds! I have had the pleasure of seeing two Finnish dogs race on the track here in Denmark.
But why Italian Greyhounds have survived through the centuries is no doubt not so much for their hunting abilty as their
great entertainment value
for the ladies left back at home whilst the men were out hunting deer etc! They can also kill mice - once very abundant in people's homes - and dreaded by the ladies!
Colour.
Denmark is a member of the FCI who have decided that IG's must be all one colour! Only very tiny "bibs" at the throat and/or tips of toes is allowed. If you don't intend showing your dog, you can be lucky and get a puppy that is otherwise "perfect" where its only fault is a little too much white! IG's hair is fine and silky and easy to keep. They do not smell of dog! In the home, their needs are simple: Plenty of love and attention and the comfort of the family's best sofa. They love to be warm and to be cuddled. They have a great need for love. At the same time they are immensely decorative sitting tastefully arranged in the furniture, like living works of art, which indeed they are!
A little history:
The Italian Greyhound is a very old breed, obviously related to Greyhound and probably tracing it's past right back to Egypt and the Pharaohs. There have been found mummies of small dogs very like the IG in some of the tombs. There have always been very small Greyhound-like dogs, as one can see in art all through the ages. The name is not so much because they come from Italy as the fact that the Italians have depicted them in all art forms far more than any other nation. They have always been popular with royalty and all over Europe there are histories and statues, paintings and tapestries showing IG's together with their royal masters and mistresses.
Exercise.
The Italian Greyhound should be exercised every day, just like any other breed of dog. They are definately NOT just "lap-dogs"! If the owner has time, they can easily run around on a 1 1/2 - 2 hour walk running free on a beach and arrive home seemingly just as fresh as when they left! I really recommend plenty of exercise. They hate cold, wind and rain because they lack the fat layer, (just as Greyhounds and the other sighthounds), which would otherwise protect them. It is best to have a variety of coats for every weather condition!
If you would like to have a very lively and loving little dog who is very intelligent, which you can take with just about everywhere and who will entertain you constantly all your waking hours, then choose an IG!
Now you MUST
see jackiebrownsrun.htm