12th of September, Dasher gets to play with the "big boys"!
He's also on YouTube again: www.youtube.com/my_videos_edit?ns=1&video_id=fir1rvPlQu4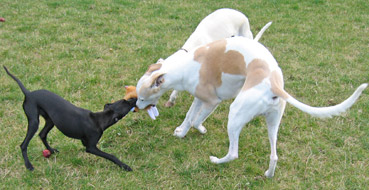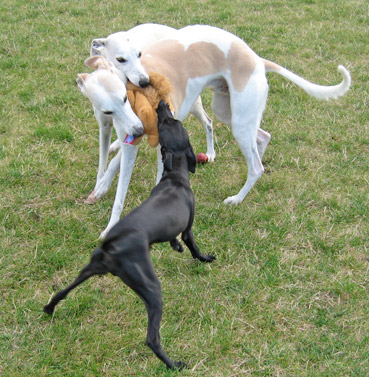 .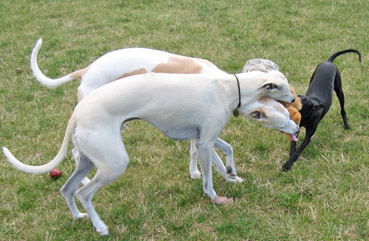 PS Timmi has a bandage on his foot as he dislocated his toe some 5 weeks ago and still complains of pain if he "brakes hard", so an elestic bandage during the day gives him complete freedom to run as he likes. He's headed for a tricky operation, if he doesn't get better....
---
10th of September, Dasher goes to the vet's "Puppy playground" again!
There were many cute pups around his own age this time. First we are grouped into three separate enclosures, then as the dogs start to play together, the woman in charge mixes them up, opens gates and includes more and more pups, so that in the end, most dogs have all met and played with each other. The vets have their own dogs out there as well, so large, mature dogs (well used to silly puppies!) also add to the fun! Here are some photos. Unfortunately none of him racing around showing off the typical IG skills of agility and turn of speed! He was much admired!
See him at 3 1/2 months moving on: www.youtube.com/watch?v=AE1afg_cOXg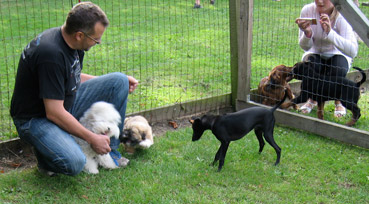 .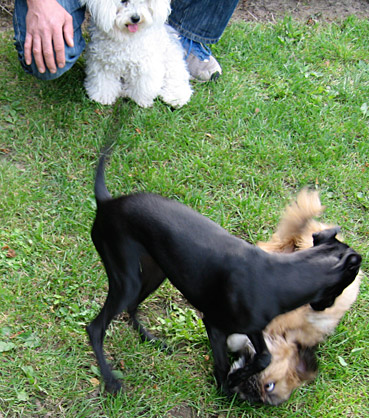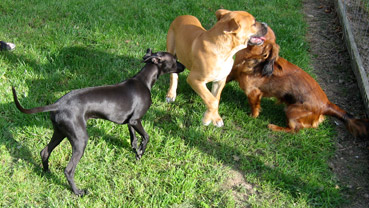 .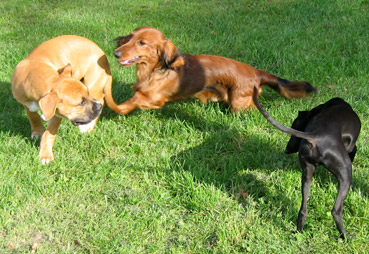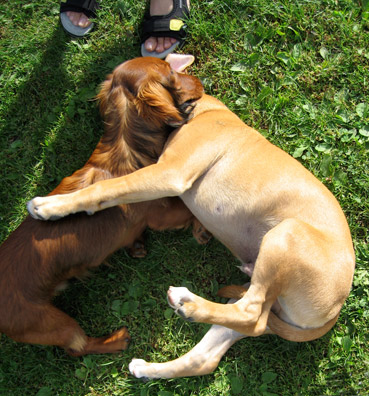 .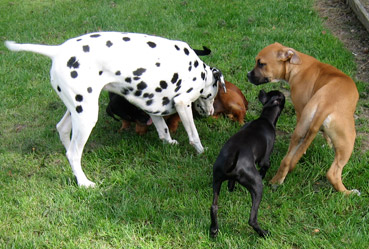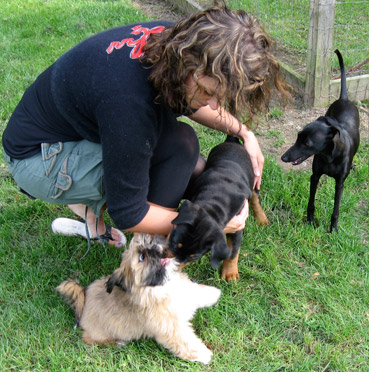 .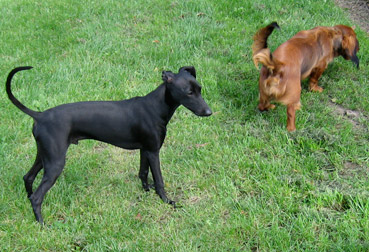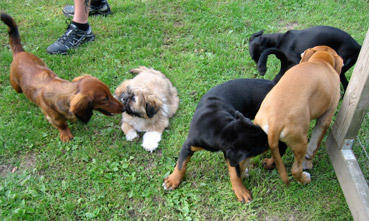 ---
Today, the 9th of September, we have had Dasher 2 months!
It has been great fun and very rewarding
but very hard!
The worst has been my lack of sleep.
The first chaotic nights where he slept in a "soft crate" lined in soft blankets beside the bed, he missed his sisters just SO badly, but after a couple of days, he settled down nicely to our routine. He is a VERY quick learner - we noticed this straight away. He only needs to see a thing once and he remembers next time. But he could not hold himself all night! He asked to go outside between 4 and 5 am every morning! At this time, he was lively and ready to start the new day, so he had to have a "pacifier" (a good chew bone) when put back in his crate. However, I rarely could go back to sleep with the vigorous gnawing sounds - which could at times sound remarkably like it was the "crate" and not the bone he was chewing! So I would give in and get up. So late nights and early mornings for the first month or so, have been very hard indeed. Now he sleeps fine through to 6.15 when I get up - and I hope to gradually extend this, but I dare not push him too hard too soon!
The other major thing was how often we have trodden on a paw! He was so tiny - and black cannot so easily be seen, either.
He was throwing himself under our feet at times and his squeals of pain broke our hearts, we were SO terribly sorry and we nearly died every time, it really got us down!
Once I excelled myself: I trod heavily on a paw whilst all three dogs were greeting me excitedly and I had my outdoor shoes on. We got over this pain and shortly after, I opened the fridge door and as I slammed it shut, for some reason he leapt up to reach inside and the same paw got crushed in the heavy door! It was tough too when we had some friends round for a barbeque and Svend, after turning the meat, trod backwards onto a paw
with wooden clogs on
and Dasher's shriek of pain could be heard for miles, so all our friends and neighbours sprang in the air at this terrible animal cruelty.
We did wonder if he'd ever survive to adulthood living with us! Finally though, he has become more sensible - and bigger.
He's growing well, now about 35 cms at the shoulder (difficult to measure!) and about 5.2 kilos
- but a touch overweight.
After reading this, you'll be saying "what about accidents in the home and house-training him to "go" outside?"
Well more of this later - will be put in above when I have time...but I have been following my own advice as seen on another of my pages.
---
The 7th September
Nearly every weekday I meet a group of Day-care mothers with up to 5 children each who are out for a walk at the same time as I walk Dasher. We have become more and more friendly and most of the children now give Dasher a tiny tit-bit or two. It is good for him to learn about small children and their "wierd noises"! At first he was a little nervous and hid between my legs but he's very curious so he did come forward after a moment, but now that they all give him tiny tit-bits and he's not scared of them at all. He's really getting to know them and quite prances about - and it's good for the children to experience a puppy and it adds little extra entertainment for us all on the daily walk. I have to walk twice. First with the two whippets, who walk really nicely beside me - that is, if they don't spot a cat, hare, pheasant or a strange dog! Afterwards with Dasher, who is still a new beginner and needs individual attention. He has improved tremendously and stopped jumping vertically up and down all the time. He now combines the "Crufts walk" (see below) with pulling me along, at which I stop dead. I think he is realising at last, that we never get anywhere if he pulls, but being a lively Italian, he has difficulty controlling his impulses and won't give in! Their minds flit about like butterflies! It's a battle of wills, but if he does as I want he is petted and given a treat. I do let him stop and sniff or just stand looking around just as often as he wants.
I must try to take my camera with me and photograph the children, they are all very cute.
The most amazing thing is, that he knows "the drill" so he watches me get ready and at the last minute I shut him in his cage in the kitchen with a special chew bone which he only has at this time - and he doesn't mind at all. Never fusses. He knows his turn will come and focusses on the chew bone! With our Dee Jay, who tragically died of meningitis in June, we had to go to elaborate measures to conceal from him what we were going to do.
---
The 4th September
Dasher is 4 months old today and celebrated it by eating his first cat-poop for breakfast! Our garden is so well fenced in that it would keep out everything from a mouse (well nearly!) to an elephant - yet somehow a cat occasionally gets in and uses some sand as a toilet. This despite they nearly caught it once! Luckily I was first and cleaned up but Dasher unfortunately found a small bit. He ran off with it - but he knew what to do by instinct and ate it whilst the two Whippets stood looking on very enviously! Cat-poop is very high on their menu of "desirable treats"!!!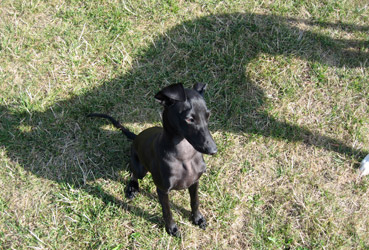 Curious photo of a little IG together with a big Whippet shadow!
---
The 2nd September
Finally succeeded in loading a video onto You Tube, so you can see Dasher in action teasing Timmi-whippet, who is just so kind and overbearing with the "irritating brat". He knows that no matter what he does, (even growling and showing teeth) Dasher will succeed in getting the chew bone ANYWAY. See how he lifts his paw to reveal it and lets Dasher (who notes the action wih great satisfaction) take it from him. Dasher runs behind a flowerbed before Timmi can change his mind, so he goes off camera, unfortunately. Click on: www.youtube.com/watch?v=AE1afg_cOXg
As a friend commented, this illustrates one of the big differences between Whippets and IGs. IGs never give up - they WILL have their way!
---
The 1st September
You should have seen Dasher this morning!!! I was laughing - inwardly.
All by himself, he decided to walk the most of the morning walk like you see in Obedience walking to heel at Crufts!
You can see here: www.youtube.com/watch?v=CEA3RzqItJk
(The dog close by or even brushing one's left leg and looking up, whilst keeping perfectly in position beside one and giving its full attention to the owner!) He did of course take breaks for sniffs, to see where we had got to and so on and I did give treats often and I praised non-stop while he did it right! So it's a sudden break-through with all my "Jan Fennell" training!
But I have never at any time asked him to walk like a winner at Crufts obedience, so I don't know what came over him!!!
I'm not too pleased either, as I risk treading on a paw and have to really look down when he walks SO close!

As soon as we turned into our road, however he was back to hauling me along as he's by this time lost interest in the walk, got a bit tired and just wants to get home FAST. So it takes double as long time to do the last bit, as I stop dead at every tug and he's really frustrated. Italians want their own way at all times and will go to great lengths to get it! I don't mind a bit of tension on the lead, but hauling me along head down and legs straining is OUT! However even this seemed to be 10 % better than usual. Also he's cut out attempting to dash over the other side of the road and understands that we stay on the side I have chosen. I teach him the meaning of: "Cross over!" too, as we should hurry across, these are quiet roads, some are dead-end roads too but still some cars will occasionally whizz past.
We nearly caused an accident too!
He was going along doing the "Crufts walk" so beautifully, alternating with a cute sit as he was to have a treat, (he will often give his paw too!) this was just opposite a side road with a car about to come out of it when another car came along intending to continue past the side road and I was aware that both drivers were looking at this cute scene and "Crufts walk" and the two cars faltered, nearly stopped and then drove on a little erratically afterwards!
Afterwards at home in the garden: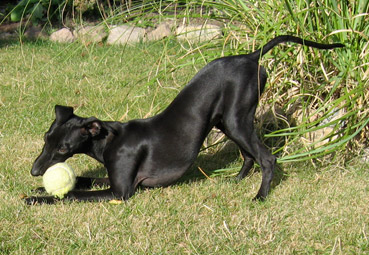 .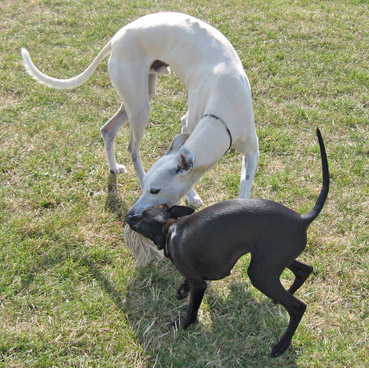 (See, Arne, he's starting to get the "Anni boot-polish shine", which I've always admired!!!) Above Dasher plays withTimmi!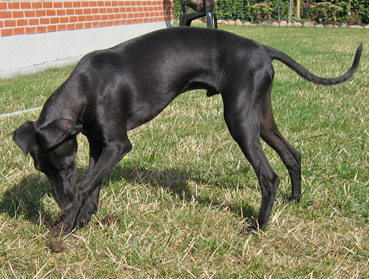 No, that's not what you are thinking! It is a clump of earth and grass roots that he's chewing to bits!!!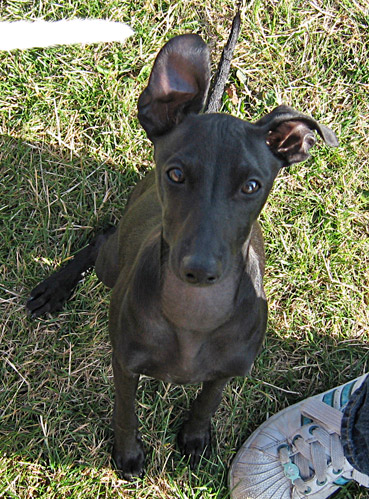 What shal I do now? Photo from the 29th with a Grandson foot in the shot!
---
The 29th August
Our Grandson stays the weekend - Dasher feels quite at home with him.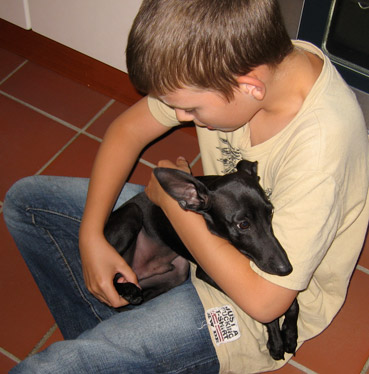 ---
The 27th August
Dasher goes to the vet's "Puppy Play Centre" where he meets all sorts. Hasn't been for weeks due to holiday and illness. To start with only a shy Coton de Tulear and they did play for a while, then gradually other dogs were moved in from the two other adjoining play areas - and in the end he was in with them all! Unfort. I did not take many pictures. Dasher gained so much confidence by going into "play mode" and getting many of the other dogs to play, that he tried his hardest to get the Whippets to play when he got home again! They leave him strictly alone, even when he's using the garden like a speedway track, zooming to and fro! I have encouraged them not to play as he has been far to little and fragile up to now. Timmi will race around a little bit with Dasher in hot pursuit, but he knows from experience that the game soon ends with Dasher squeaking in fear and running behind a bush for safety - and that's not fun. They think he's such a whimp!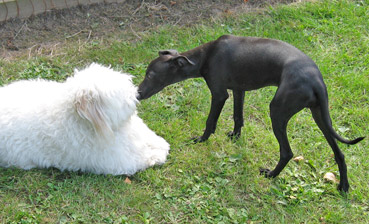 .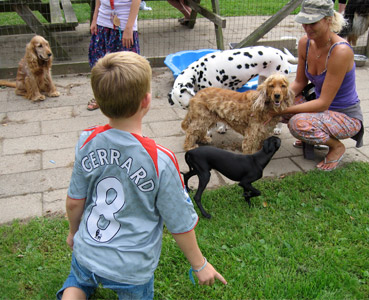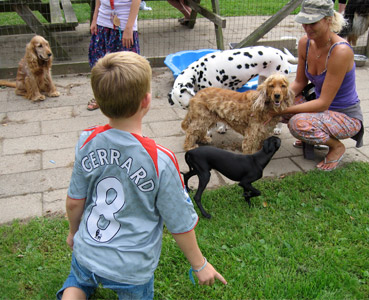 .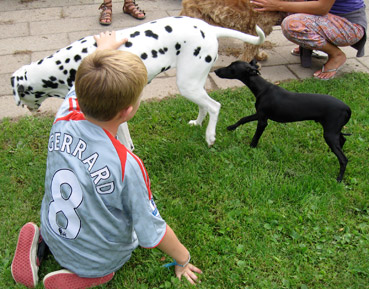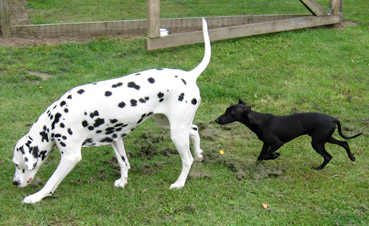 .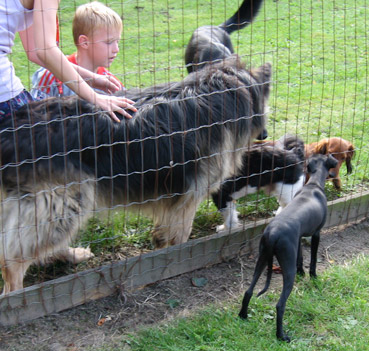 Of course, he couldn't PLAY with the big ones, just greet them normally and calmly, but he did play with all the smaller dogs!
---
The 25th August
The neighbour children come in again and Dasher is getting much more relaxed - and probably looks forward to his daily treats!
I'm so grateful for the chance to get him used to children.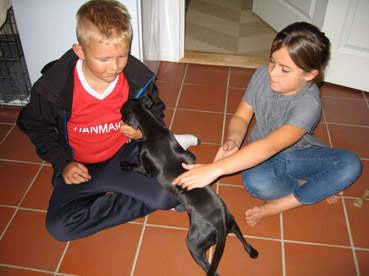 ---
Saturday the 23rd of August
...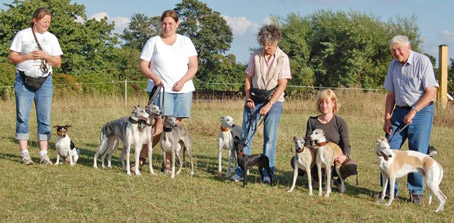 Photo: Christina Dahl Alfast.
we were invited by an "old" Whippet friend with 3 Whippets to meet up together with another Whippet friend with two Whippets at a wonderful old country farmhouse owning fields as far as the eye could see (
well almost!
) where horses normally grazed, but in honour of our meeting, they were all kept in the stables. To start with, all the dogs were let off to run around as they wanted - although I did not dare let Dasher run free as he would have become their "prey"! He's so fast that he attracts the Whippet's keen eye! He would have panicked and run miles, got lost or been trampled underfoot with 7 Whippets galloping after him! He still has a lot to learn. But a Danish/Swedish Farm dog called Krumme, (means crumb!) owned by our farm hosts, hit it off with him in a big way. Shame they never got to play privately together! Each could see that here was someone their own size - and Krumme was just SO gentle! Most of my pictures were these two playing under the table as we ate a wonderful variety of delicious cakes and had coffee, tea and Mulberry flower juice! Here is one of the cakes, on a hazelnut macaroon base, covered in whipped cream and topped with a tangy berry fruit mix! We tucked in! Photo to the right: Dasher had to learn to go up these scary steps - and he did!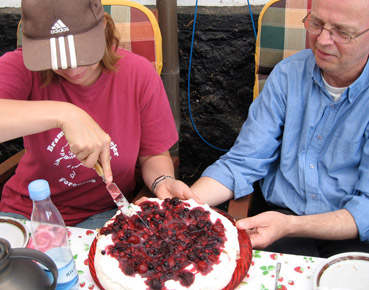 .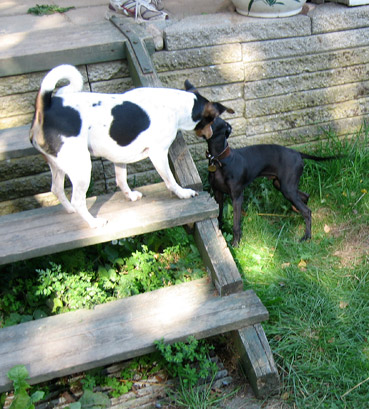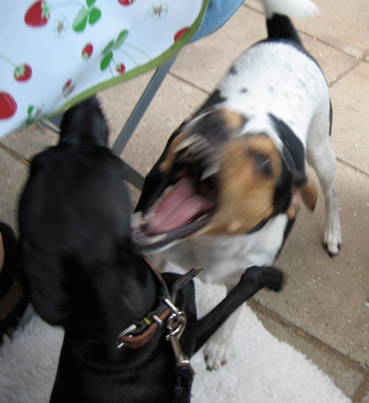 .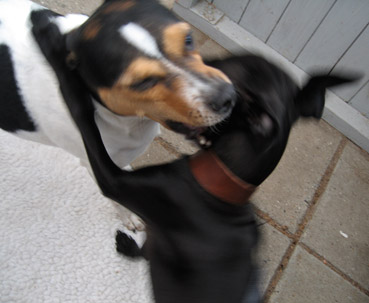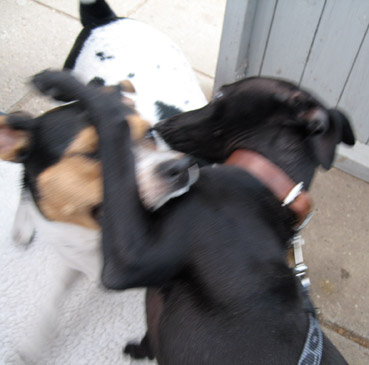 Dasher and Krumme play as I eat at the table. They really enjoyed the mad game and took it in turns to "kill" each other!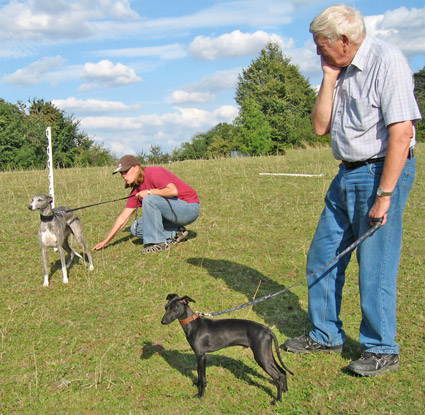 .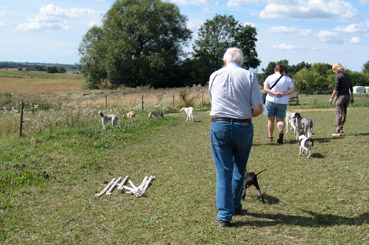 After eating cake enough for a whole week, we went back to the main field, where each dog in turn had a trail laid out by it's owner. We had an official instructor with us to show us what to do, she has the red t-shirt. In the photo, she is trying to help a dog to follow the trial, but the dog only has eyes for her mistress, who is standing nearby! The start of the trail is shown by the white stake, then a small flag marks the end. The trail was made of liver water! A piece of liver had been boiled for an hour and the water tapped off on water bottles, one per dog. The bottles had a small hole pierced in the top just before using. The liver was chopped up into small squares and dotted at intervals along the length of the trail - to encourage beginners to keep on going. A handful was placed at the end, near the flag, as a final reward. All dogs did well in more or less their own way. Only one really didn't go for it, but then an awful lot of interesting traffic chose to drive past on a nearby country road, so she spent most of her time watching that! She just needed more time to understand what was wanted. Mine did well as knew the meaning of the word "seek" and so they did so, as soon as I said! Dasher went last and really took his time so everyone else got very bored. He was under the impression that such a great meaty-trail should be lapped up and cleared away and not wasted! So he licked his way to the end! So this new way of following a trail took time - and on top of this, for his small mouth each liver chunk was a whole meal having to be carefully chewed 50 times and a thorough search made afterwards for possible crumbs dropped. But he made it to the end just before the others all started talking about going home!!! After we moved away into some enclosed gardens near the house, all the horses could be let out again. They had been whinnying their disapproval at intervals! I am hoping that the others will send me their photos so I can show you more from the day.

Click here to see extra photos!
PS The children have been in again - AND Dasher has been in the bath in special oil shampoo for dogs, which he didn't mind at all! He dried in a twink with the fine coat that he has. (This was AFTER the doggy get-together day so he didn't smell "funny" to the others!) Now he has lost most of his puppy "velvet" fur and is starting to get the very shiny adult coat. I wouldn't have done it, but he's been smelling of "pee" lately (!!) AND moulting. He probably passes underneath the bushes that my other dogs pee up!