Tuesday the 18th of January 2022
The news is: Yes, the new blog is ready! Click here for the new 2022 blog!
---
Tuesday the 28th of December 2021 - and the 13th blog!
An icey cold morning yesterday!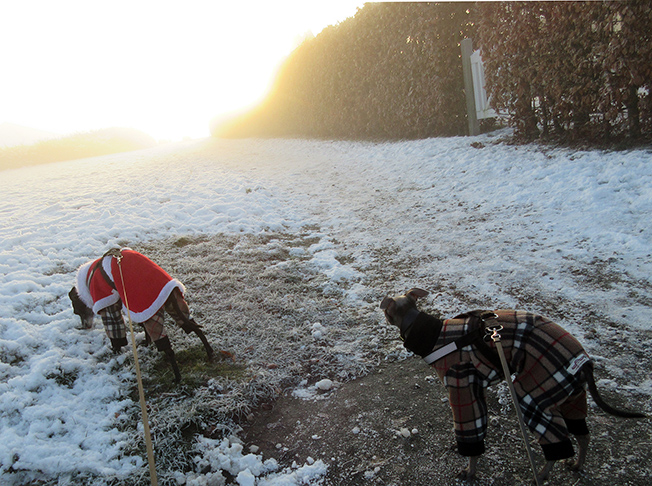 ---
Monday the 27th of December
The last Christmas gift arrives at the 11th hour on the 21st of December!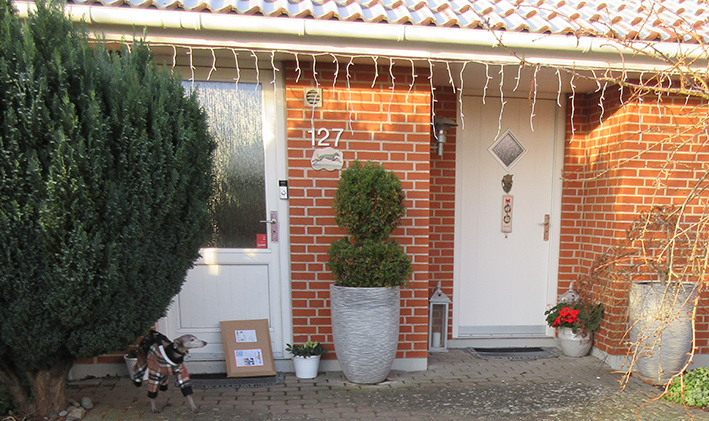 Below are some photos from a wonderful Christmas eve with the family.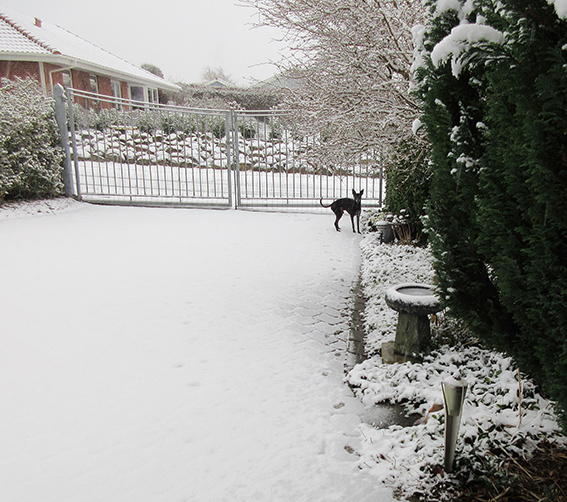 But first, boy did we get snow - and freezing weather! Minus 7 C degrees. one night.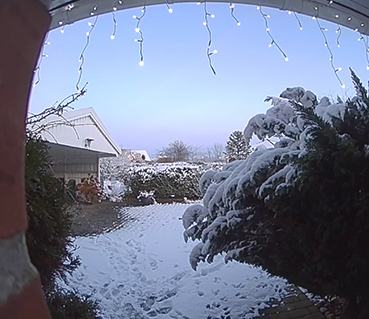 .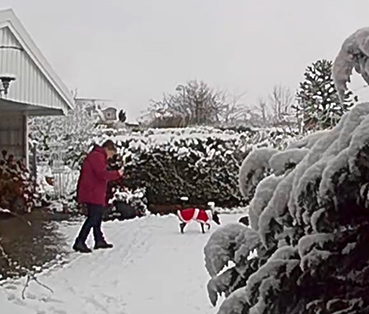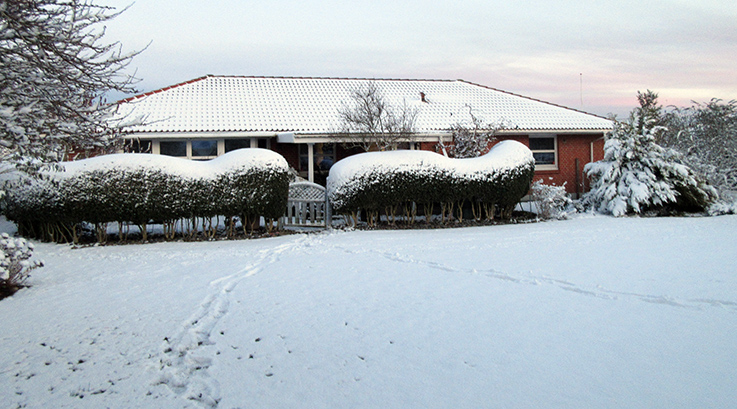 Above: The back of the house.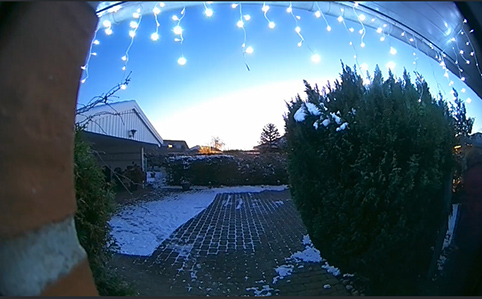 Very early morning and I clear most of the driveway ready for my Christmas chauffeur.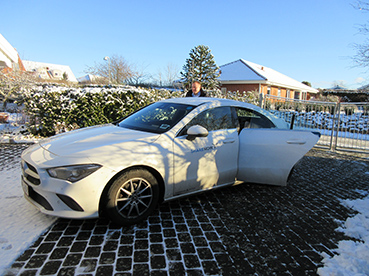 A smart hire car!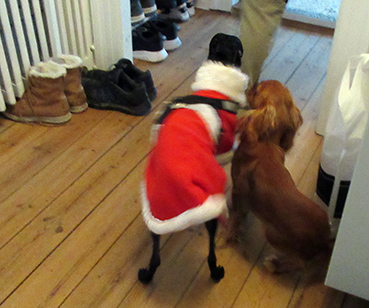 .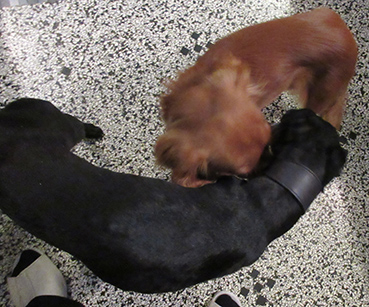 We arrive and the dogs greet each other.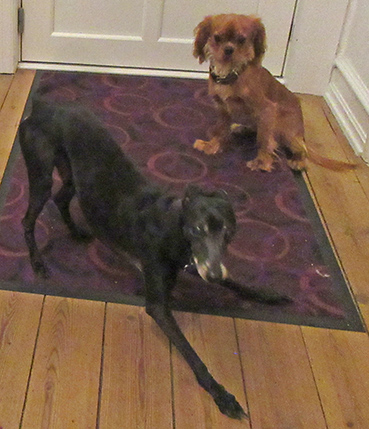 .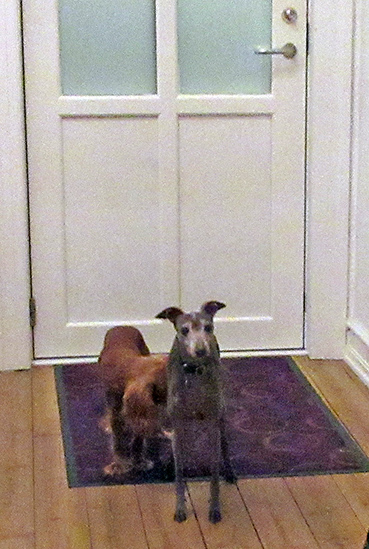 Dasher is always ready for a game and Solo is asking me something - but what?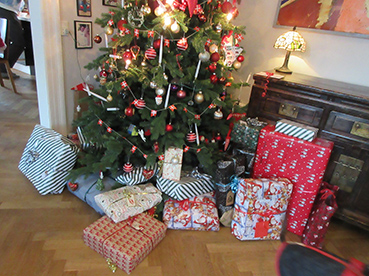 .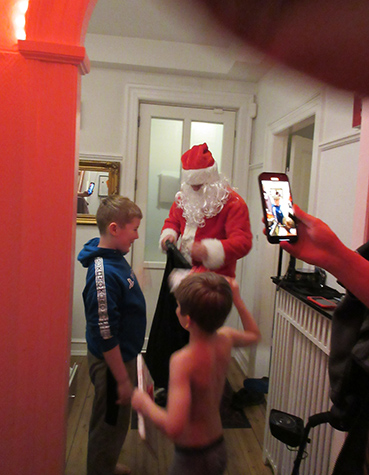 Some of the presents under the tree - and our Santa arrives with even more!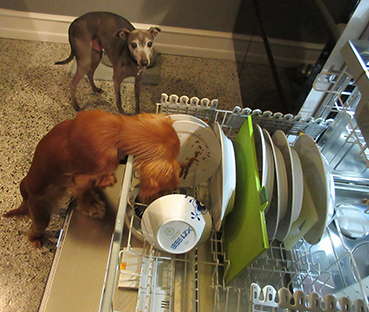 Above Solo is out in the cold! The new pooch who lives here is first to lick the delicious gravy off a plate!!!!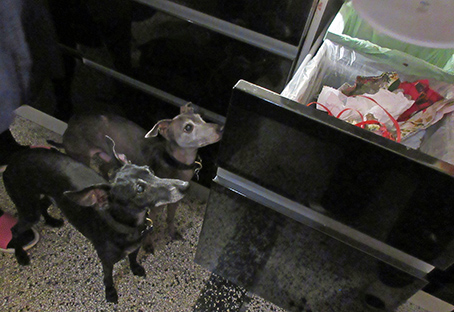 -
Above: Solo and Dasher are hoping that some food scraps COULD fall on the floor!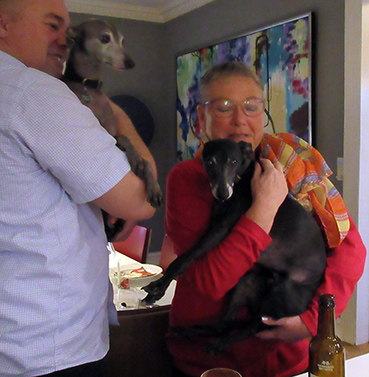 .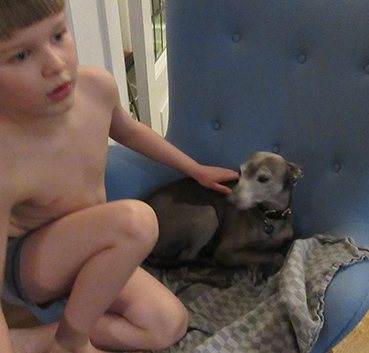 They get plenty of love and petting! (You can see the heat is right up as youngest Grandchild strips off!)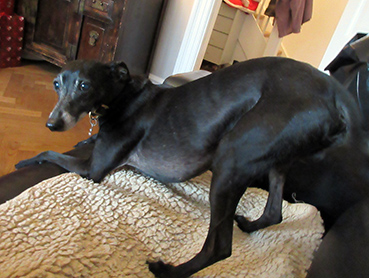 .
Dasher is always very playfull!



Getting the last Christmas presents out from under the tree!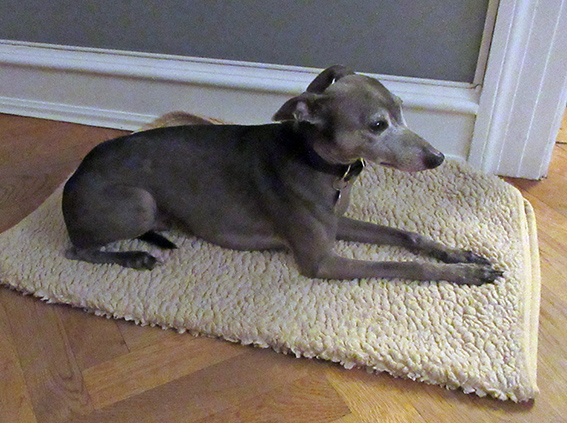 Solo like an angel dog on his blanket beside me while we eat. (But Dasher stands under the table hoping someone will drop something, even though both had eaten their dinner before us!)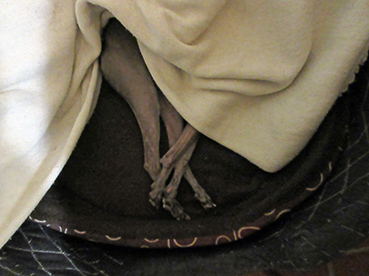 .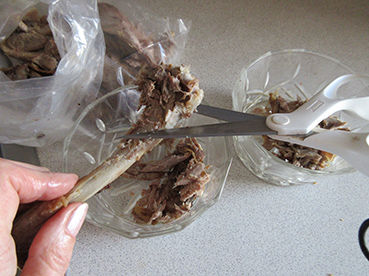 The day after Christmas eve, they are exhausted! Right: I am cutting up some duck left-overs for them next day.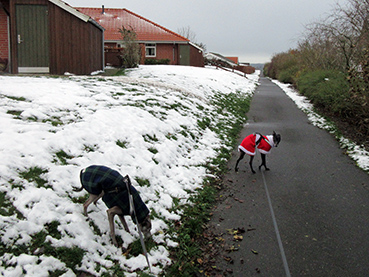 Off on a cold walk.
---
Monday the 20th of December
Dasher in our cold and frosty driveway this morning after a walk.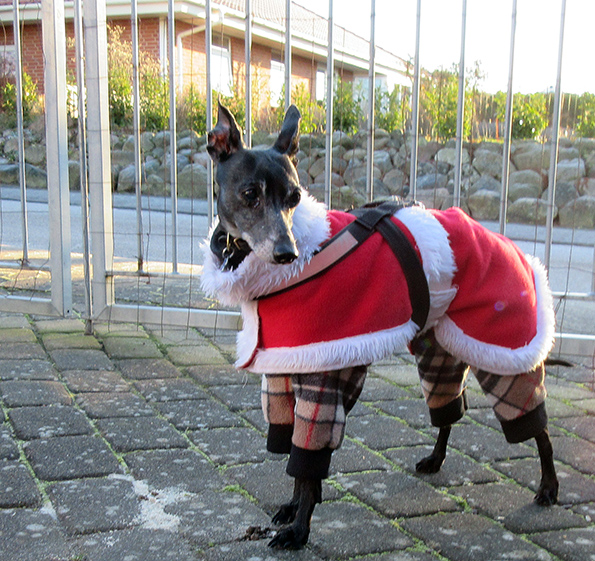 He puts his ears up more than ever now as he is getting very deaf.

---
Tuesday the 7th of December
Two dogs, one head!


Father Christmas and his little helper!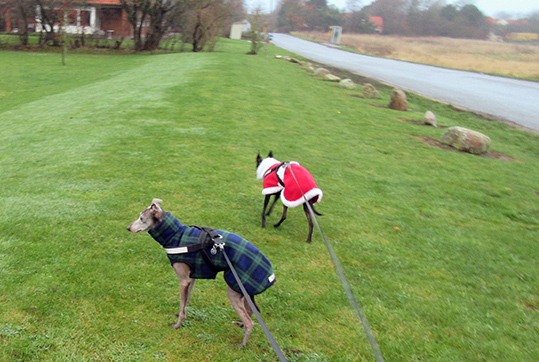 ---
Thursday the 2nd of December
Boy did we get snow last night and the most of the morning! The poor dogs at 7 am!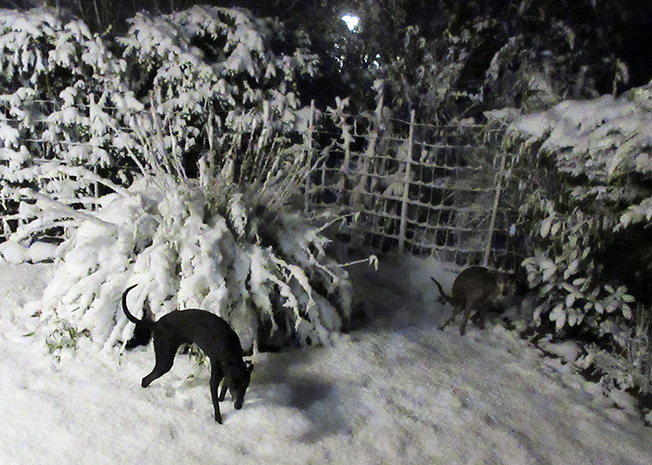 Looks like black and white photos but they ARE in colour!!!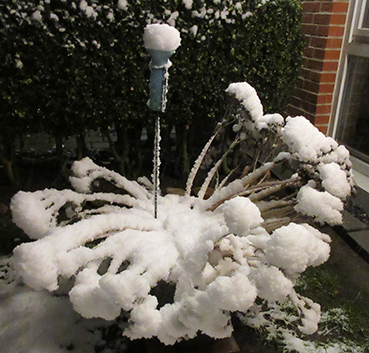 .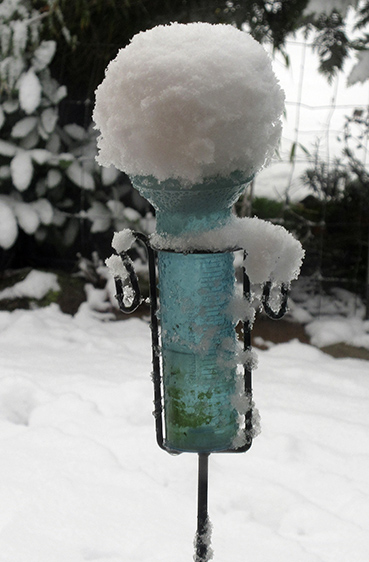 My water measure! Below, a gate plastered in snow.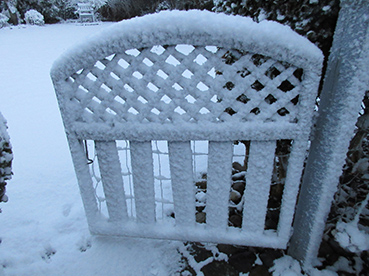 On the morning walk, they just had to have their warmest clothes.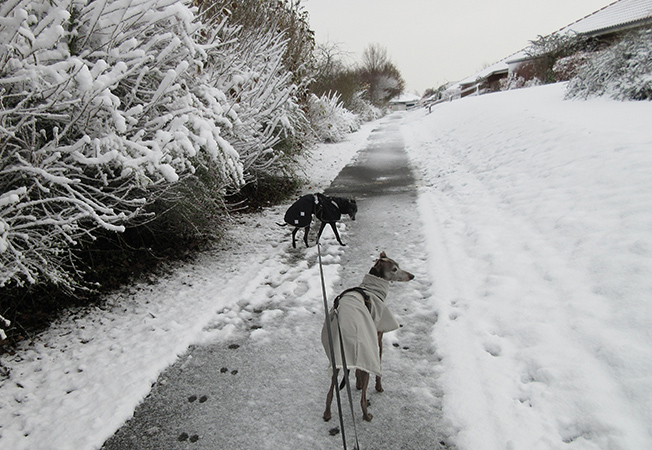 .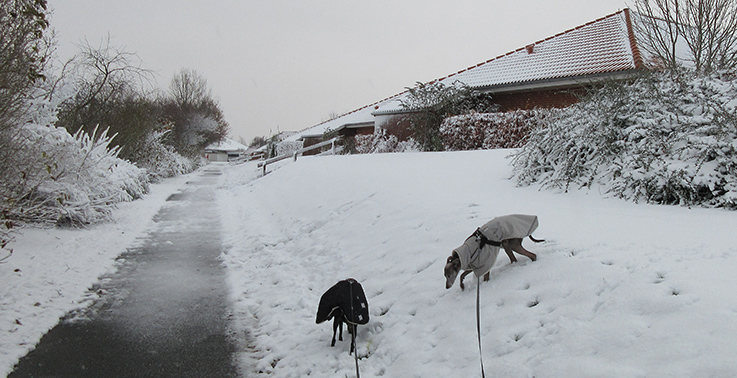 NOTE: They are not hesitating to wade around in deep snow - if the smell is interesting!
Below: You need to know where the path is to find it!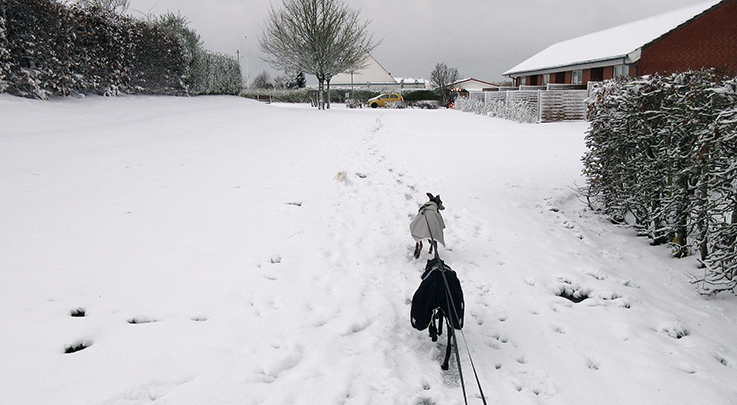 .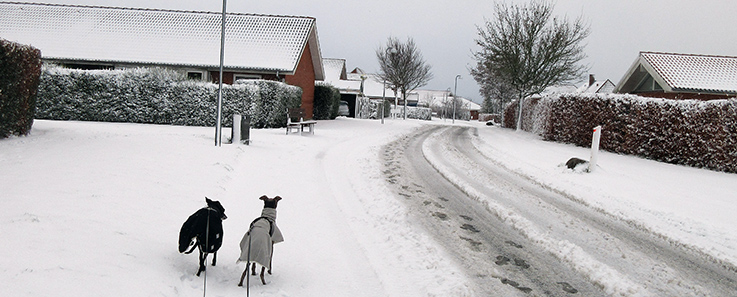 .

.
Later, Dasher dashing around in his Father Christmas coat!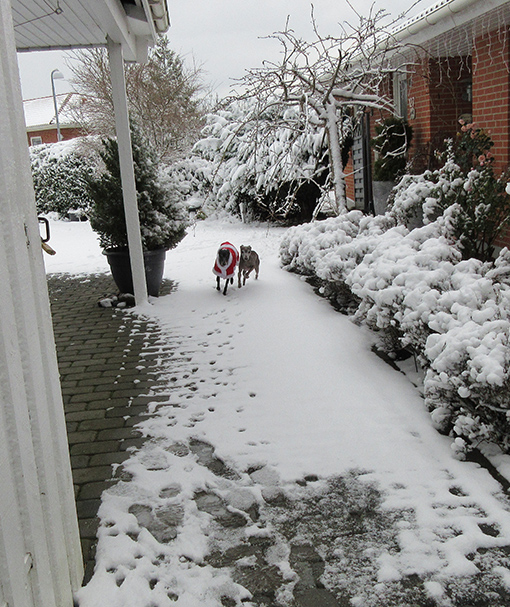 Above: Running around the house for exercise. Below: Solo steals again!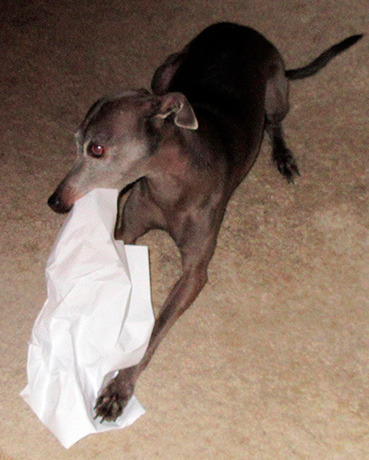 ---
Thursday the 25th of November
Today is Solo's 9th birthday, how time flies. I have now had 9 VERY entertaining years - well minus 7 months! Little did I know then of the laughs that were to come and all his many tricks!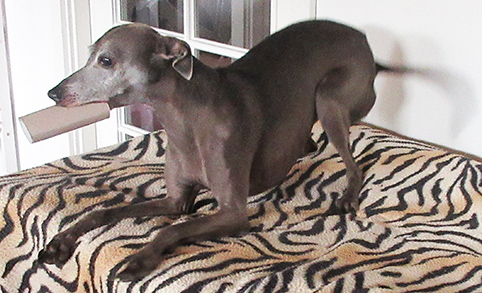 ---
Sunday the 21st of November
The dogs and I went to a family get-together at a big rented summerhouse by a beach last Saturday.


It was a nasty cold grey day unfortunately. Right: Dasher supervising the washing up!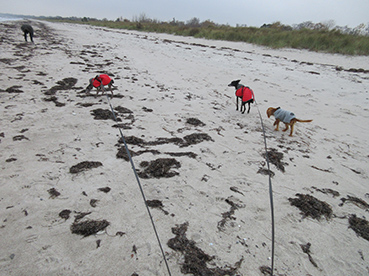 .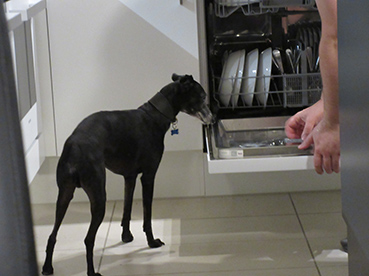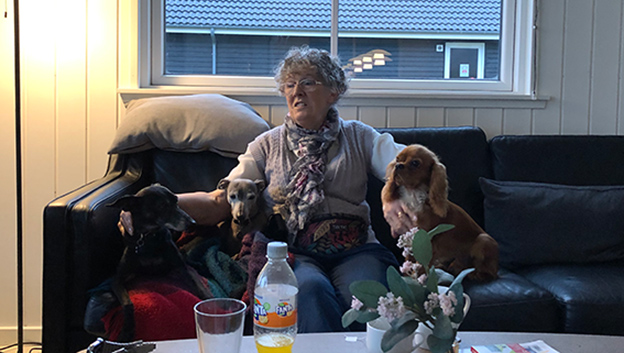 Above, me with only two hands trying to stroke three dogs!
---
Last Monday I took the long walk over the fields again.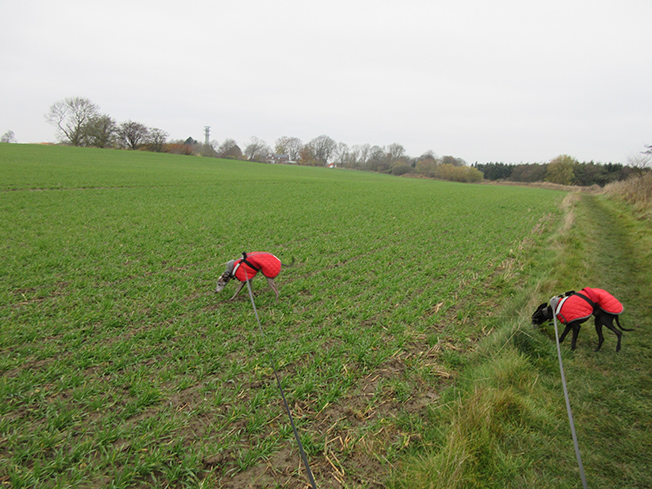 .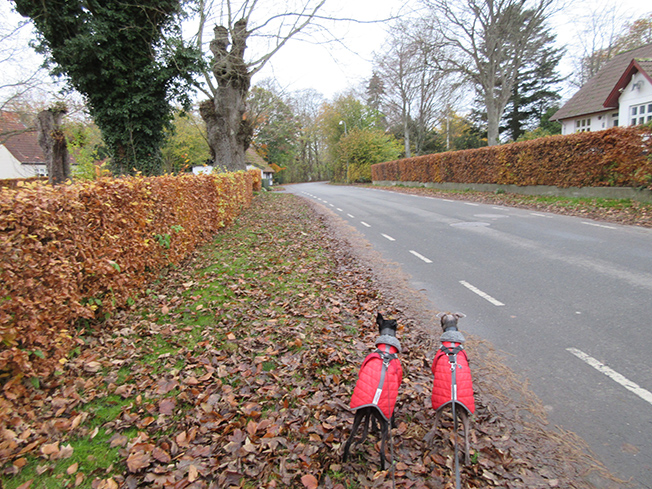 The leaves are nearly all down now...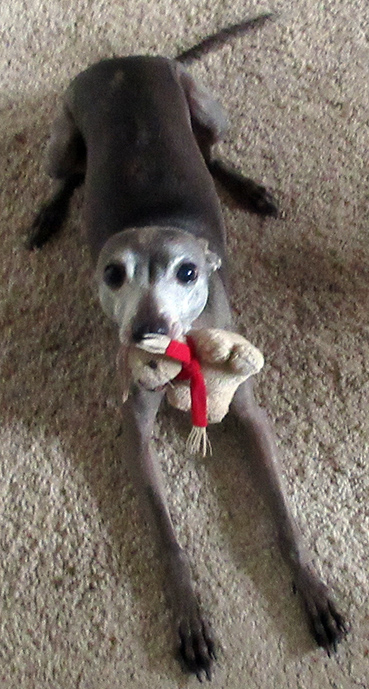 .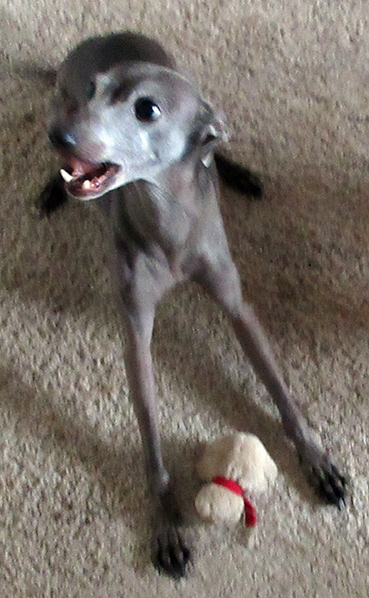 Above, Solo wants a game!
---
Sunday the 7th of November
Autumn colours are fabulous!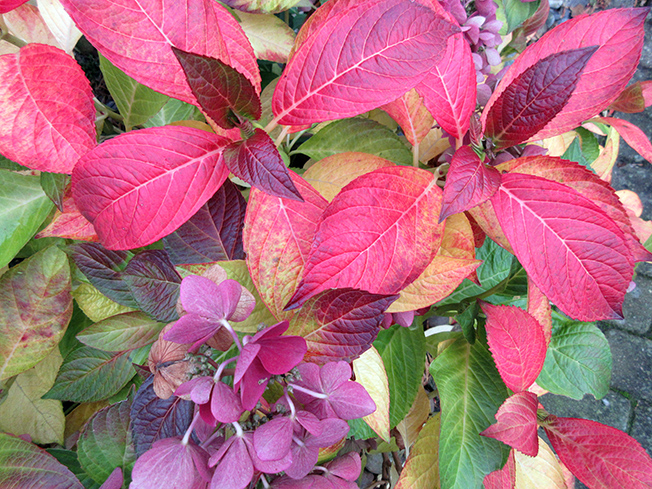 ---
Tuesday the 26th of October
A "leafy" morning autumn walk over the local fields.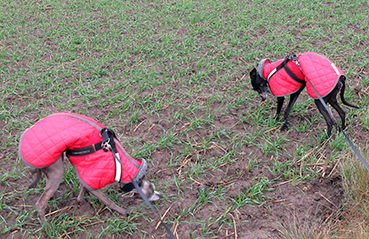 .
They are enjoying eating the "grass" in the field! I had to drag them away.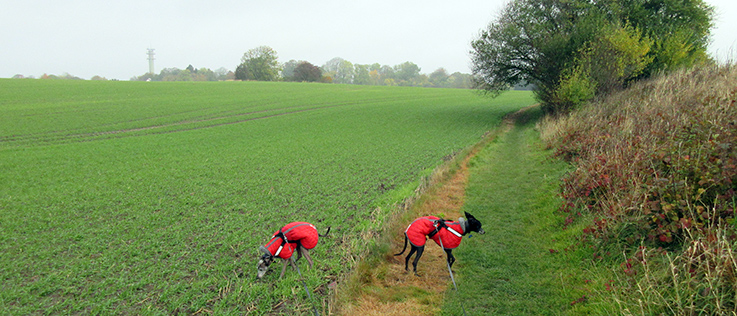 .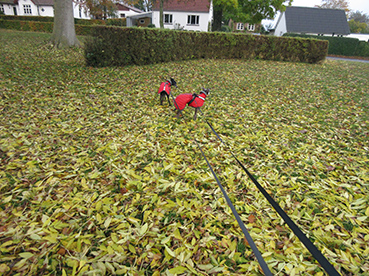 In the little village on way home.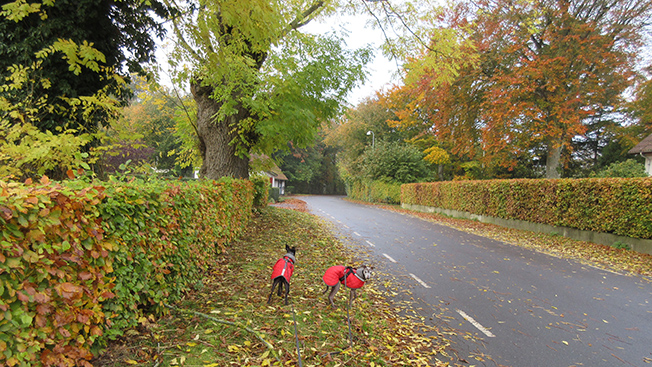 .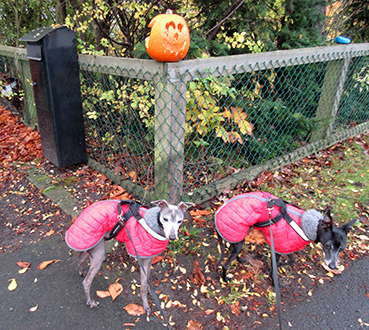 My two pumpkins and a REAL one!
---
Monday the 25th of October
My pumpkins after their morning walk and decorating the front garden!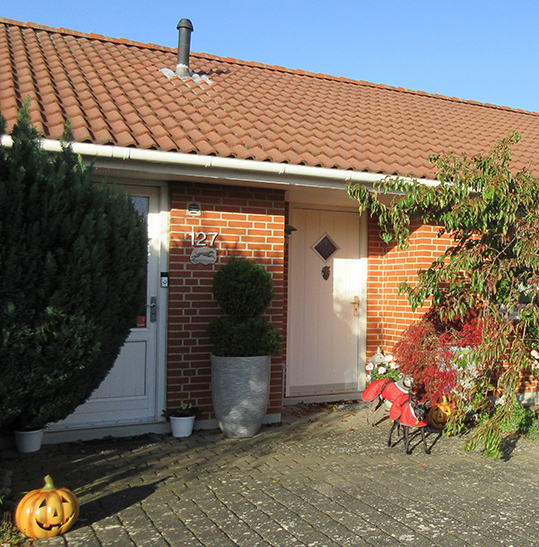 ---
Friday the 22nd of October
A nasty windy, rainy dog walk this morning and the dogs aired their "Pumpkin jackets" from "Togs for Dogs!" See how they brighten up the landscape!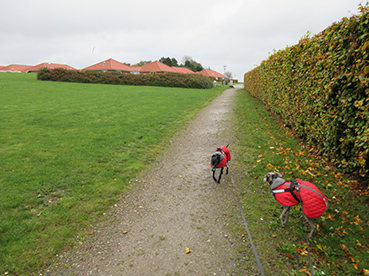 .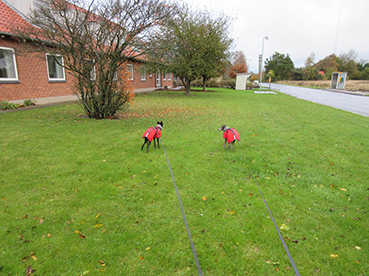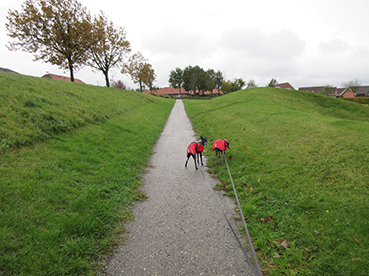 .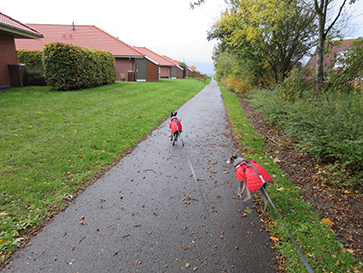 Below: A funny sight on my road! (I guess they are saving harbour fees by over-wintering it in their big driveway!)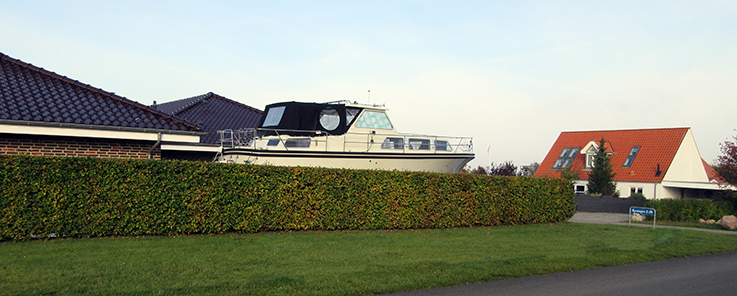 Below: Some dear friends thought they would surprise me with a Halloween balloon! Great fun!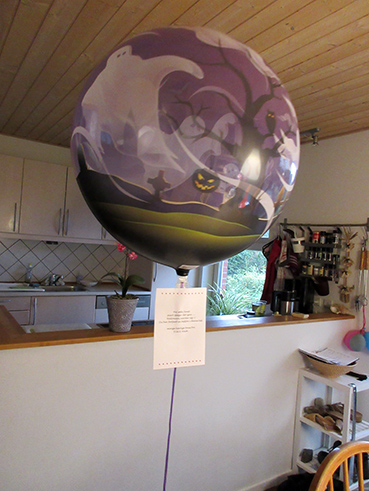 .

The dogs helped me undo the exciting box, disappointed that it wasn't some dog food for them!

---
Friday the 16th of October
Unfortunately, Dasher found a plum. They are still falling...They both love plums, but Dasher does not know to spit out the stone and I worry about his stomach as they are very sharp. He either sicks them up or they pass on through, which is not good. I go out several times a day and pick them all up, but must have missed this one.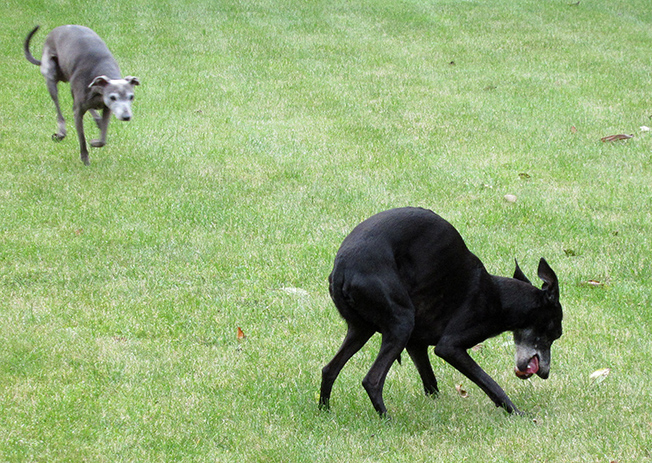 ---
Tuesday the 12th of October
Sunday, I travelled into Copenhagen with the dogs to a family birthday party. Unfortunately, due to repairs on the track, everyone had to take what they call a "Togbus" between my station and two others. (Tog=train in Danish and bus/busser= meaning in this case not a bus but a coach/coaches put in instead of the train.)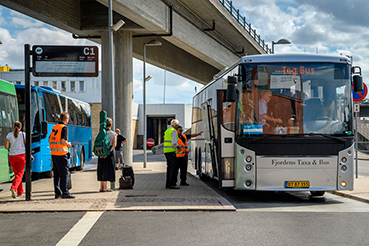 .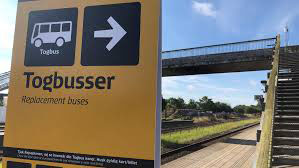 Then back on the train again. It was exhausting. The coach was such a squeeze that I never even took a photo. Solo was crammed on my lap so I couldn't get my camara out and Dasher on his rug under my seat! They were ANGELS and love travelling around! Everyone admires them!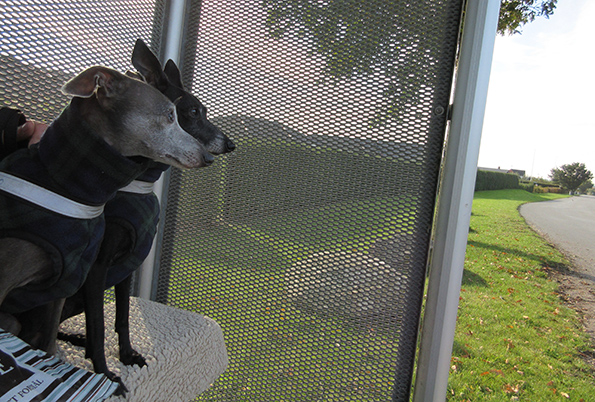 Above, here we are waiting for our bus to the station. From there we were to get the "togbus", the bus running instead of the train due to work on the train lines.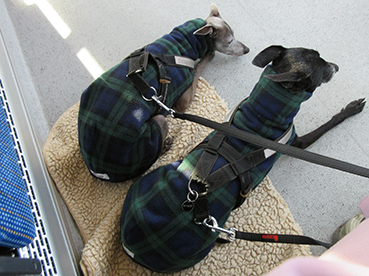 Above, sitting on the bus to the station.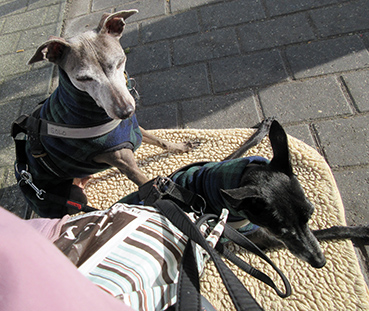 Above: waiting for the train AFTER the Togbus ride.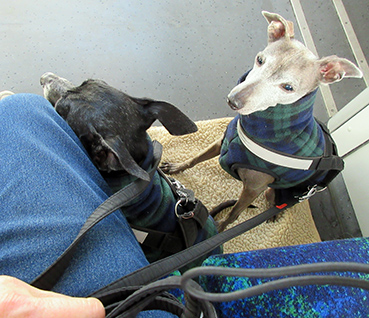 .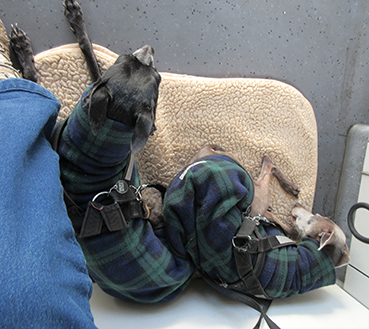 Above: Sitting on the train.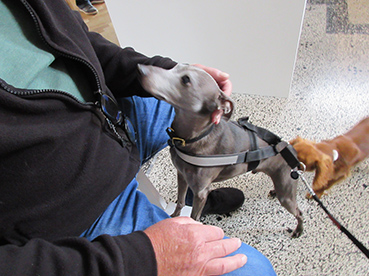 .
Above, being petted at the party. Solo hates dogs who are not sighthounds and is still getting used to a new Cavelier King Charles puppy in the family, so has to be on the lead.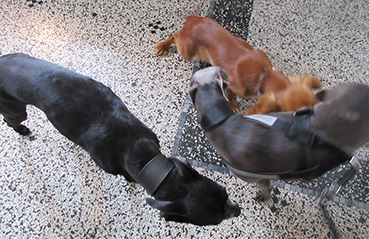 ,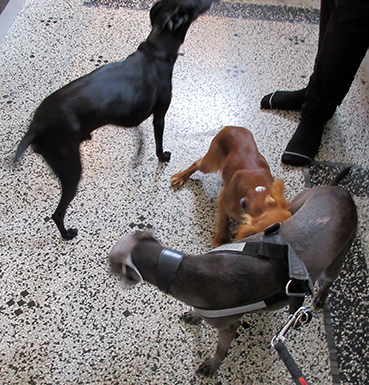 But he is rapidly thawing out!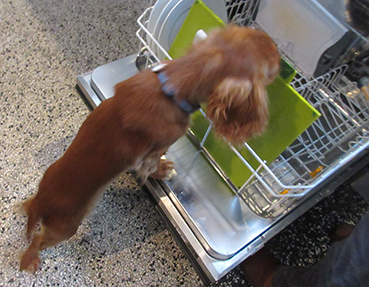 .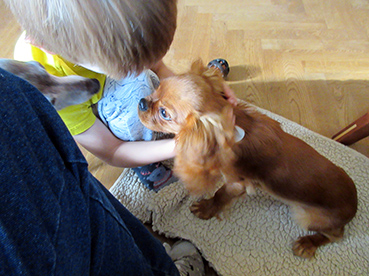 Above left: Checking the dishes exactly as mine always do! Right: Dasher and Solo are out in the cold now!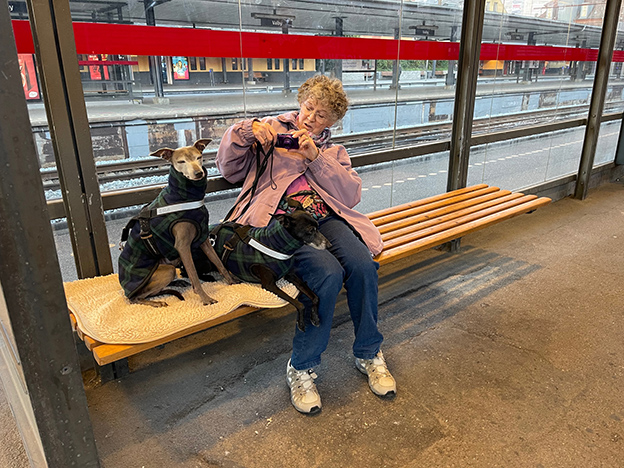 Going home, my son gave me a lift back to the station and took this photo while we wated for the train!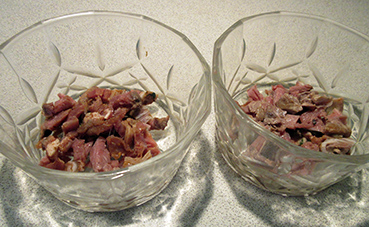 Above: Some of the delicious roast beef leftovers from Sunday was perfect for the dog's breakfast.
It disappeared in seconds!
---
Monday the 27th of September 2021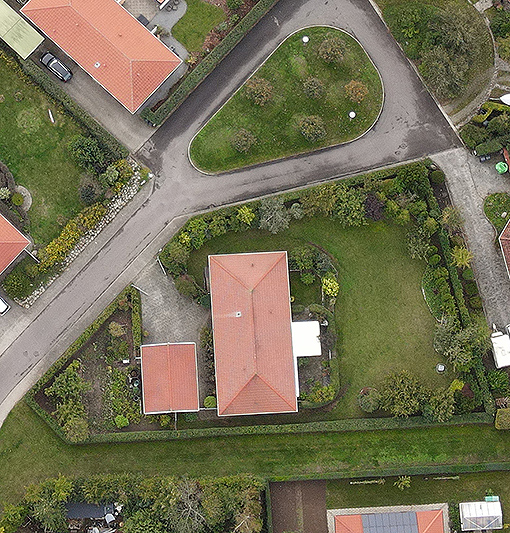 A drone's eye view of my house!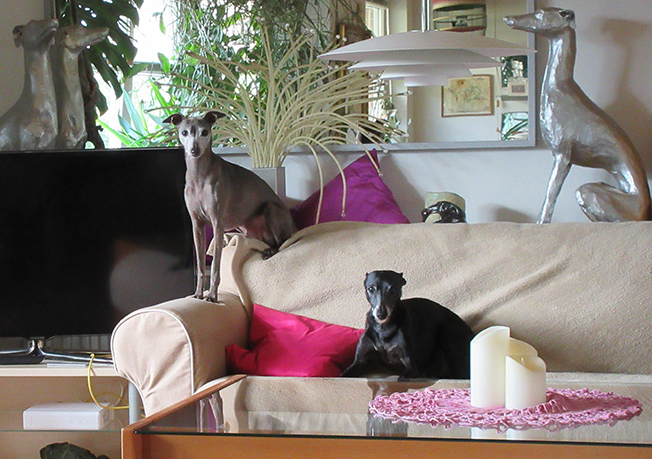 On the settee and staring at me.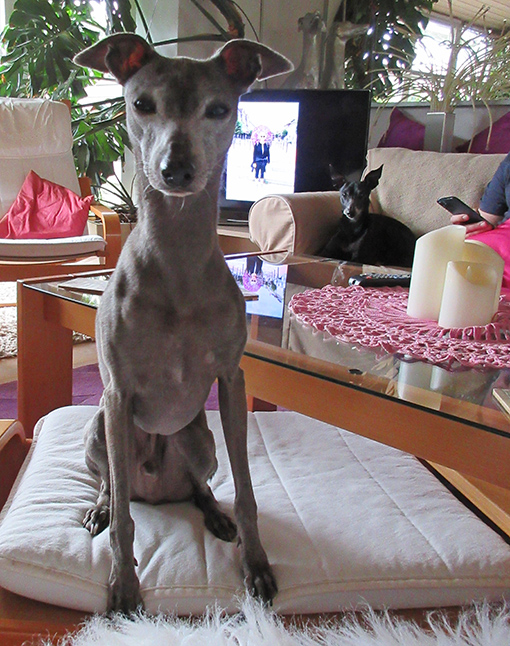 My son is trying to show me some wonderful photos from his holiday in Norway last week, (on the tv with "Apple tv"), while Solo places himself in the way to tell me that it is soon their dinner time and I should get a move on!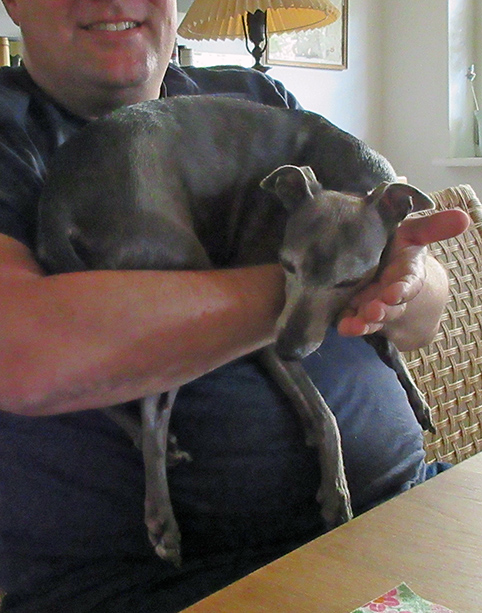 Solo falls asleep at the dining table! He finds this compfortable!
---
Saturday the 20th of September
Dasher loves the plums too but I have to rush out and pick them up before he comes - because he eats the stones as well and this is NOT good. They are big and sharp. Here he is wishing he could reach up at some.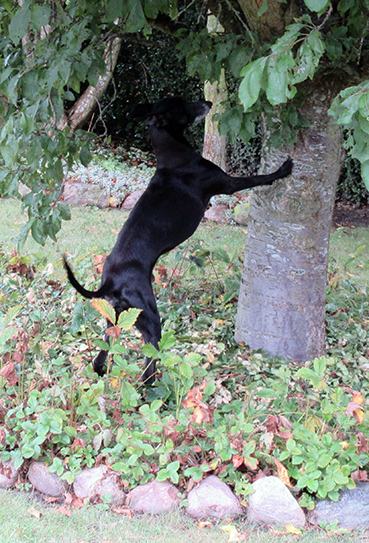 .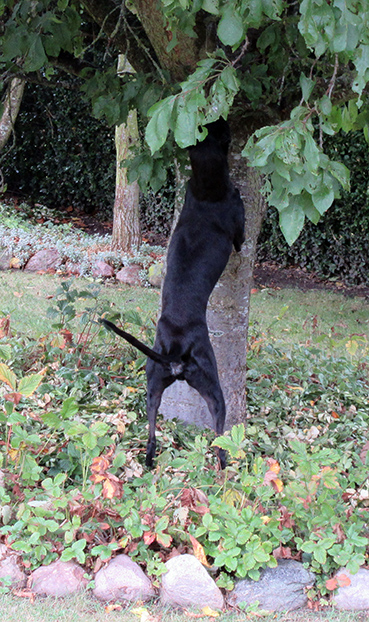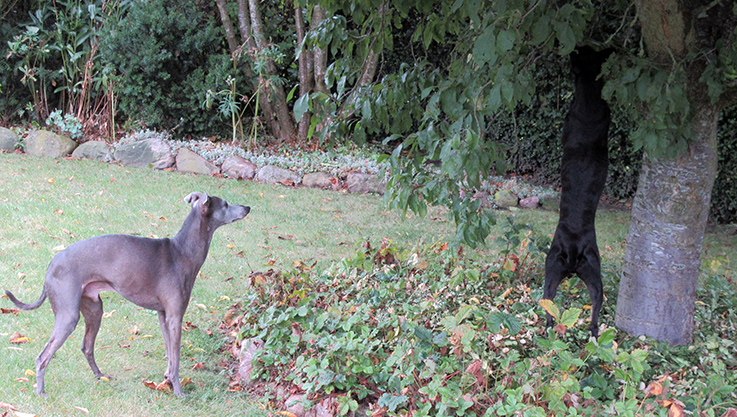 However, he DID find and kill a mouse and stood barking at it, disappointed when it didn't run!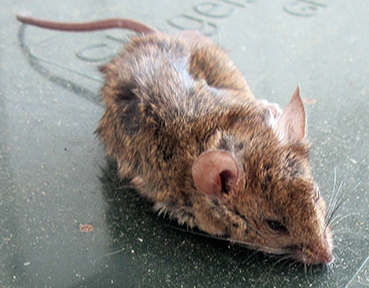 Solo merely "killed" a washing up sponge that he stole! Here, he is growling at me and daring me to grab it!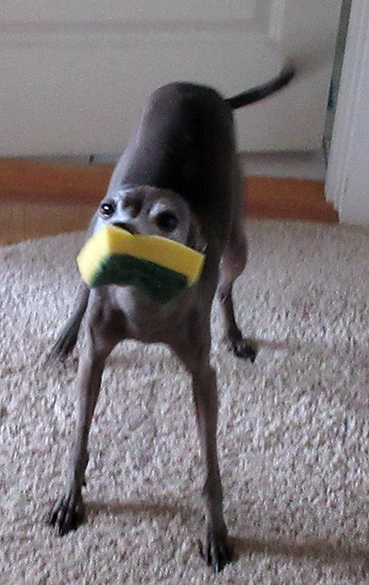 ---
Sunday the 12th of September
Solo plucking his own plums!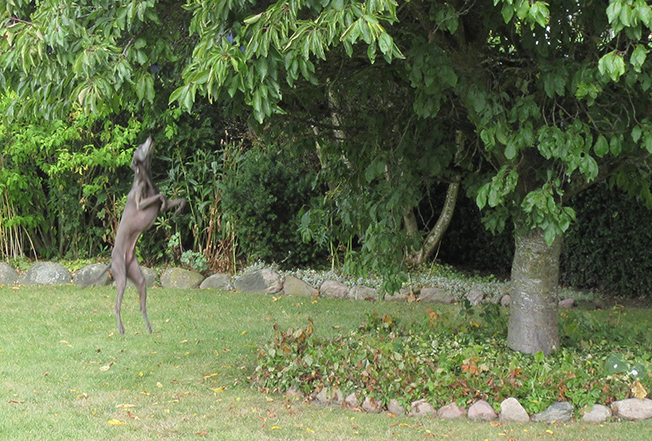 .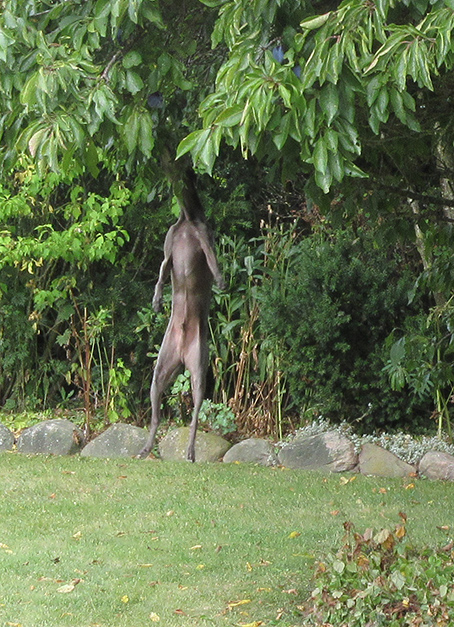 .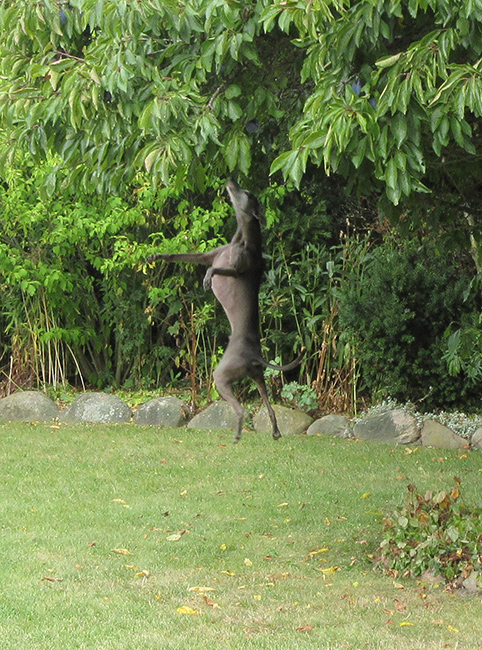 .


---
Friday the 10th of September
Dasher eats all insects! Here, he is wondering about an earwig - then he makes up his mind to eat that too!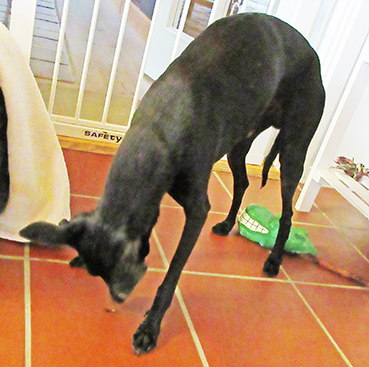 .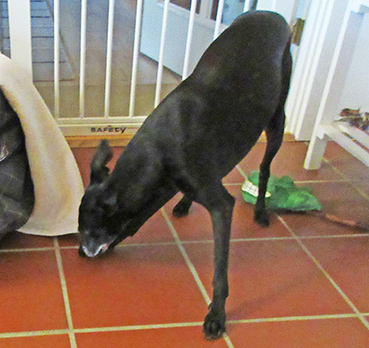 ---
Tuesday the 7th of September
I am finally finished with trimming the fancy box hedge around the patio. A dreadful job clearing afterwards even though I spread sheets out to collect the cuttings.



In the middle of the hedge cuttings, I spot a very big toad! I have to wait patiently while it crawls to safety!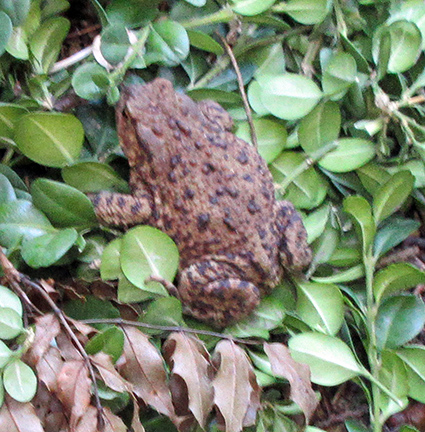 ---
Monday the 23rd of August
Solo loves to sunbathe, but it can be TOO hot, so I put a garden chair in front of him to give a little shade – and see how he looks!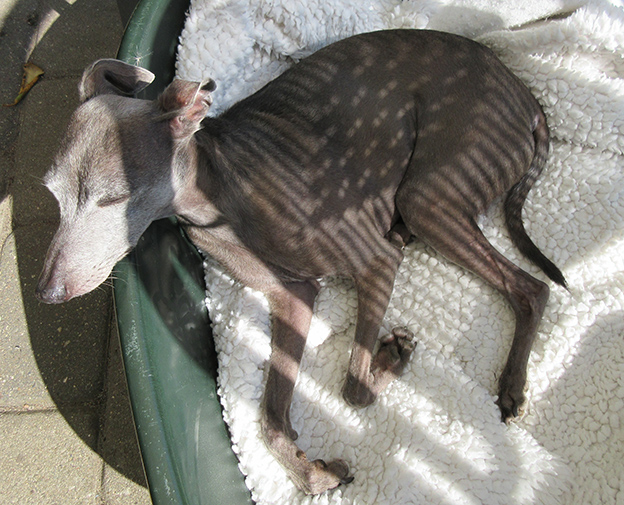 ---
Thursday the 19th of August
Dasher grabs a toy mouse and invites me to play!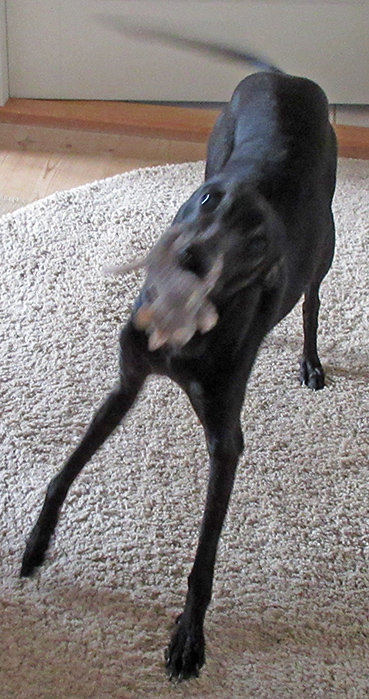 .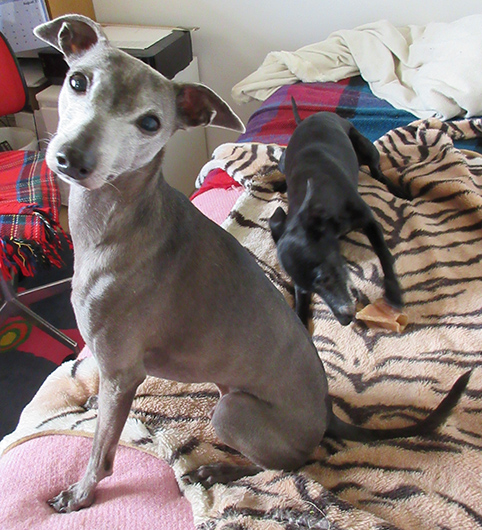 "Is he soon finished with that bone? 'cause I want it!"
---
Monday the 9th of August 2021
Yesterday, Whippet Fauna visited me for the day as her family were to make a very long car journey that she would not have enjoyed.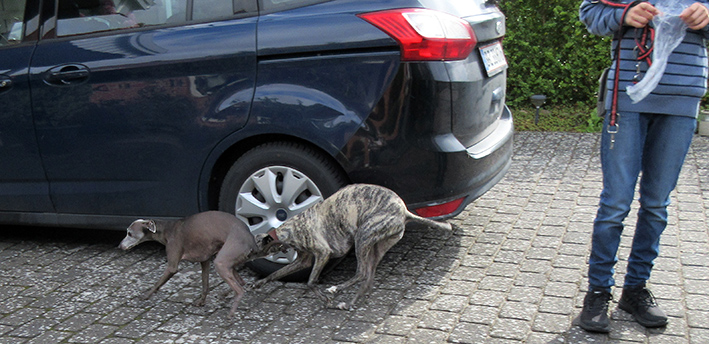 They stopped briefly for refreshments and of course Solo jumped up.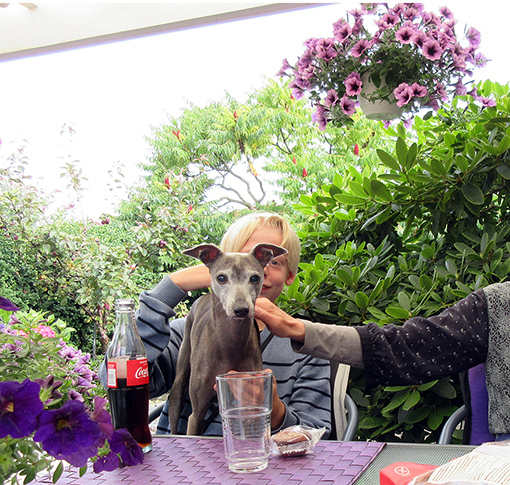 Below, meanwhile Dasher who's under the table, wants me to pet him!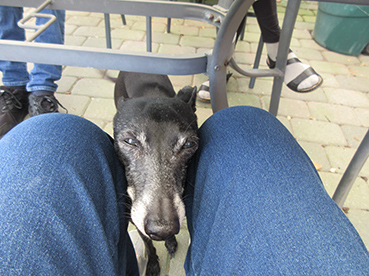 Below: Has Mum really left me here again?



Fauna wating for me in the utility room.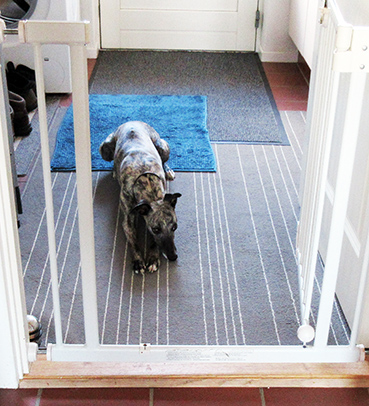 .
Bottom left: Waiting for me and about to run around the house for exercise.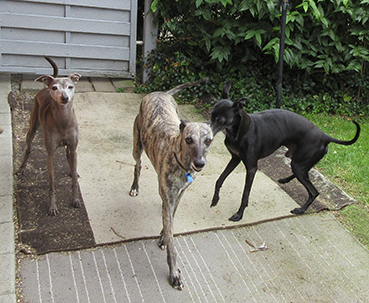 .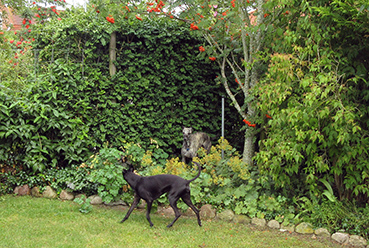 Below chasing in the garden.



Below, as usual Fauna has to supervise me in the bathroom and Dasher is wondering what she is doing.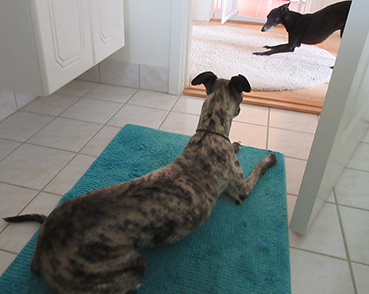 .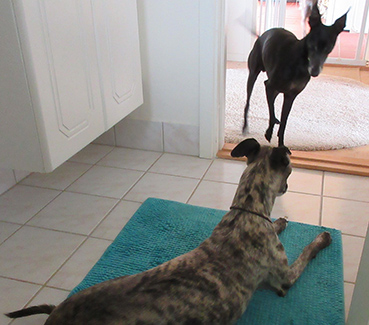 Below right: But when her Mum goes in there, she has to wait outside!
(Below left: Dasher is chewing an old discarded bone that Fauna has chewed and softened at one end, so now he is interested in it again.)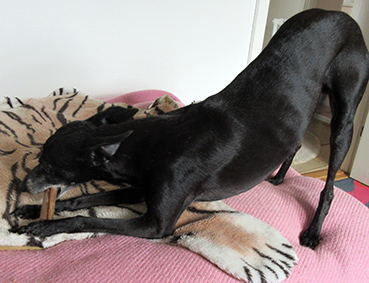 .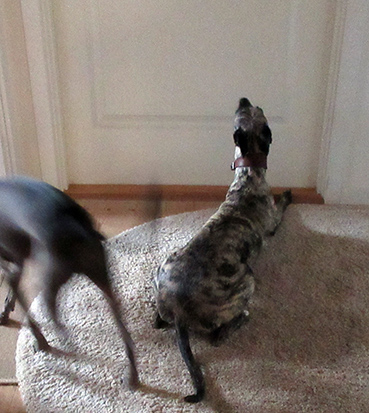 Fauna's Mum comes to pick Fauna up again...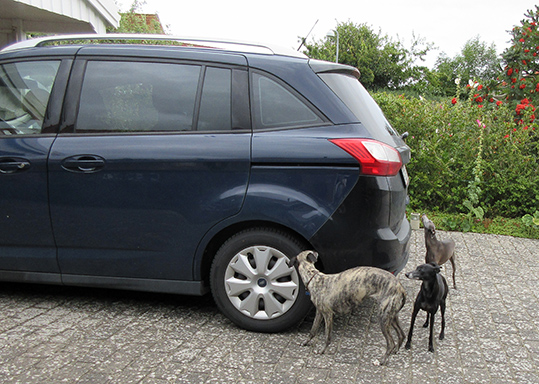 .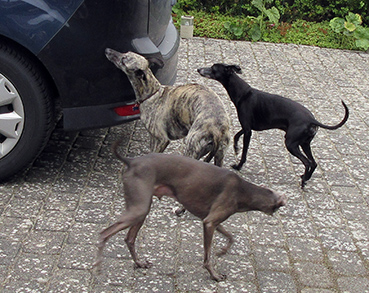 Below: Solo and flowers at the back door.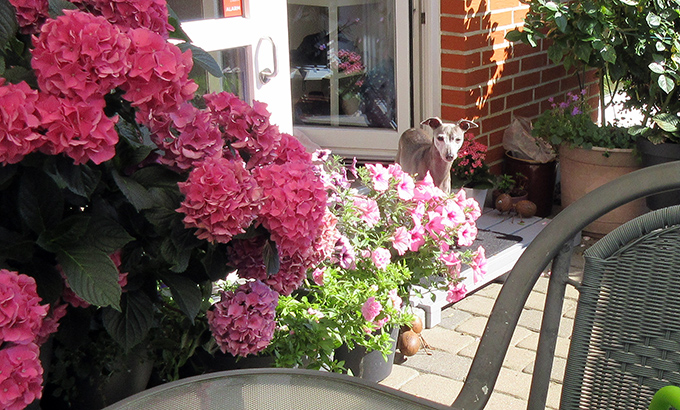 ---
Monday the 2nd of August 2021
"Yes, I KNOW I've done something wrong..."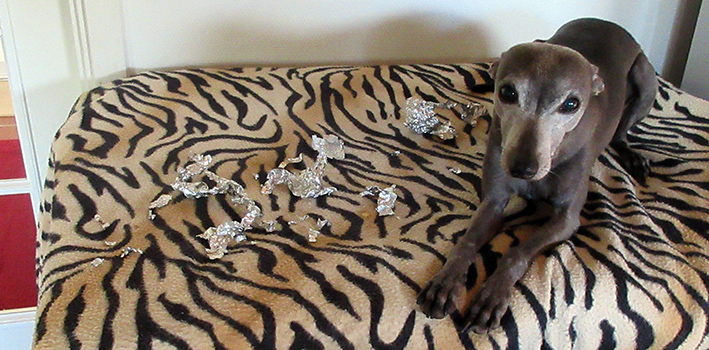 ---
Sunday the 1st of August
Last week I took photos of the doggy walk over the local fields and far away from civilisation!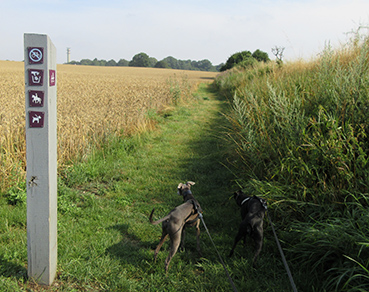 I think it is corn - and very ripe by the look of it.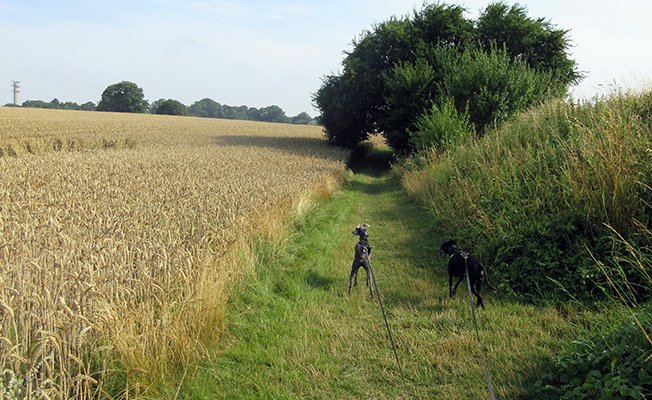 .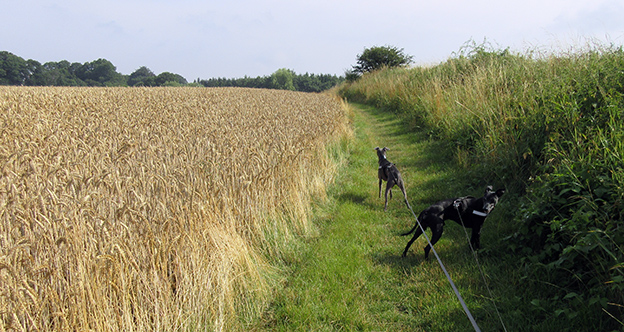 .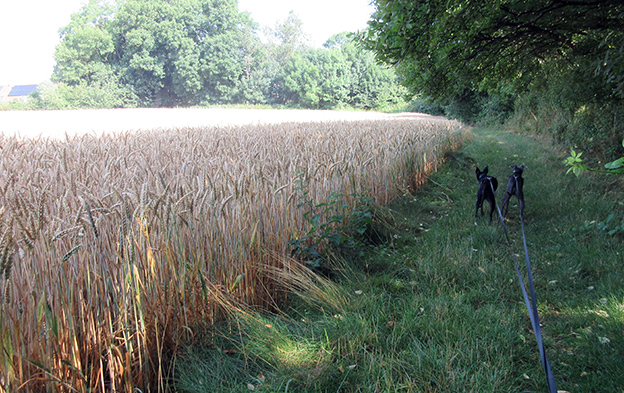 .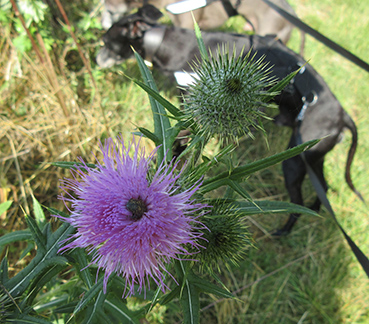 Below: Looking west.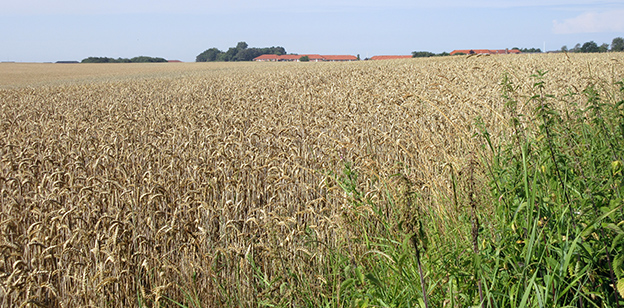 Dasher ready for a game! Even after a walk.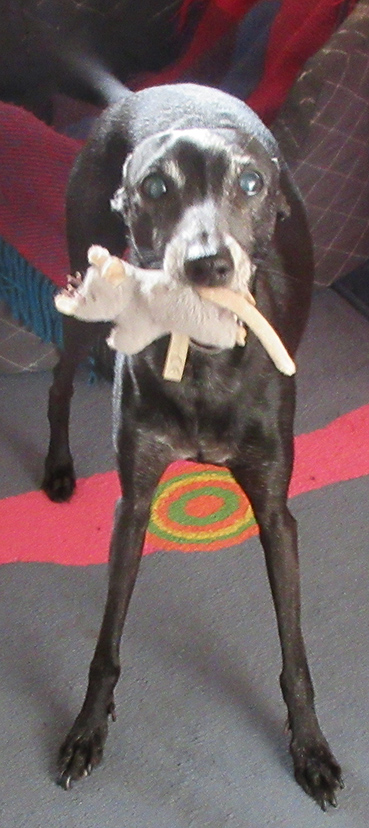 ---
Monday the 26th of July
No prize for guessing where Solo has just been!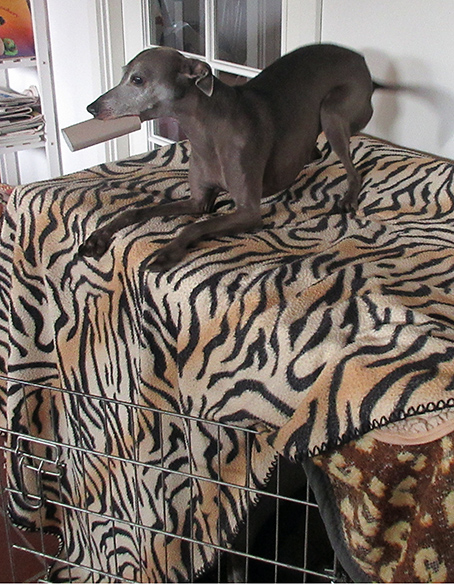 It has been VERY hot and he's grabbed my chair and is nearly falling asleep.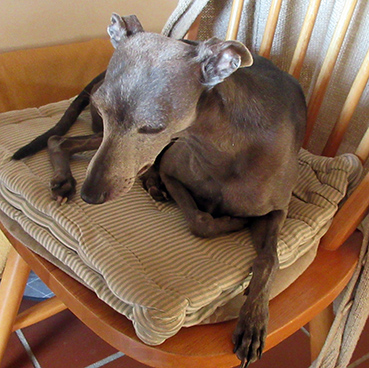 ---
Monday the 19th of July 2021
Dasher feeling playful!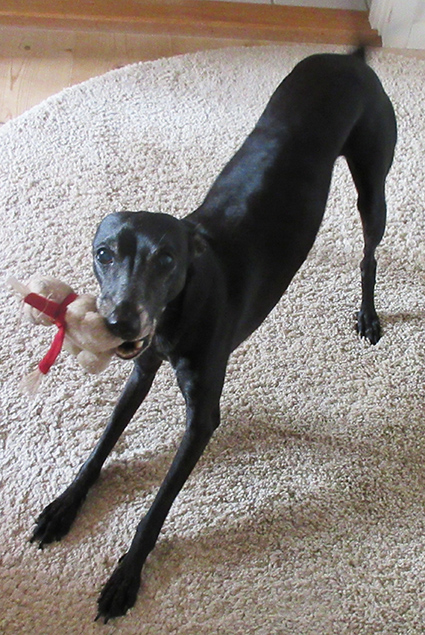 ---
Thursday the 15th of July
It's been a good cherry year! They are SO juicy! (Yes, there are a few strawberries as well!)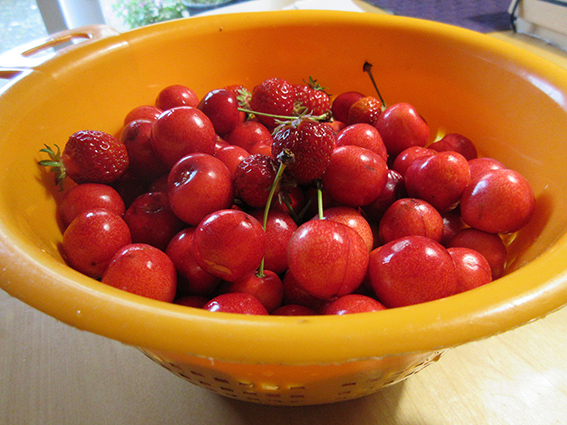 Below: Waiting for their Frolic crumb after rnnning around the house!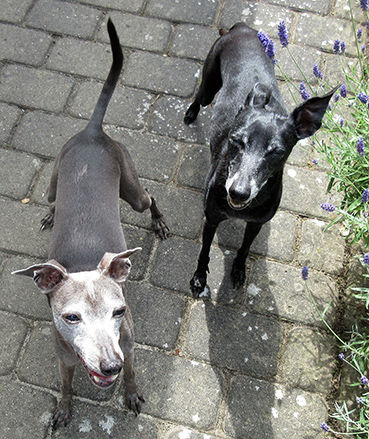 Below, a wild Pansy props itself up in a group of hanging Petunias! Solo has rummaged in my rubbish bin again!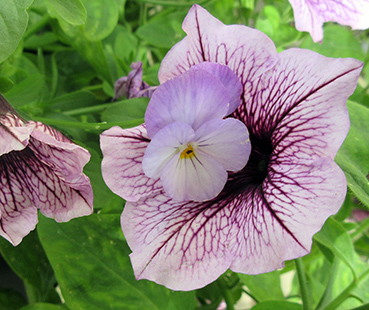 .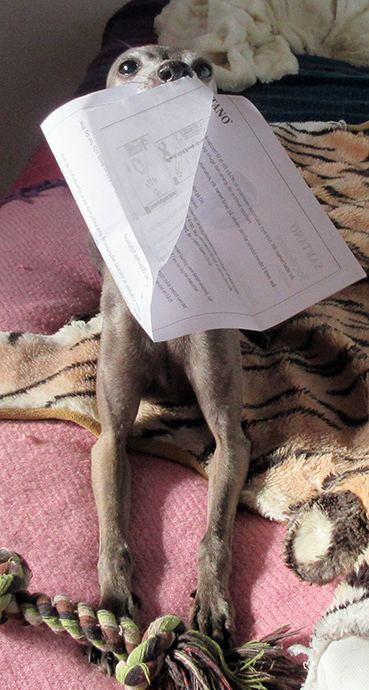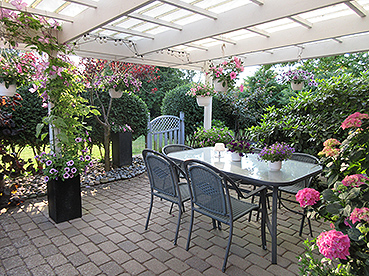 Above: My patio a few days ago.
---
Tuesday the 6th of July
Good news! After 9 days where Solo has had a tiny elastic bandage around his dewclaw in the daytime, so he could run without damaging it further, he is fine and now bandage free. Photo of him sunning himself yesterday with the bandage on his right leg. Can hardly be seen. Today I have not put it on and he ran around the house 5 times at top speed quite ok. I think he merely cut his skin in the car rather than actually nearly ripped the claw off, which everyone fears with their sighthound - there is always a risk. Phew!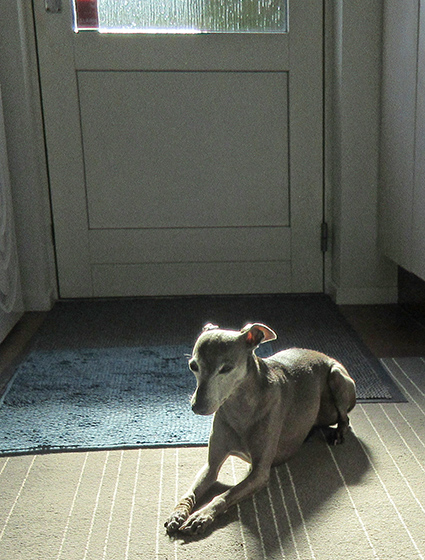 ---
Friday the 2nd of July
The prettiest mini-carnation ever! Has survived 3 winters and is still bursting with flowers every summer.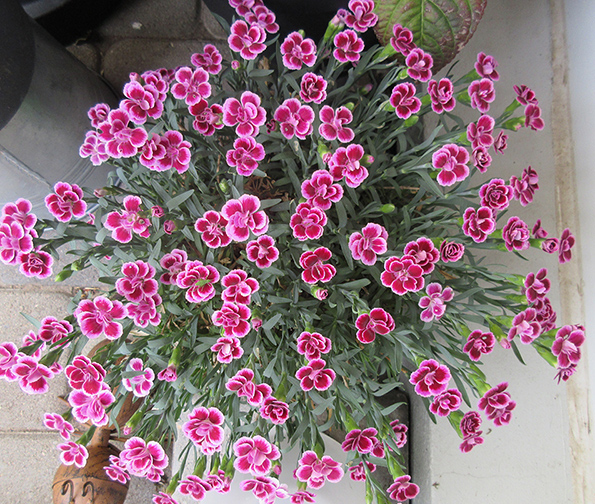 ---
Wednesday the 30th of June
What a day last Sunday! A month ago I arranged with my son that they give me a lift to Lure Coursing on the 27th of June. I really looked forward to this luxury and extra fun. Some days beforehand, I was asked to look after Whippet Fauna, as many times before. When the time came for applying and paying for the dogs to run, I included Fauna, who is brilliant at the sport. (Dasher is retired now at 12 years of age.)
However, when Fauna arrived on the Thursday, she was limping on her left fetlock. We don't know what she has done – it happened that very same morning. This meant I contacted the Sighthound Club to say she would not be running and they could include another dog from the waiting list.
Then Sunday the 27th of June we all got up extra early as there are many preparations. The others had nearly an hour's drive to my house. We loaded the car with piles of things, including coffee for the "LC cake table" they have, chairs, food, doggy items and a new car back seat cover I had bought specially, which had to be fitted. Finally we drove off pretty much on time. The dogs were excited having figured out what we were going to do!
I just got my seatbelt clicked into place with a struggle, and then checked the 3 dogs lying by me, (also fixed with dog seatbelts), and saw to my horror that Solo was bleeding a little from his right dewclaw! (Below later on in the car and Solo sitting on my lap.)


Plus some scrapes on his other foot! We'll never know how he did this, but he had insisted on jumping straight in before we were ready and I think he stepped on all the leads and harnesses lying there and cut himself. I immediately had visions of the vet amputating it – at great expense – many dogs have this problem. I exclaimed out to the others that he definitely could not run! We had only just reached the end of my short road when we realized that now we had THREE dogs, none of whom would be running LC – and the weather was SO perfect too! Plenty of clouds so the sun wasn't too hot and hardly any wind. A lovely day – if you have three fit dogs!
The others suggested a dog walk somewhere so we drove to the huge bridge going over to the island of Fyn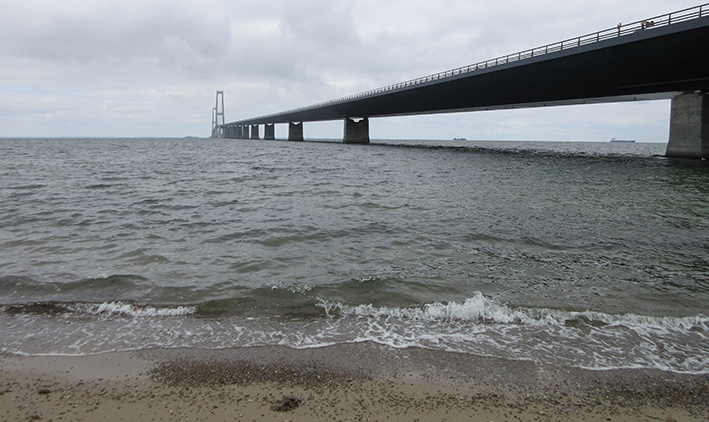 and walked along a little beach there at the base, but not far with Fauna limping slightly and Solo with a cut on his dewclaw.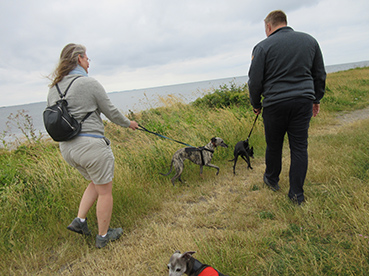 Then home again and unpack everything! We had a good time eating lunch and chatting and drinking all the tons of coffee but I was SO disappointed – and that was perhaps my last time. With only one pooch who can run who is getting up in age (8 soon 9), the run takes just a minute and then up to 2-3 hours to get there on bus and train! Plus many of my friends have stopped too as their aging dogs have retired from the very demanding sport…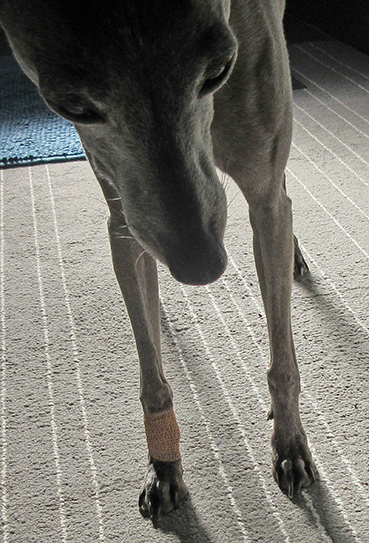 Above: Solo now has a little bandage on all day to stop him wrenching his dewclaw when running etc. which I take off at night. I am thinking it will heal by itself. Cross fingers!
---
Saturday the 26th of June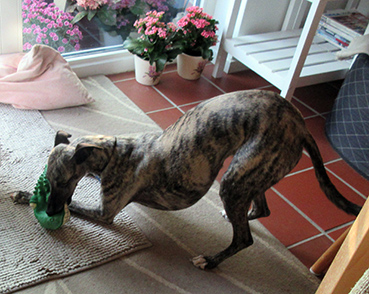 .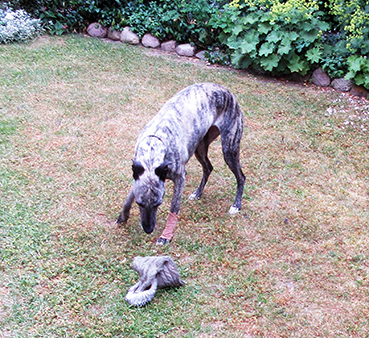 Left: Fauna plays with a squeaky toy. Right she likes this fluffy toy. Below: Supervising me.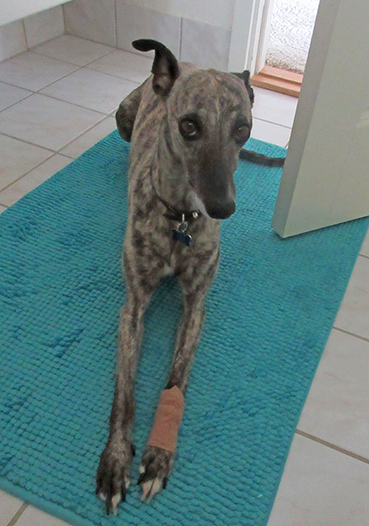 ---
Friday the 25th of June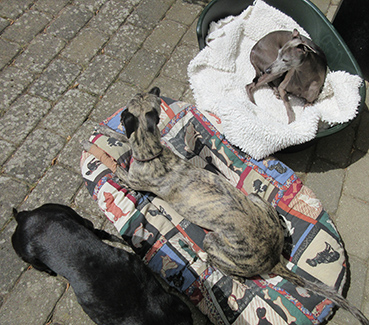 .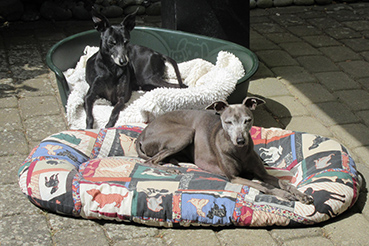 Above, sunning themselves on the patio. Below left: Supervising me with the strawberries again!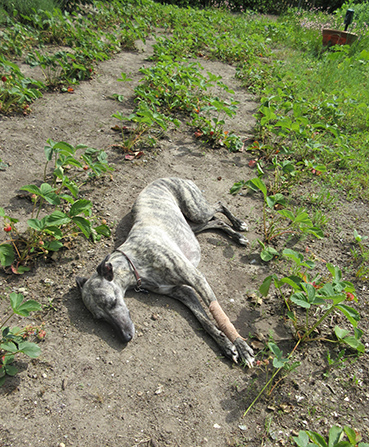 .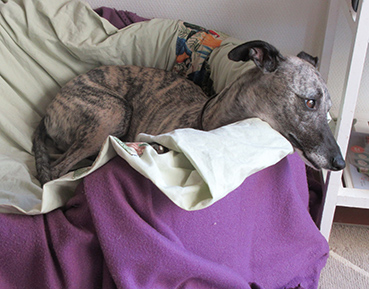 Above right: Longing to be back home again?
---
Thursday the 24th of June

Fauna comes to stay with us for a few days. Unfortunately for her, the very same morning, in an unknown way, she strained her left fetlock so she limps. Meaning she must not run around the house with the others. Such a shame
.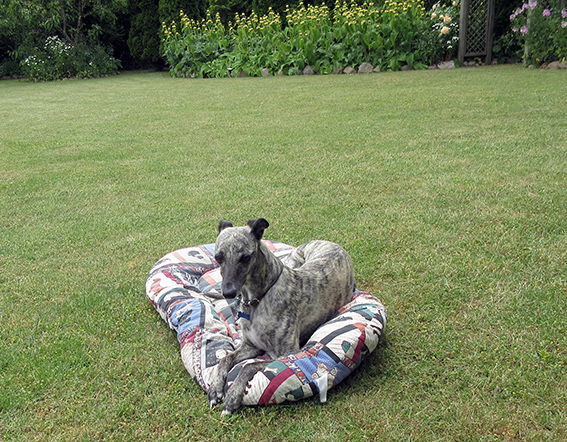 However, she can supervise me gardening. See "my" father Blackbird in the distance. She does not bother him. He has a nest in the box hedge to the left.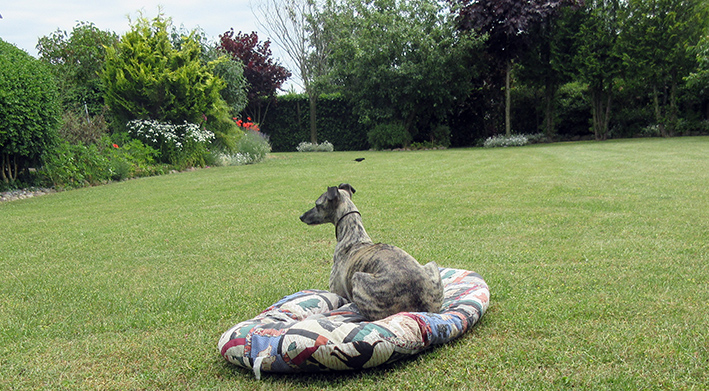 Picking strawberries in the kitchen garden - me not her! She just sniffs - luckily!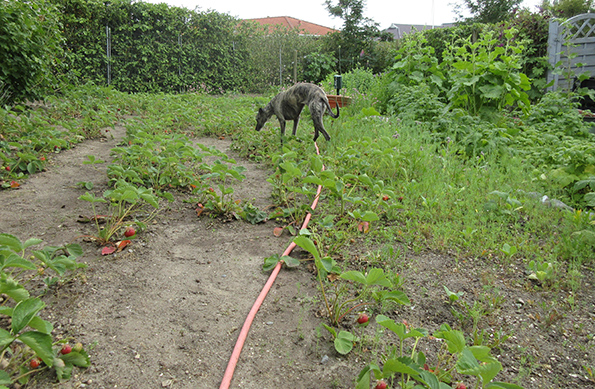 The result: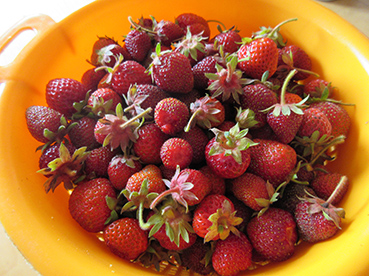 I let her out in the big garden on her own. But with no others to play wild games with... actually, I go with her, and she finds an amazing amount to sniff at.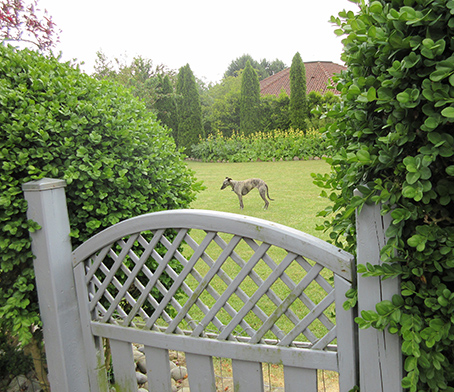 Below: Now I have bandaged her leg and she gets a bone as compensation. It was one the other two ignored, but when SHE chews it, they suddenly want it!!!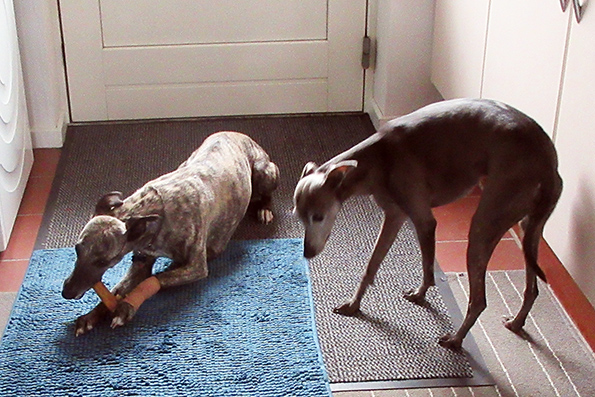 On a very short walk Friday morning.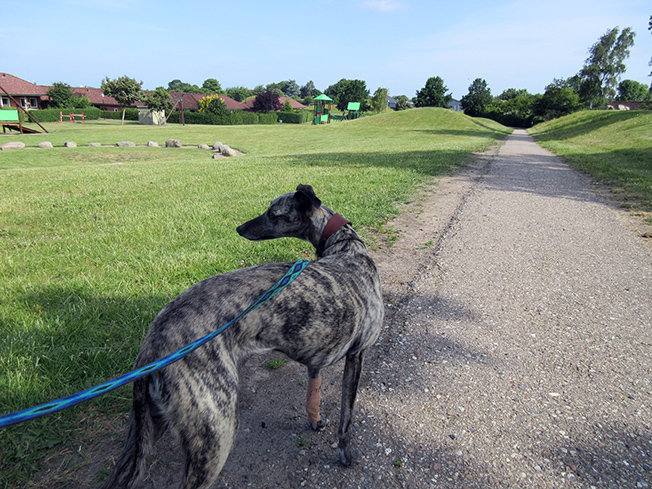 ---
Wednesday the 23rd of June
I celebrate that today it is exactly 8 years ago I was given cheeky and entertaining Solo by his lovely family! I have been laughing at his antics ever since!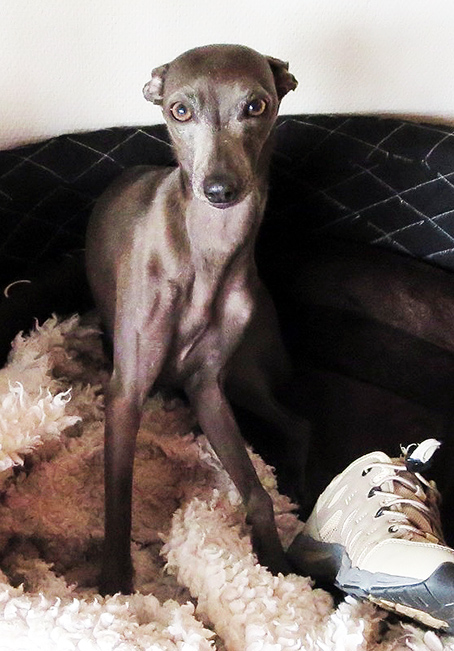 See his face! He knows full well it's my shoe he's taken. I never tell him off, just take it coldly back like nothing's happened, which disappoints him!
---
Monday the 7th of June
The dogs and I went to my grandchild's birthday party Saturday. Not many photos.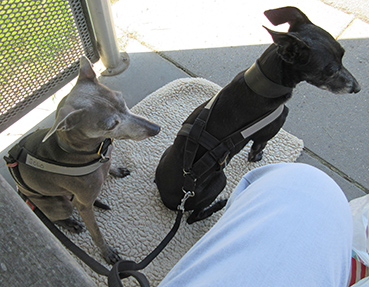 Above: Waiting for the bus as usual. Below waiting for the train - and sitting on the train. They were lucky - the ticket inspecter kindly gave them a dog biscuit each!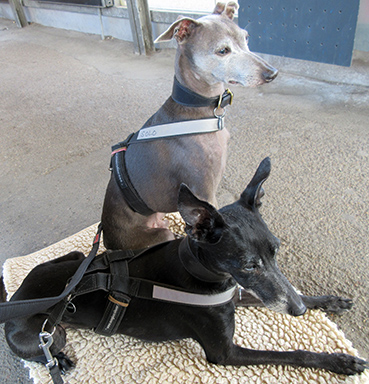 .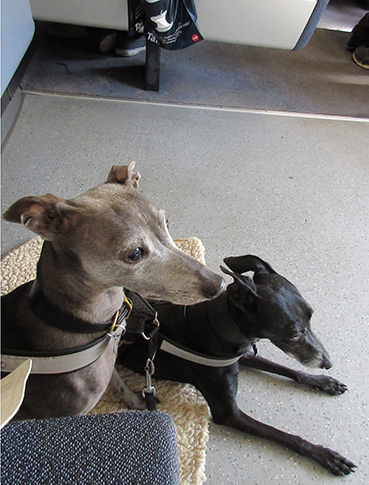 Below: At the house. Dasher amazingly can reach the pad of his back foot to lick as something itches there!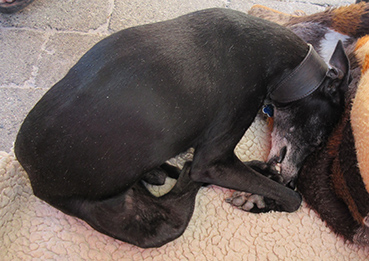 Below: One Grandchild hugging Solo! Very cute!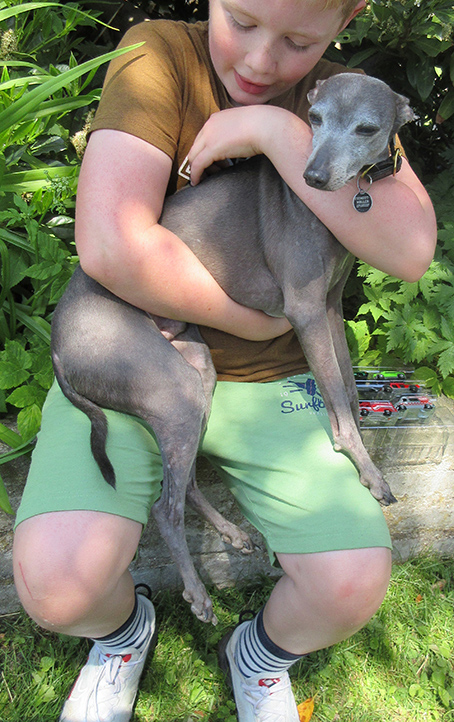 Below: Supervising the washing up!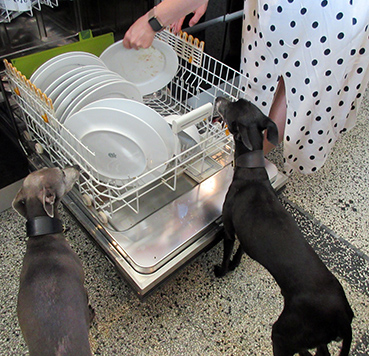 I went in Tivoli Sunday to meet friends - only took a couple of photos! (No dogs allowed!)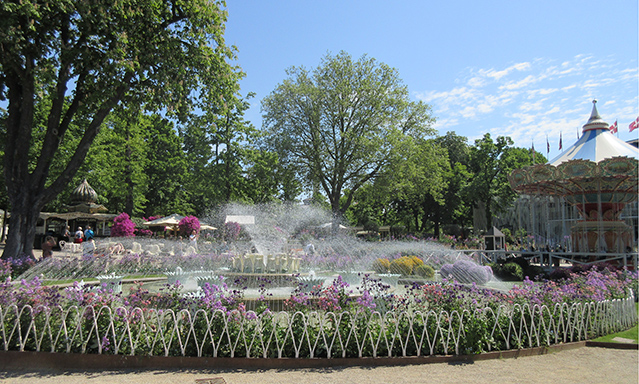 ---
Wednesday the 26th of May
A warm welcome to some doggy chew bones and other treats from Hike - their food is the best in Denmark! They could immediately smell exactly the contents of the box! Solo started tearing at it.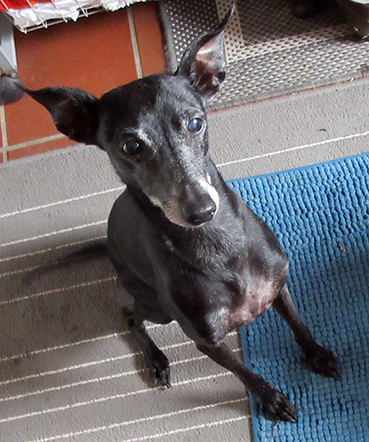 .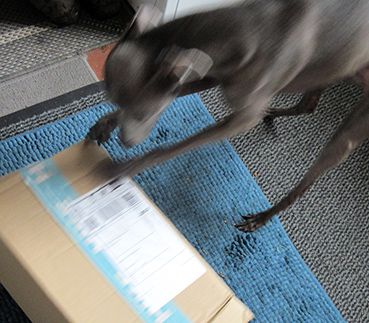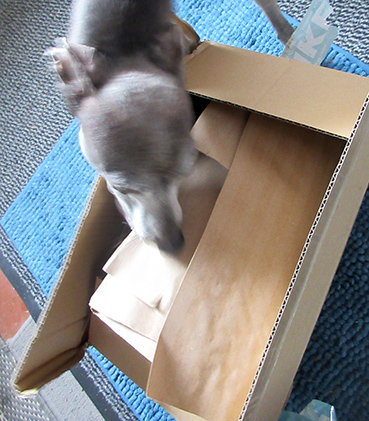 .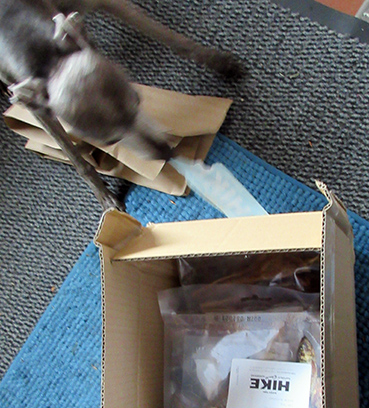 Above, he lifts out and tosses to one side, the packing paper used as a buffer in the post. Next, he's tearing at the tape!
..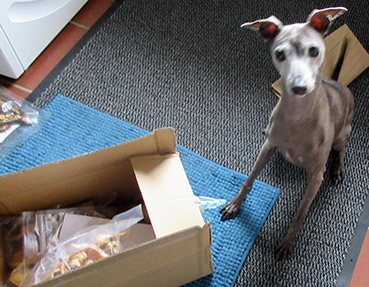 ..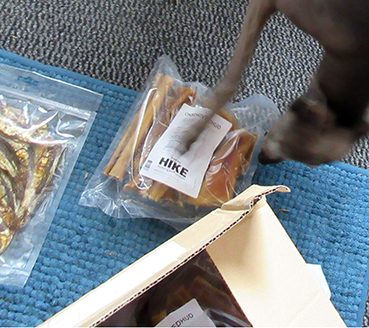 .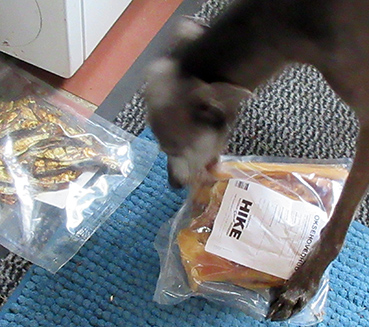 .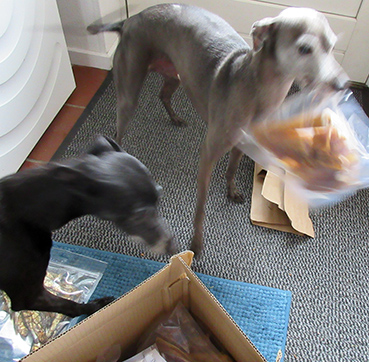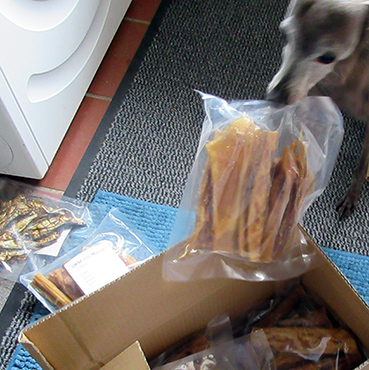 .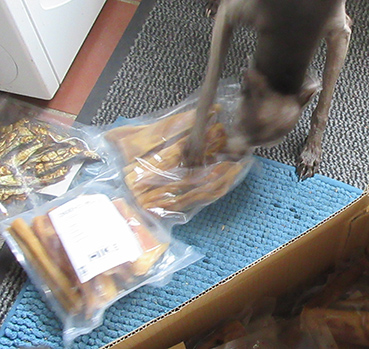 He knows his favourite! Dasher lets him do all the hard work opening, then he can move in and grab his bone!
Below: I found this cute Pansy that had sown itself in the kitchen garden!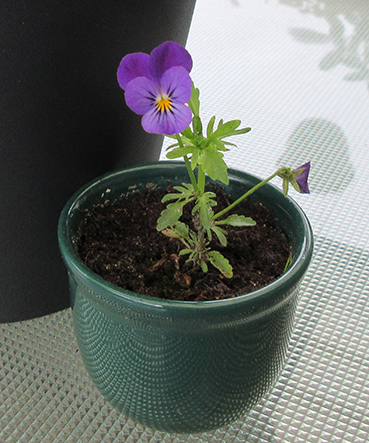 Looks like there could be many apples this year.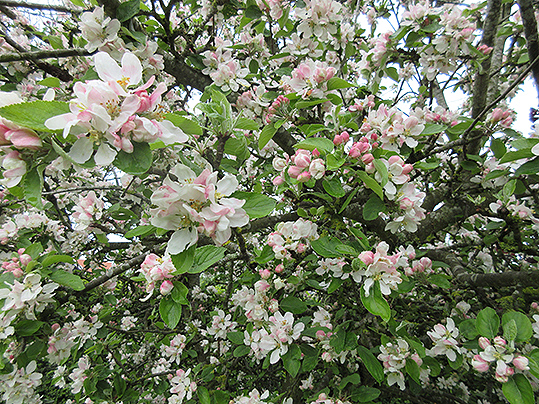 Below: My favourite tulips. They have a tinge of mauve: Queen of Night.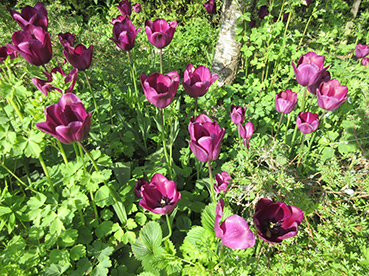 ---
Monday the 24th of May
Dasher enjoys the sun on his back.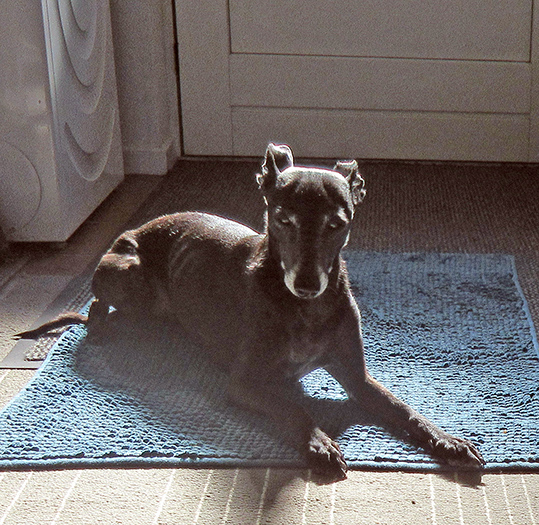 Below: Find the dog! Solo is wild to reach a Blackbird's nest in the hedge - luckily too high up!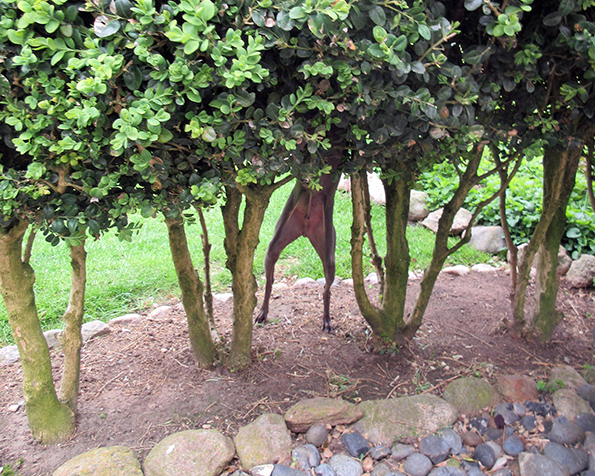 Solo before he puts his make-up on!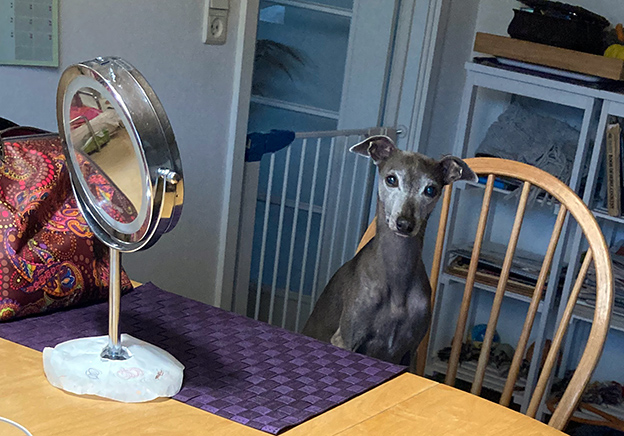 Three days after the trip to the summerhouse on Sunday, I spotted a tick in Solo's ear. There are hardly any where I live, (not seen one this year), and I guessed it was from the "out in wild nature by a lake and woods and deer - summerhouse tick"! This means that it had driven as blind passenger in the luxury of my son's brand new electric car to the nearest station. I then took the comfortable luxury of an Intercity train home – just two stations - and then on the bus, which was standing waiting. Finally a short walk home, all transported on a dog. Three days later, it met with a very sudden death! But just think how ticks can spread around when driven in cars and on public transport in the warm luxury of an ear and a non-stop food supply!
---
Tuesday the 11th of May
Travelled on Sunday to a fun family grill party at a sommer house - dogs with me but due to no fencing and many wild animals, they had to spend most of the time on their leads sitting beside me. We travelled on bus and train. Left waiting for the bus - and they know where it comes from, and right on the station platform and they do not know the train's direction and are confused!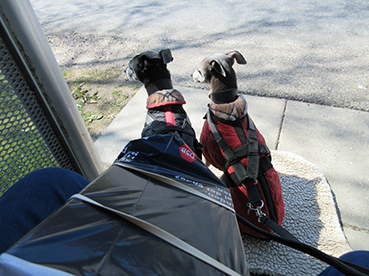 .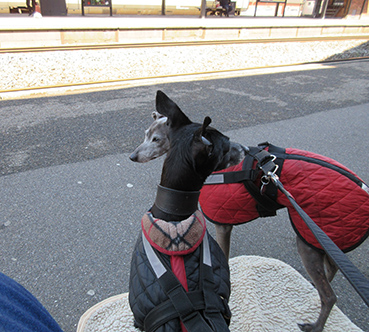 .

Above: On the train. My bus driver unfortunately made a mistake and only added ONE dog on to my travel card, but luckily the train inspector did not care that she was seeing double! (Otherwise a heavy fine!)
Below: We were right beside a small lake!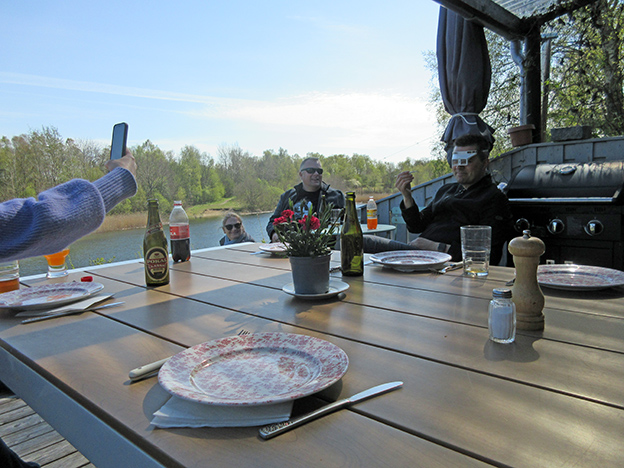 Below, on the way home they sat with me on a bench waiting for the train. Right, lying on the bus floor.

.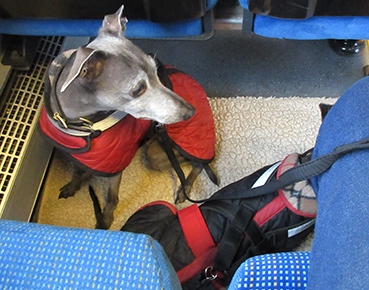 Below: Solo has stolen my apple peel - I didn't even know he liked apple! He never eats windfalls, only plums, strawberries and cherries!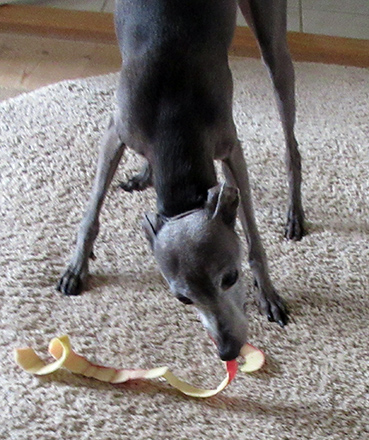 The local Blackbird is building a nest - and what a mess of wet earth from one of my pots...!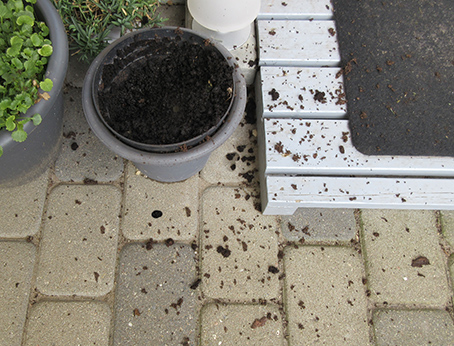 The Japanese Cherry tree is SO beautiful at the moment.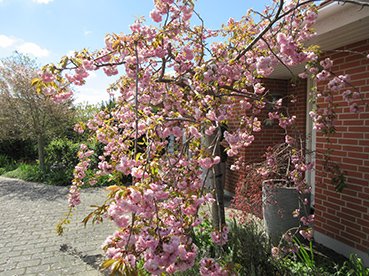 .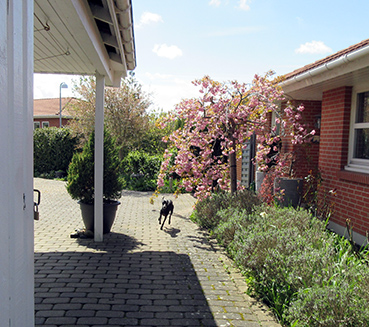 Right: Dasher running full speed around the house.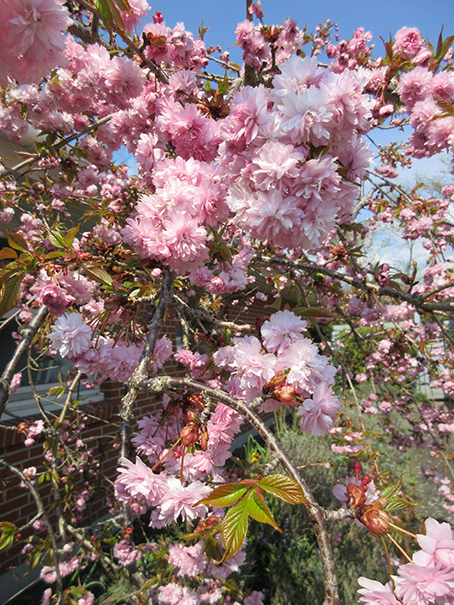 ---
Tuesday the 4th of May


Dasher is 12 years old today! He has amazingly few white hairs, is very playful, (showing he's no joint pain), and as fresh and lively as ever. He seems to be able to see ok despite cataracts caused by old age. Thank you Arne for creating him! Here he is transfixing me with his best loving look. Unfortunately, it is raining hard today and no sun.


---
Tuesday the 27th of April
The dogs and I travelled on bus and Intercity train to a family birthday party in Copenhagen on Saturday. Here are a few photos from there. Below, we wait patiently for the bus to the station sitting on a bench in the bus shelter and later they lie at my feet on the floor of the train. They are angels to travel with and love being out for a day.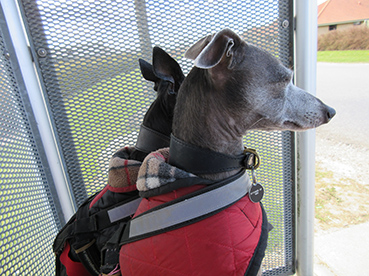 .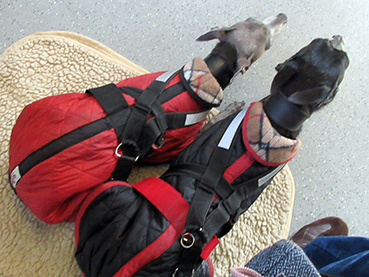 Their harnesses are made in Sweden and their jackets in England! Below: They know who is best and most faithful to pet them more or less non-stop!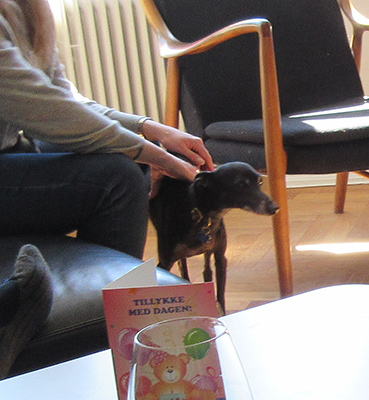 .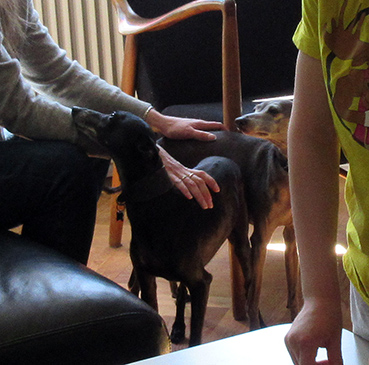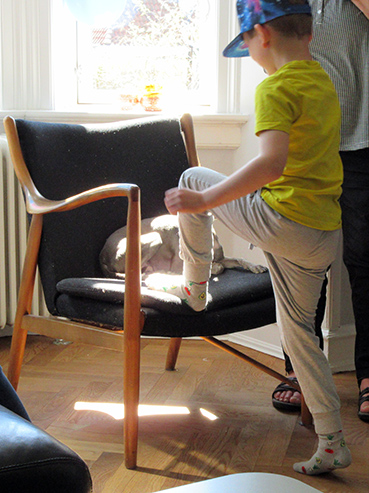 .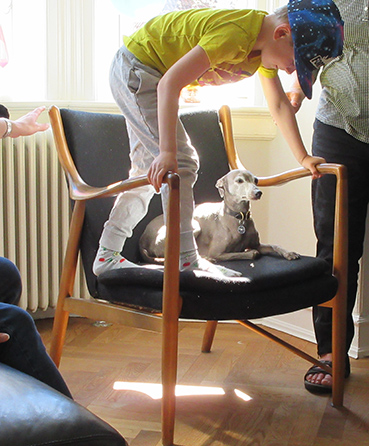 My grandchild repeatedly climbed up beside Solo who was lying in the chair, to demonstrate how he could leap down again with a heavy crash! Solo just ignored all this activity!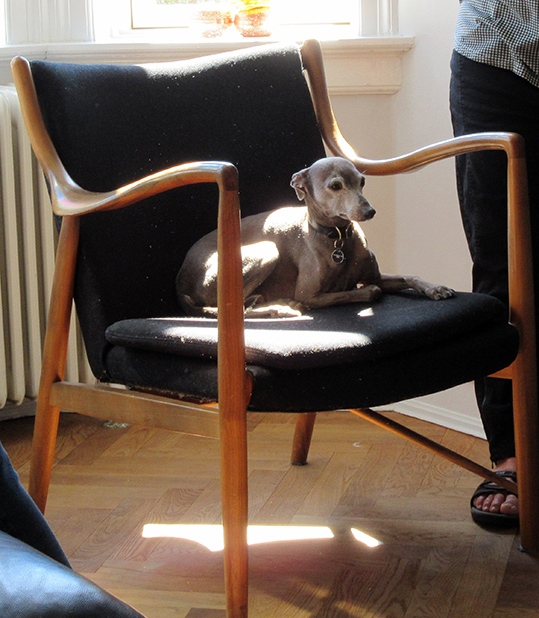 Solo will put up with anything from children! I even have an old photo where he is lying on a blanket in the sun, and my grandchild is driving a Matchbox car up and down over his body! Perhaps it tickled?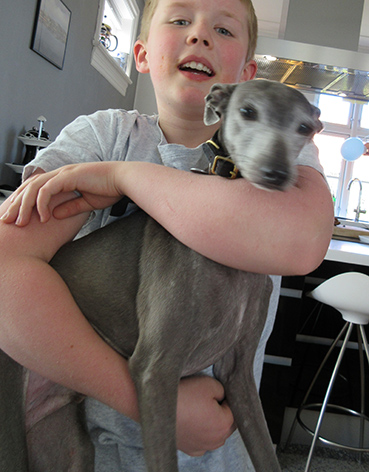 .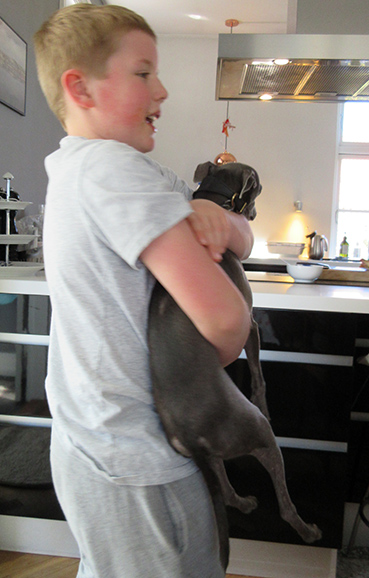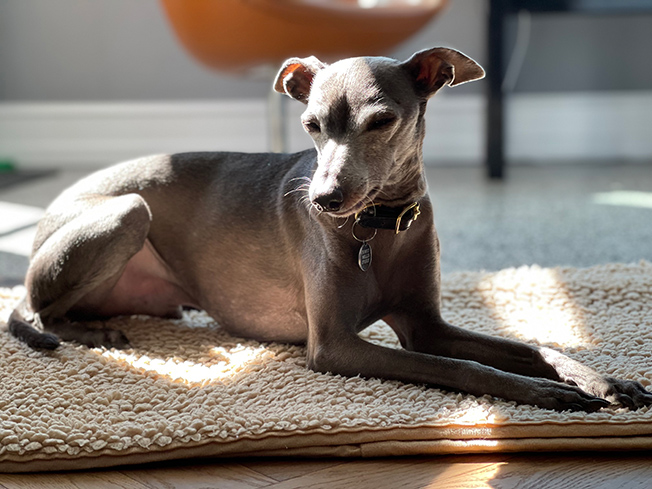 Above: My son took this lovely photo of Solo sitting on his rug as we ate lunch. Below: My photo of him!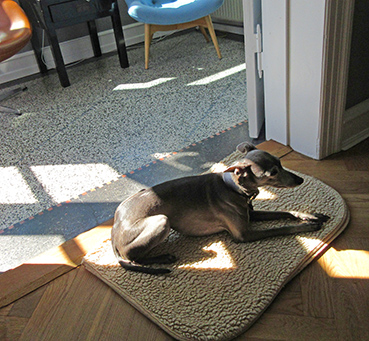 Below, sitting beside me while waiting at the station for the train home again at 6pm.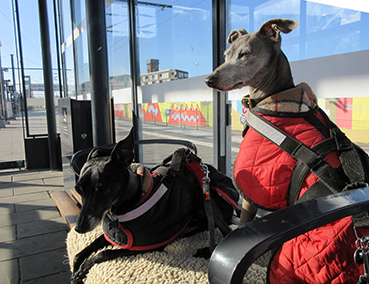 ---
Thursday the 22nd of April 2021
Some of my lovely daffodills, planted by the previous owners some 22 years ago!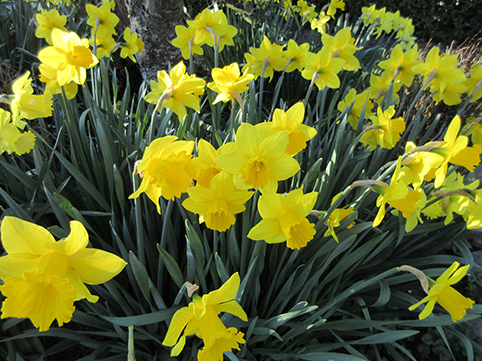 ---
Monday the 19th of April 2021
Fauna was collected and driven home yesterday - so my two are depressed and quiet.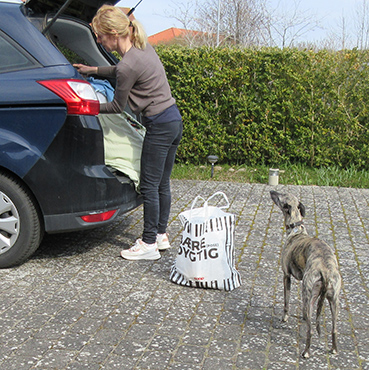 Big warm greetings when she sees at last her dream has come true: Mum has come to collect her!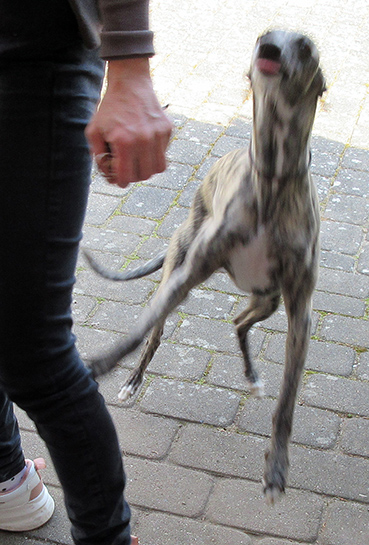 .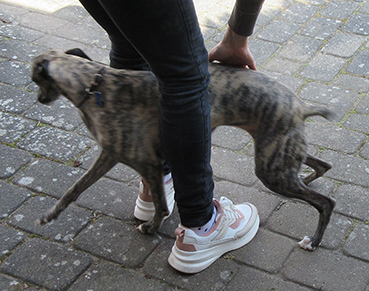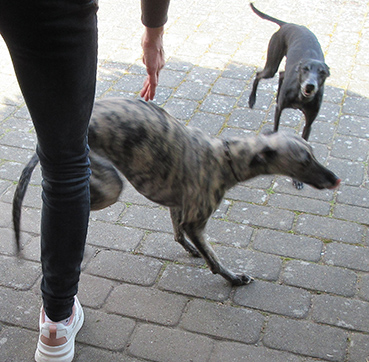 .
Dasher and Solo love Fauna's Mum as well! (She has looked after them a few times.)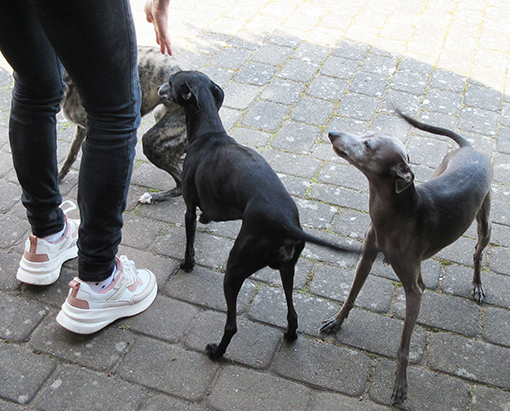 Below, keeping an eye on me and blocking the way out to the "escape route"!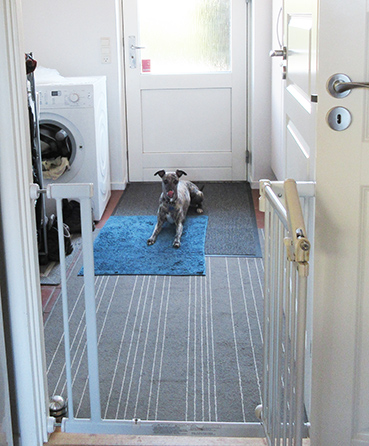 The other two are amazed at Fauna sitting out there.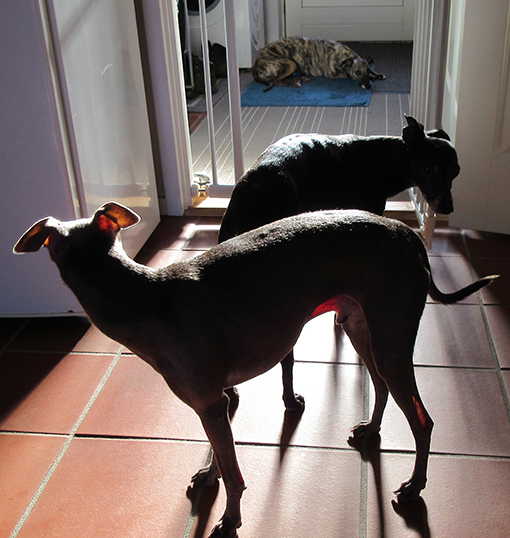 Below left: The view from my chair in the kitchen as I eat dinner: Fauna has taken over Solo's favourite bed which is right beside where I sit to eat! And right, on a walk - at last it was warm enough to not need a coat.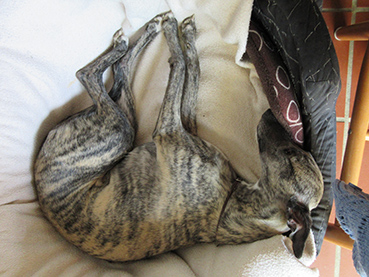 .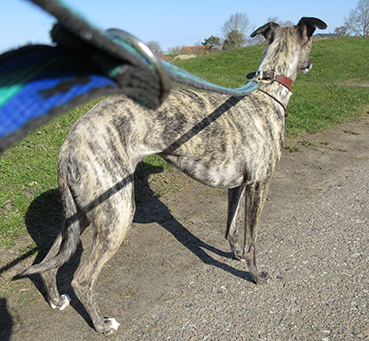 Below a series of photos where Fauna wants Solo to move away so she can sit in this bed beside me in my office! It is Solo and Dasher's bed, but she doesn't care!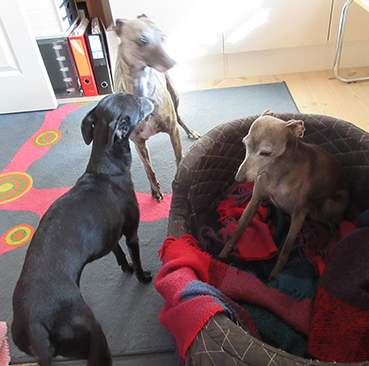 .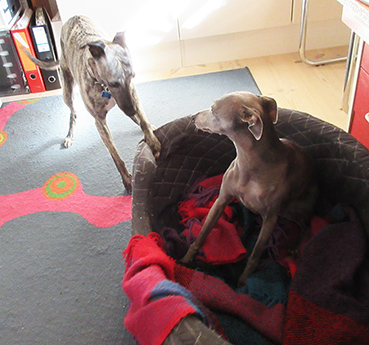 Solo isn't sure what to do about the awkward situation!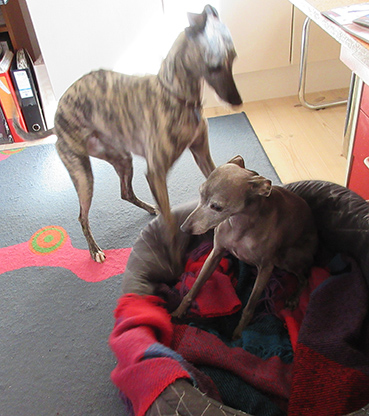 .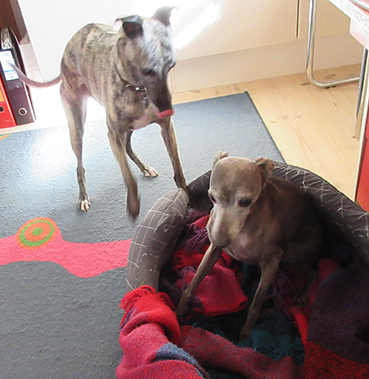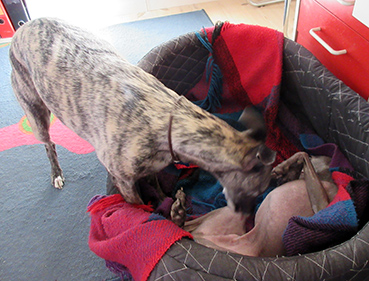 .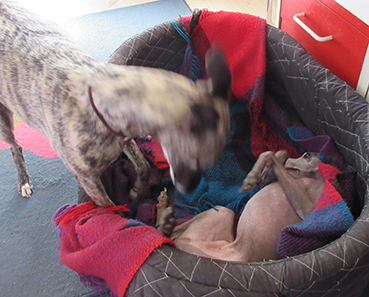 Hours later on, she has very carefully crept in beside Dasher who is "the one who doesn't exist" for her!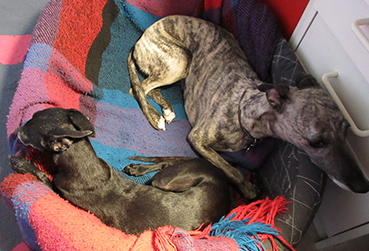 .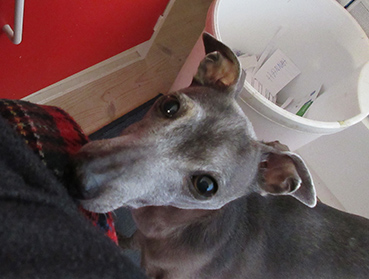 So above right, Solo is asking me "Where shall I sit then? Can you help?"
Below, of course Fauna escorts me in the bathroom every single time. I'd shoved it to, but she just pushed it open.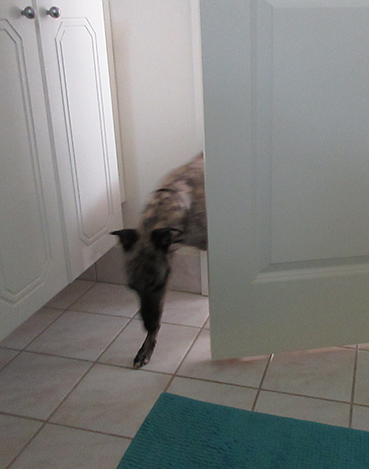 Below: Waiting to get inside.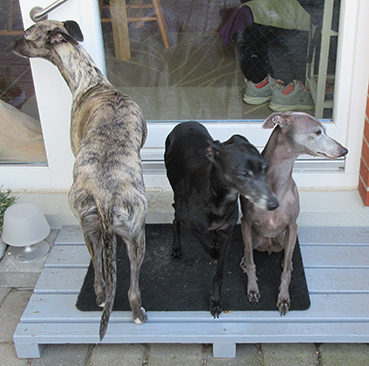 Below, 8 am in the morning and these funny small clouds!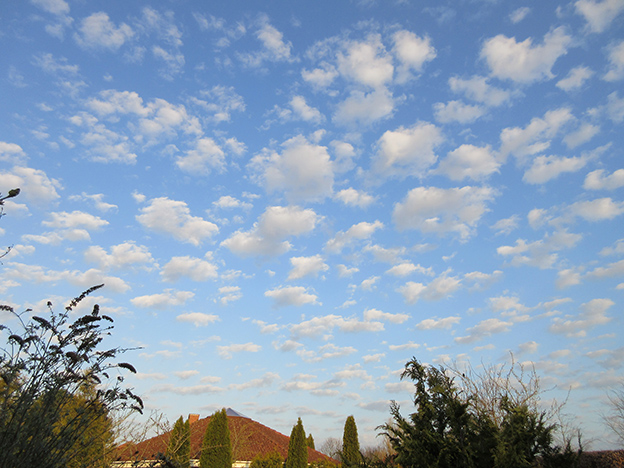 .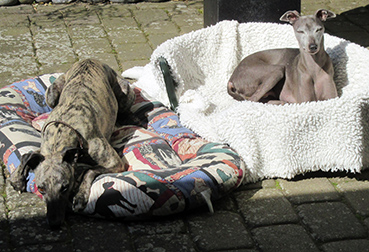 Above: Sunbathing.
---
Friday the 16th and I get my second Covid vaccination and one is not allowed to photograph, but I sneakily took this one of the "helpers" sharing a joke together. They were there to save my life if I had a bad reaction inside the 15 mins. one must wait afterwards! We were in a giant sports hall. All went VERY well indeed.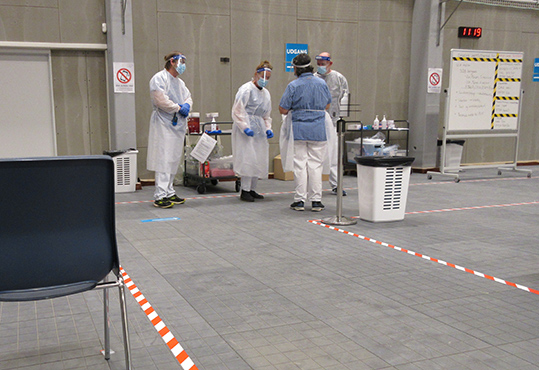 Friday the 16th of April
Fauna feels so at home here, she is often breaking her strict rule about only sitting in her own dog bed - and now Solo has no where to go. She won't share! This is where he normally sits next to me in the kitchen.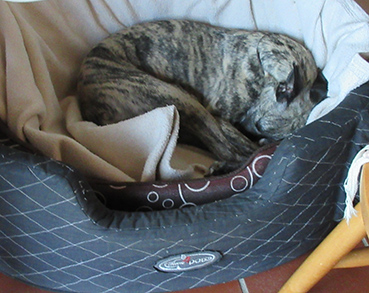 .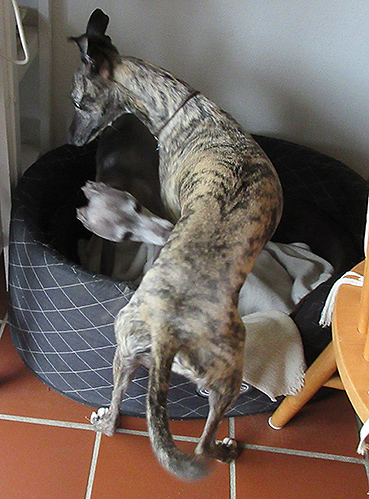 Above left: She's grabbed the bed before him. Right: She is trying to turf him out!
Below, I'm in the guest room watering some flowers and she cheekily tries the bed out for size.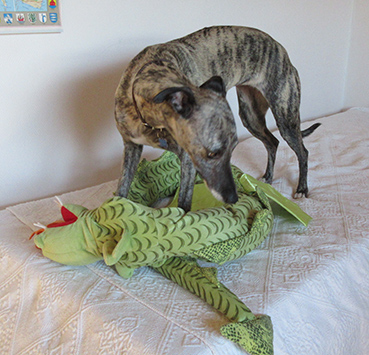 .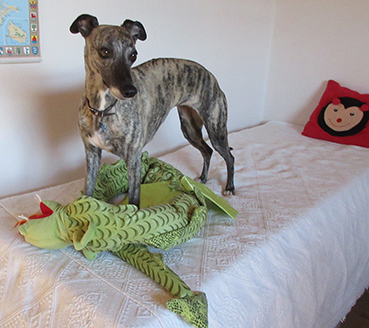 ---
Thursday the 15th of April 2021
Fauna has arrived again to supervise and look after me for a few days!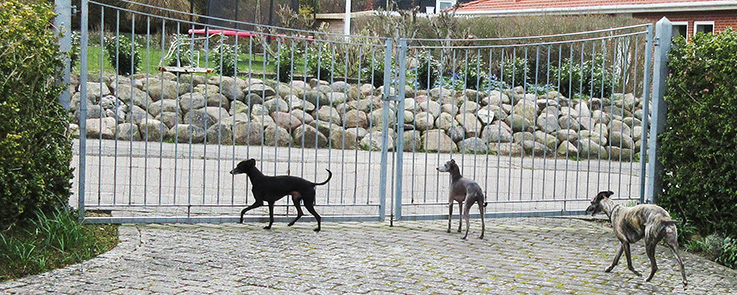 They check out at the gate if any burglers are coming - or any excuse to bark!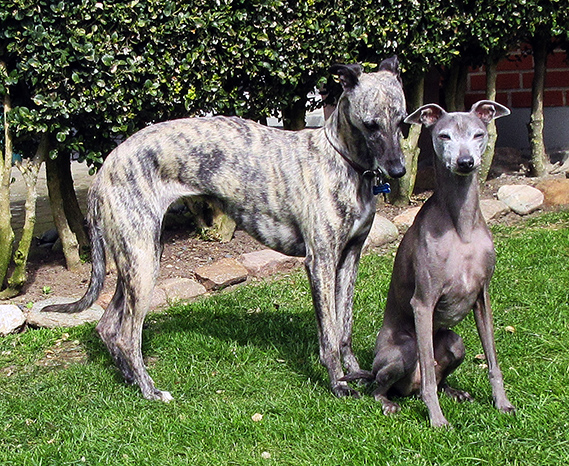 Best friends.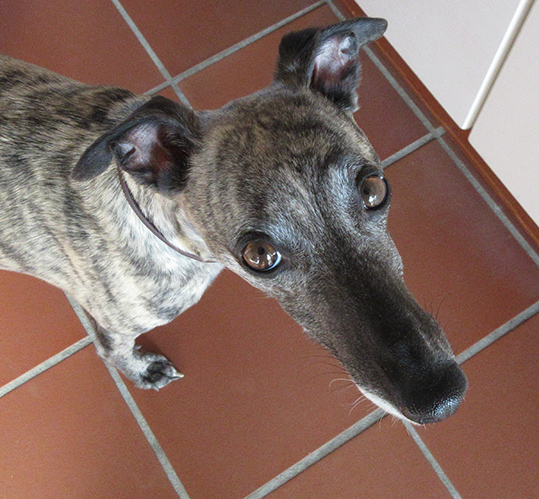 She loves me totally - until her Mum arrives, then I count for nothing!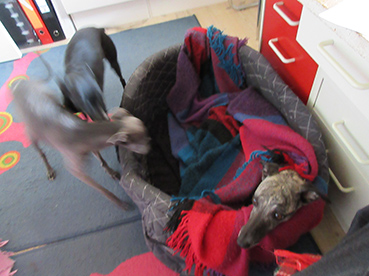 Dasher and Solo are shocked: She has grabbed the best bed beside me in my office, (THEIR bed!) and tells them they cannot join her! In the dog world, males have to do what the females tell them and no arguing!
---
Sunday the 11th of April 2021
Yesterday, in beautiful sunshine and hardly any wind, I cut the lawn for the first time this year. Takes an hour it's so big. Today there is a howling gale and huge snowflakes whirling around, so the lawn is going white!
See the view out of the front door: ring.com/share/25c52d32-87ce-4df1-b0cf-eec39edf2959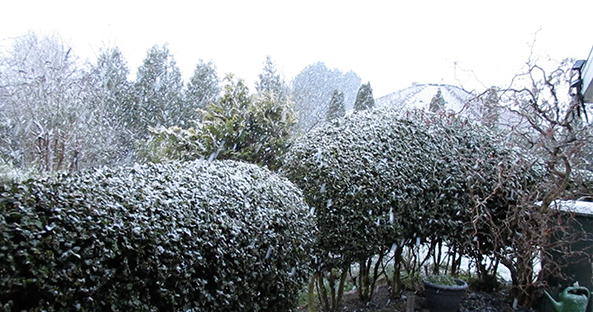 .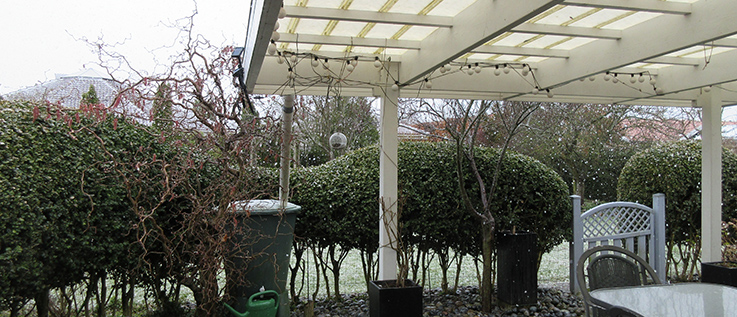 Here's where the pheasant sits and makes a fuss many evenings!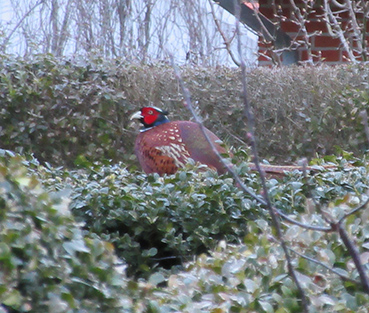 .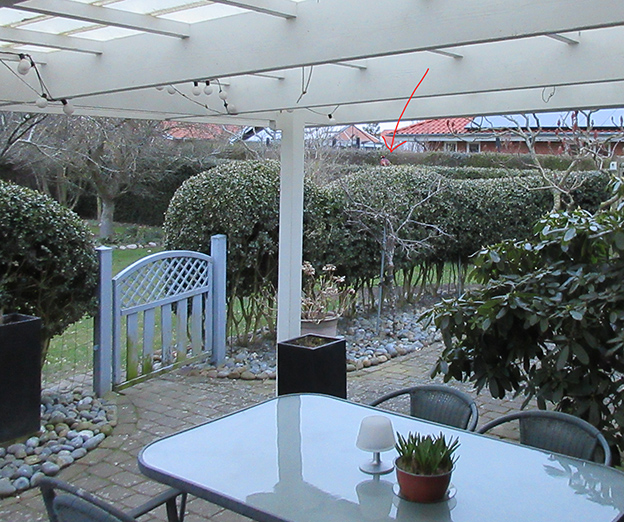 I often buy the dog food from www.hike.dk - a very good and trustworthy Danish dog food firm who send my order so fast, I have it inside of 24 hours! This means the dogs have learnt from the smell, exactly what is inside AND Hike always pack a little free chew-treat inside for them, so they can't wait to find it! I always let them help unpack!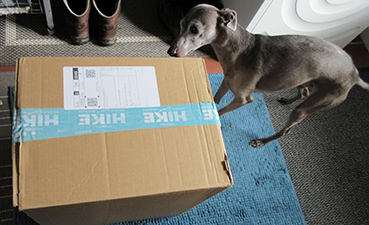 .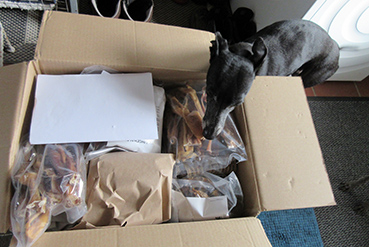 Below, Solo loath to get up out of the very warm bed early one morning. The underfloor heating makes the dog bed get VERY hot - and then a warm blanket on top and he is baking!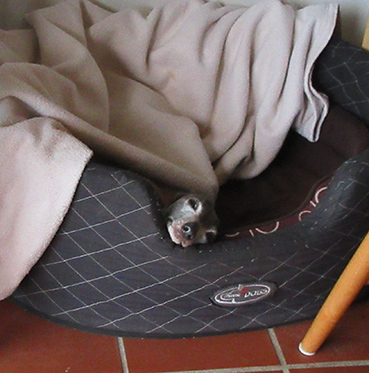 Below: A VERY unwelcome guest nibbling at the bird food - having a snack lunch in the middle of the day! Taken through my office window.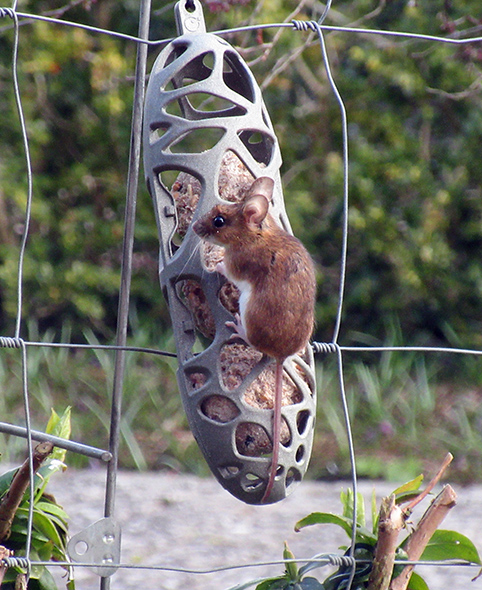 ---
Sunday the 4th of April 2021
Big warm greetings when Fauna's Mum turns up to collect her! Suddenly I am of NO importance any more!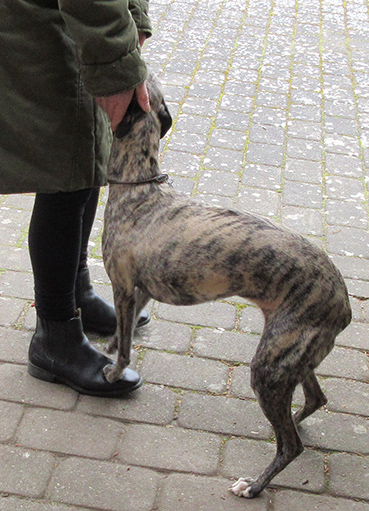 .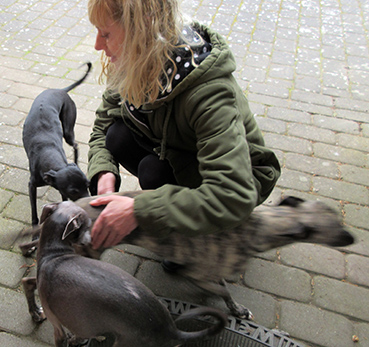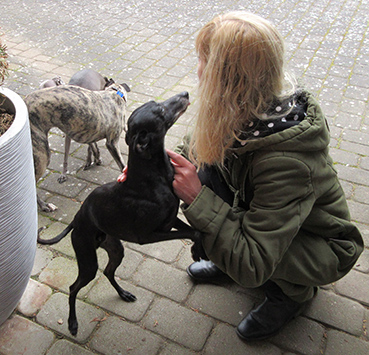 Solo is Fauna's favourite toy!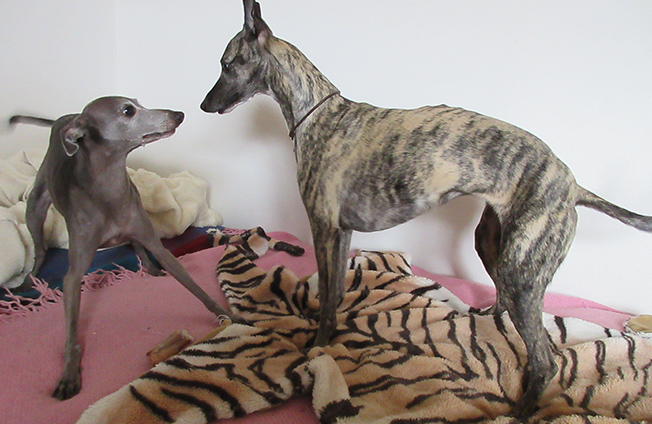 .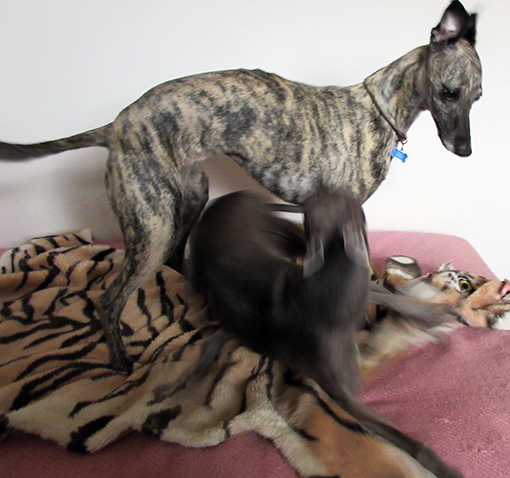 .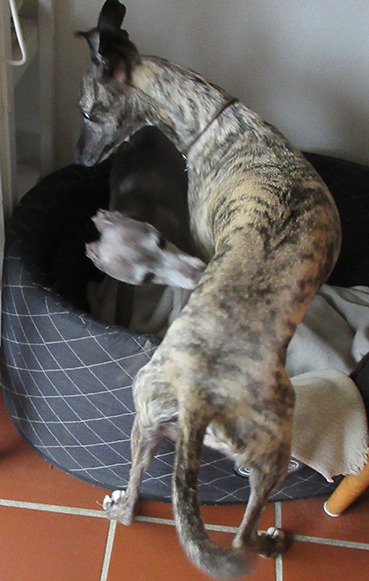 .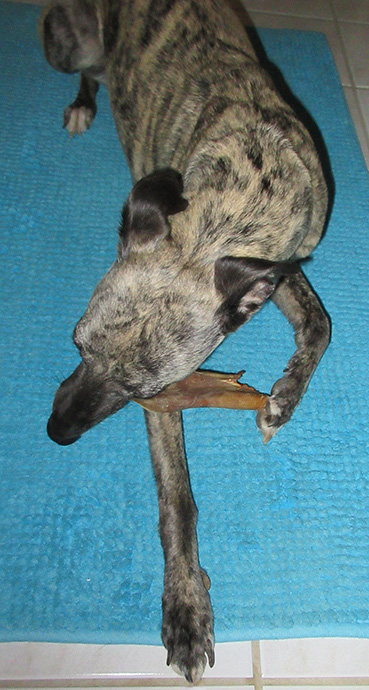 Above: Obviously it's become too boring supervising me in the bathroom. so bringing a bone with her helps to pass the time!



A few hours of sun.
COME BACK FAUNA - WE MISS YOU!
---
Saturday the 3rd of April 2021 - and the thirteenth blog!
Family are passing by and drop in for a coffee - and Fauna is even happier! The more devoted followers, the better!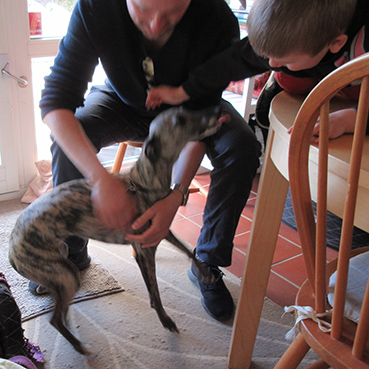 .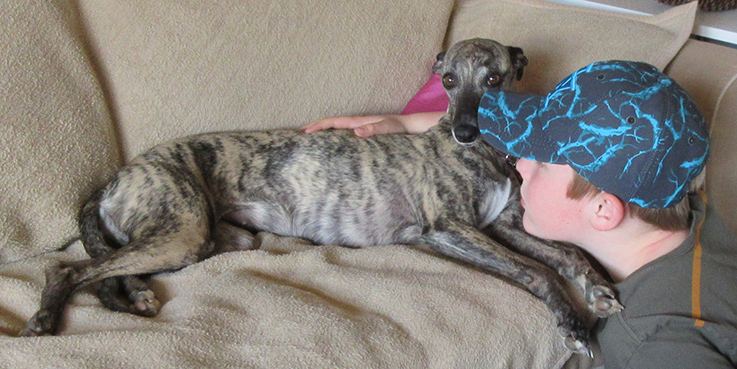 Doesn't she look satisfied with life!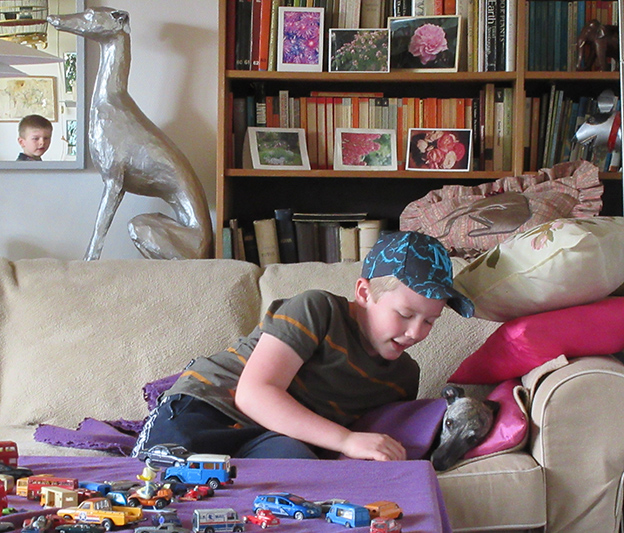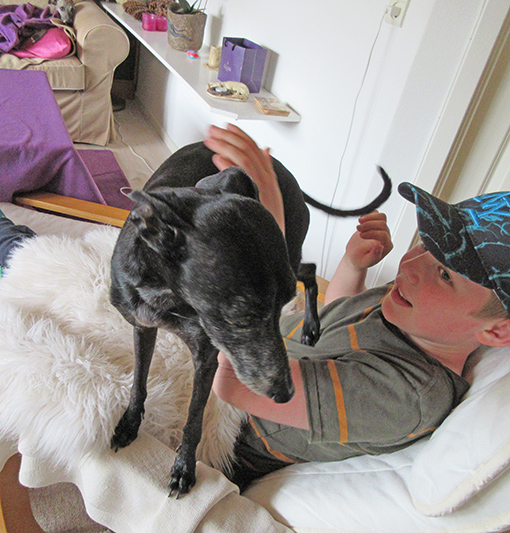 ---
Friday the 2nd of April
Dasher is a devoted follower!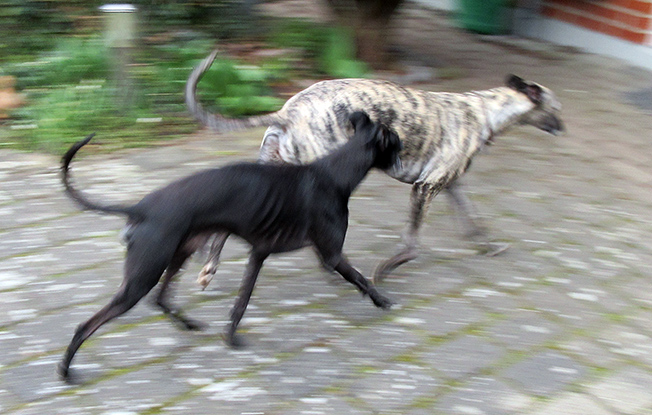 I am escorted and supervised in the bathroom as usual! First Solo passes by, then Dasher!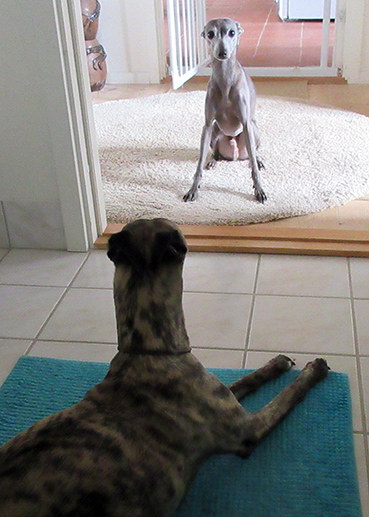 .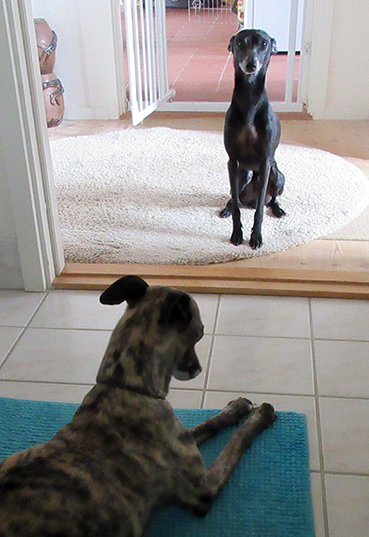 Supervising me from the doorway. It's too cold to follow me outside - just as long as I do not go in the direction of THE GATE! THEN, horrors! Action would be needed! I might run away! Below: Fauna on her walk. Unfortunately, we didn't meet anyone she could greet, but there were several the following days.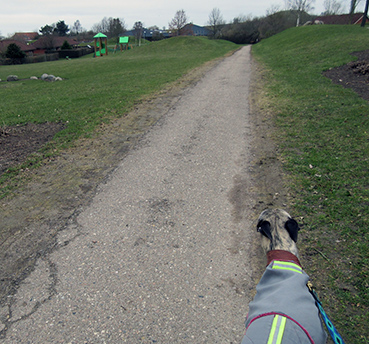 ---
Thursday the 1st of April
Whippet Fauna arrived today to look after me the whole of Easter! She is already supervising everything I do! Here she is in my office. Dasher always has the first day hoping to mate on her - at last the girl of his dreams! So he is a bit of a pest until next day where he's "seen the light" and realises it is not going to happen - and relaxes!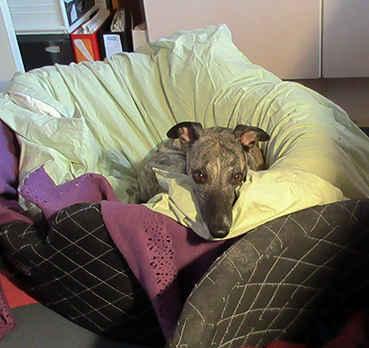 He follows her around...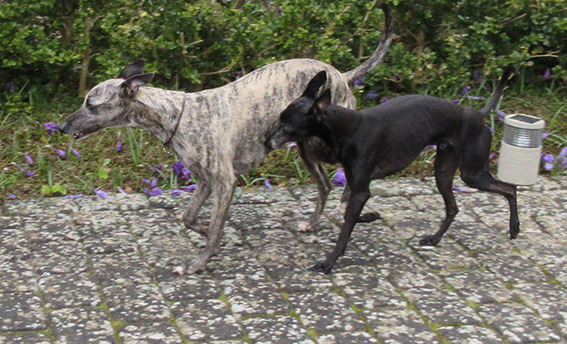 She has a beautiful face.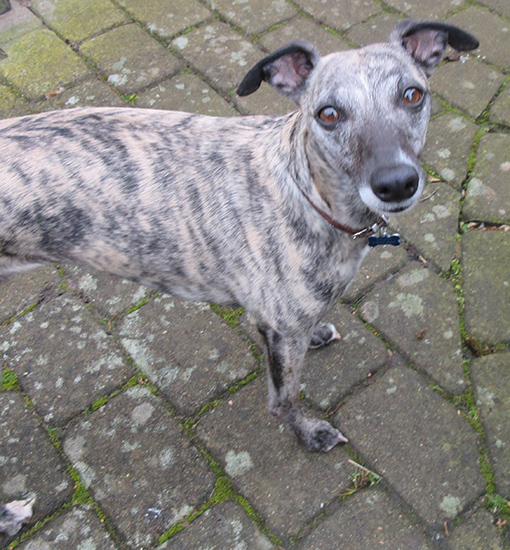 ---
Saturday the 27th of March
A pheasant is breeding in a neighboring back garden - has done for many years so this may be the next generation. He likes to come at shout his head off while sitting on my hedge every evening - here in this funny photo, it has just started to rain hard and his face is quite a laugh as the drops pound down on him – but only for a minute or so.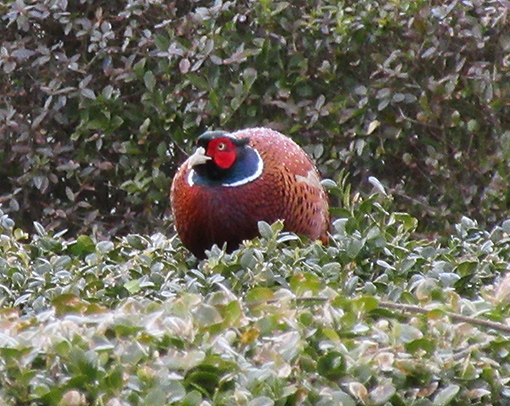 ---
Sunday the 21st of March
On a local walk. It's still nippy in the early morning.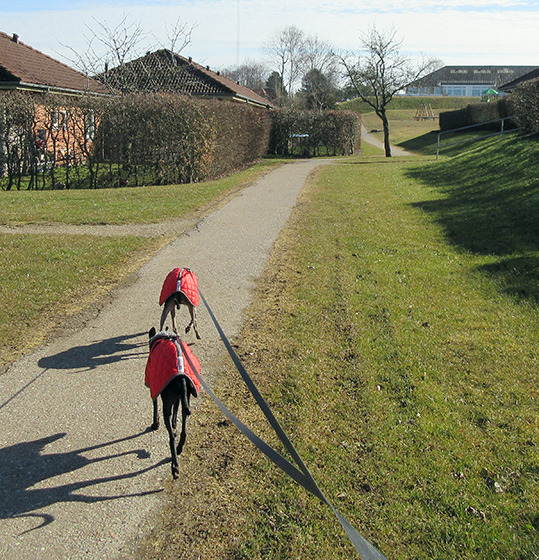 My wonderful crucusses today.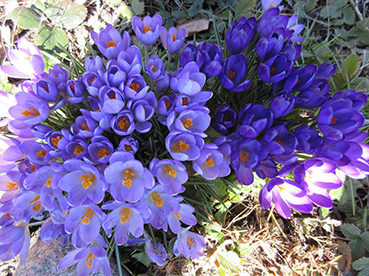 Yesterday I went to the family's "Jigsaw puzzle lunch"! A thousamd pieces - here we are just starting.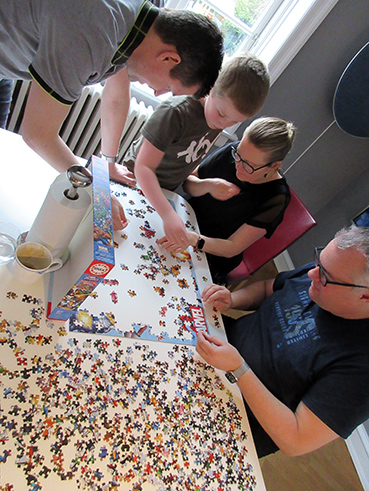 The dogs had a great time.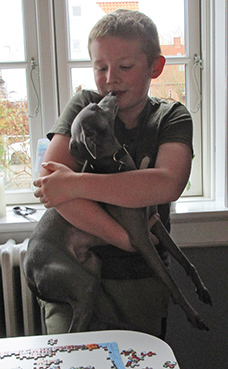 .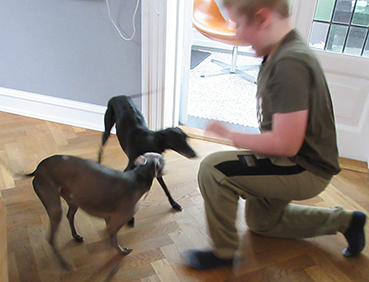 .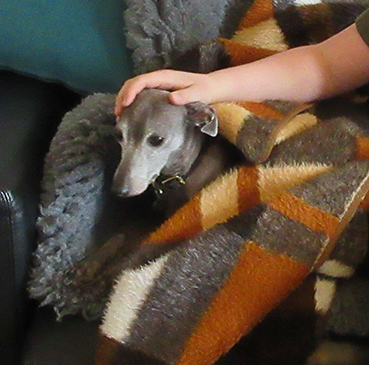 Photos of them mucking about and being silly last week.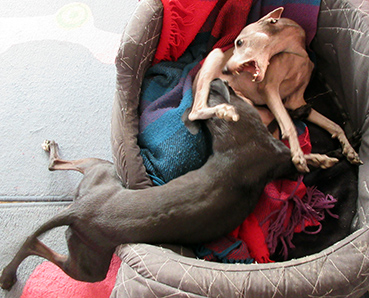 .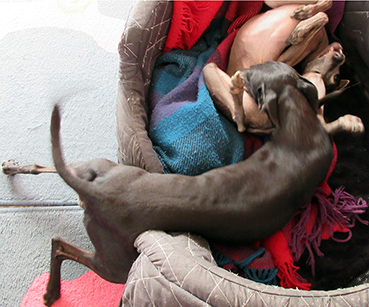 Of course Solo steals again!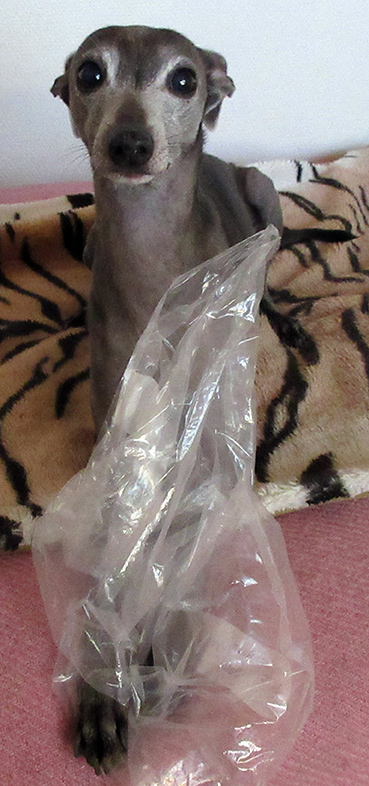 .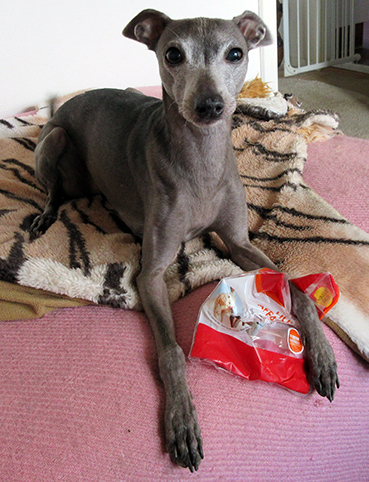 ---
Saturday the 6th of March
Solo with his latest "steal" - from my office rubbish bin!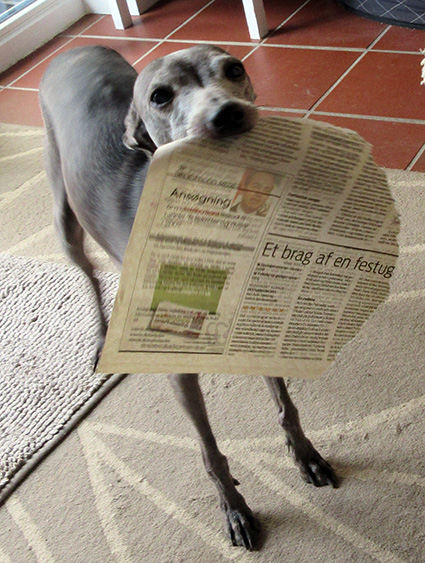 ---
Tuesday the 3rd of March
Everything was "painted" white this morning!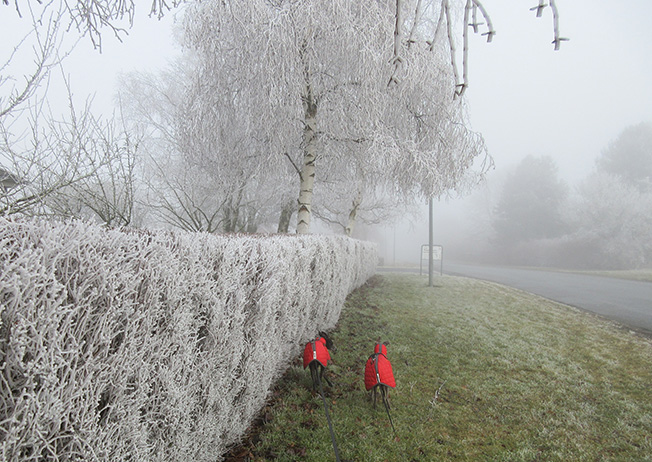 ---
Friday the 26th of February
Solo is always stealing something! This time a plastic bag! He sits waiting for me to come and take it.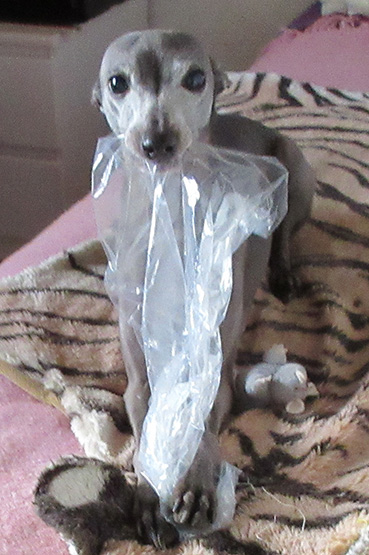 ---
Monday the 22nd of February
Mild and sunny so I took the very long walk over the fields - yet snow is still piled up very deep!


---
Wednesday the 17th of February
Rain yesterday afternoon and plus degrees have helped clear some snow... below, outside my gate leaving for a walk: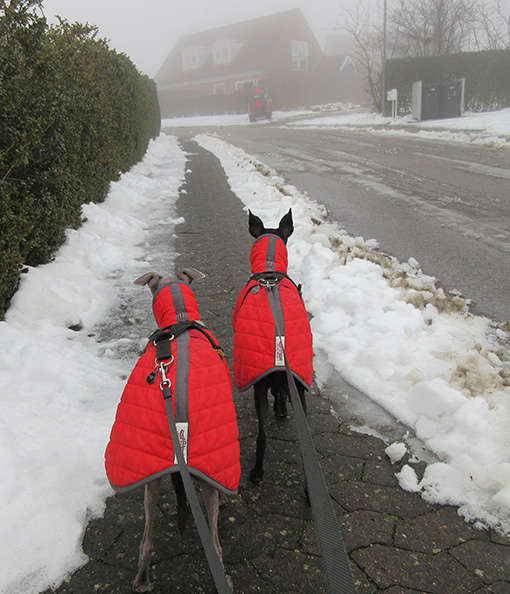 Photo below to show how tough they are. They don't hesitate to walk along in the snow even when there is a perfectly clear path!



It's misty due to the drastic change of temperature. Below, they still run around the house, though I had to clear a path for them in the back garden!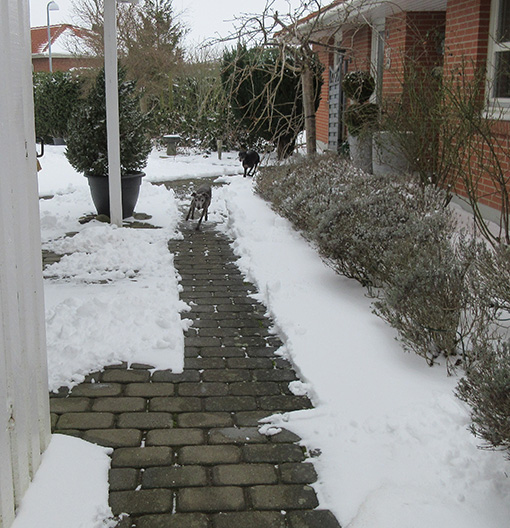 Dasher enjoys eating earth in the garden 2 days ago! I take it as a sign the current brand of food doen't suit him.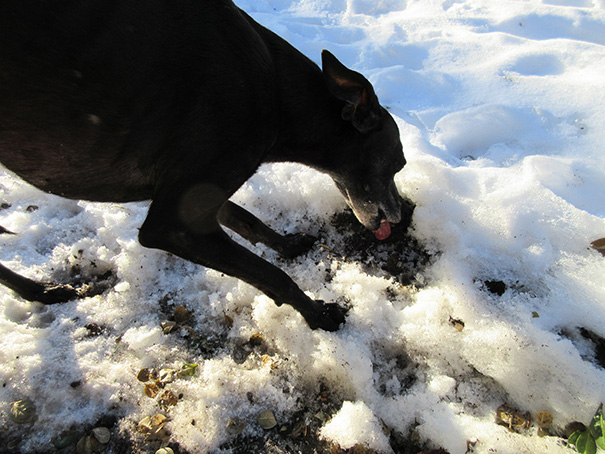 ---
Tuesday the 16th of February
Early morning photo. We got snow - again! Whole 12 cm in a wild snow storm... ugh.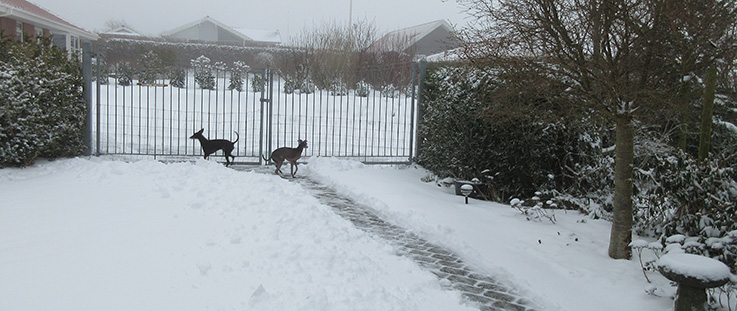 Below, later on the doggy walk. At least it was zero degrees so it felt "warm" by previous standards!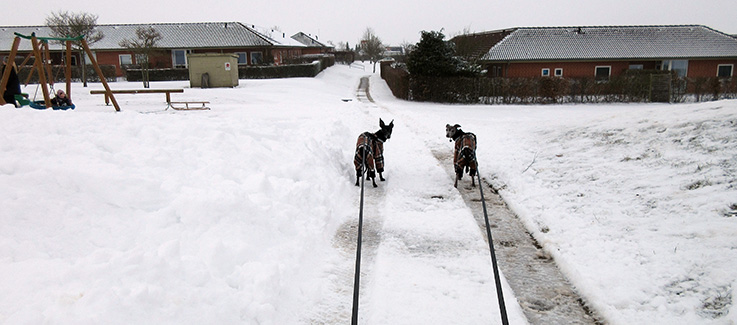 Our road. No prize for good snow clearance!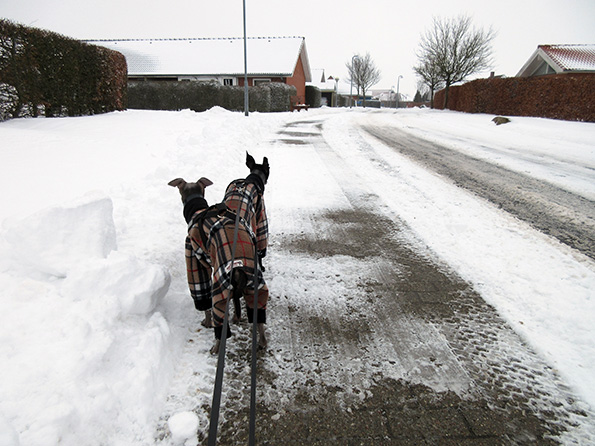 ---
Monday the 15th of February
A beautiful sunrise early this morning - just for a few minutes. View across the road to the neighbours.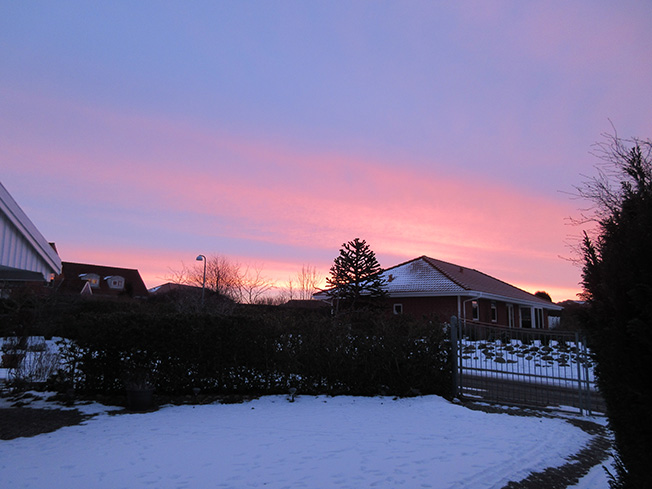 ---
Friday the 12th of February
Even this morning at minus 10 degrees, they still take the time to check if any burglars are coming our way!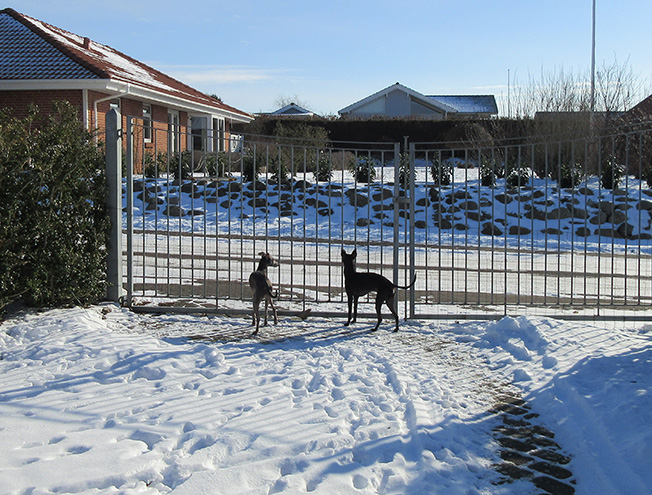 They are surprisingly tough. A friend asked if they didn't need shoes as well as 2 coats? Well I could easily buy some but they would HATE them and it takes ages to dress up for every walk in any case. The proof that they don't need shoes is, that after every walk, (only very short in this cold), I open the gate to the back garden for a last chance to "lift their leg"- and they can wander around sniffing, chasing birds etc. for nearly 10 minutes sometimes. They are in NO hurry to get in – the door is open, the choice is theirs! So I take this as a good sign that cold feet doesn't bother them. They also don't hesitate to leave the cleared path on our walks and go off after a sniff in the snow or even stroll along in the snow beside me while I walk on the path! If their feet were painful, then they would surely shoot straight into our very warm and cosy house?
---
Friday the 5th of February
Boy, did we get snow - again and now several minus degrees, so nothing's melting. We've not had this much snow for several years. The dogs are tough and take their time in the garden! Though now the temps have got even lower and windy, I put a jacket on them. This is part of the backgarden.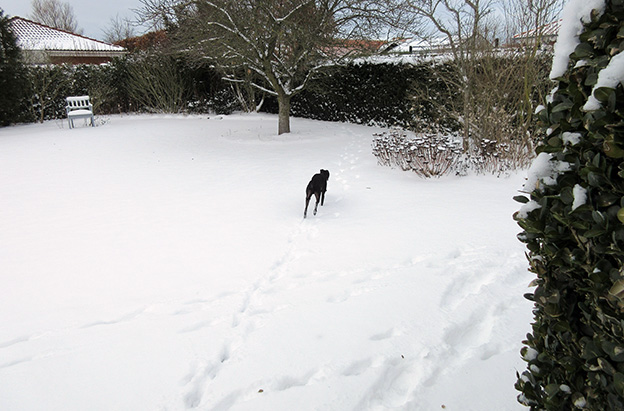 Below, they are not in any rush to get inside again, here they have spotted a bird in the driveway.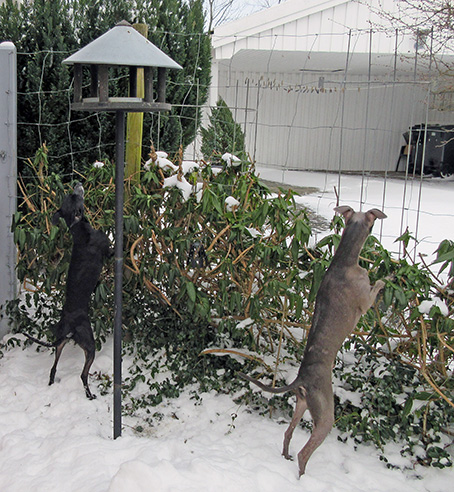 On the dog walk this morning it was necessary to use two coats, it was so cold and windy.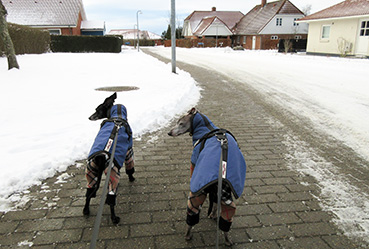 ---
Wednesday the 3rd of February
Below, Dasher looking cute while trying to tell me to get up from the computer and give him lunch!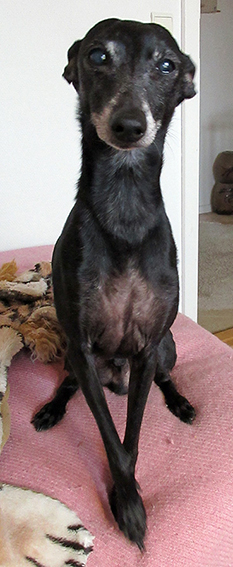 .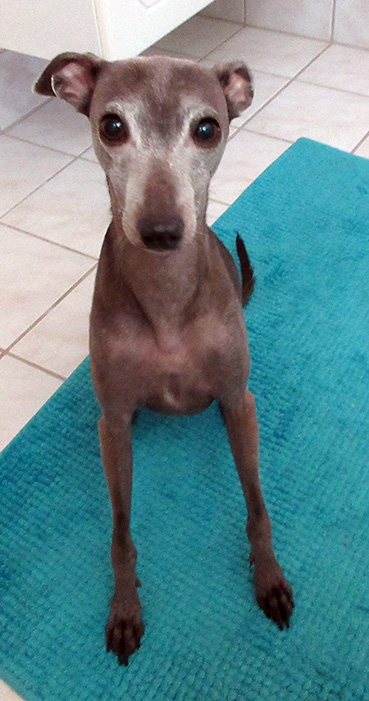 And Solo supervising me in the bathroom! Below, the moon shining early one morning...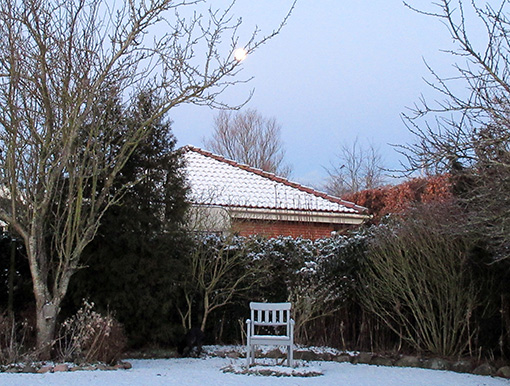 ---
Sunday the 24th of January 2021
Below, having a warm up after the walk.


Below, milder weather and snow now just a faint memory! Time for their Pumpkin coats sewn by Togs for dogs!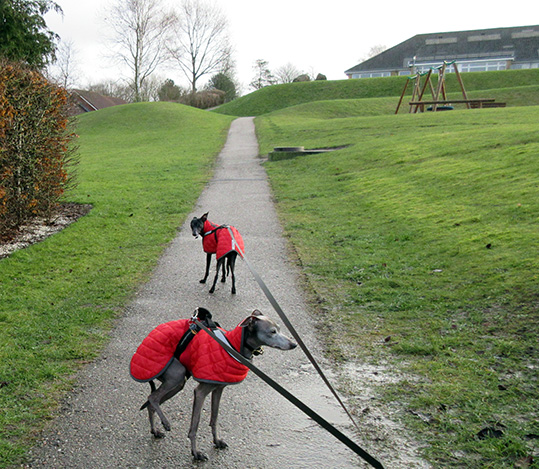 Solo up to his usual tricks of stealing anything and everything!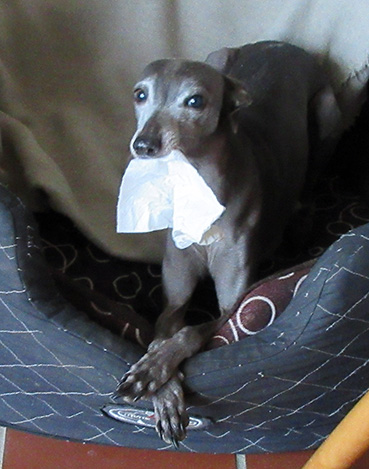 ---
Friday the 15th of January
All autumn and winter, while the season lasts, I eat a few walnuts every day as part of my lunch because they are so good for me. Just as I was running out and everywhere was sold out, son Adrian turns up with a kilo bag that has flown all the way from Chile! He saved the day. Here on the left are the last 4 from Grenoble in France and on the right, 4 of the new ones from Chile! One can see the difference! Taste is almost identical.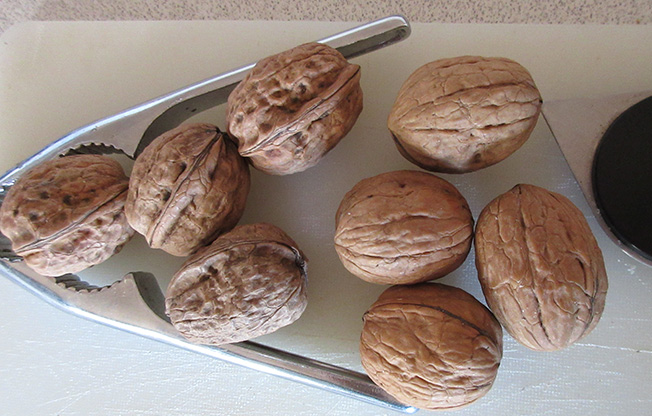 ---
Below: Admiring the finished shapes in snow that the children made yesterday. (See below.)
Minus 4 degrees today so the dogs needed their coats with warm fleece legs - which they hate to have on!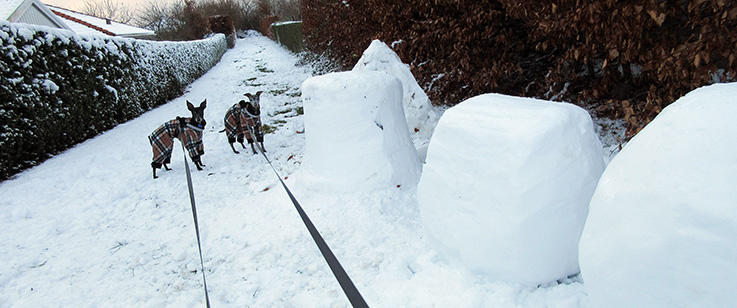 All very mysterious says Dasher!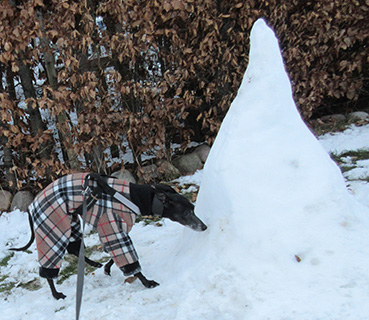 Below: Blackbirds are desparate to find food with this blanket of snow covering everything and minus temps. I put outside the only apple I had when off on the dog walk - they LOVE apples. When I came back, this male was eating it and was so loath to leave, that he stood there while I unlocked the door less than a yard away and I could even take some photos of him. I must buy some more apples.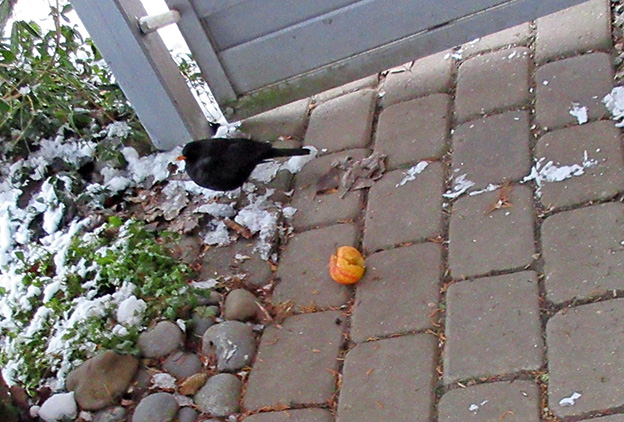 ---
Thursday the 14th of January
Snow storm all last night and about 10 cm deep - much more than I have seen for quite a few years!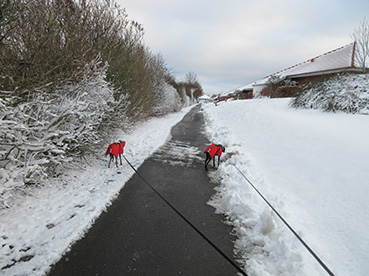 .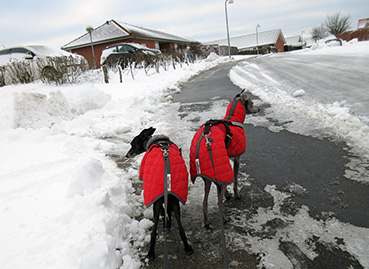 A family who were making huge shapes in the snow and explained it was to do with a school project!



Below, the dogs run around the house for exercise!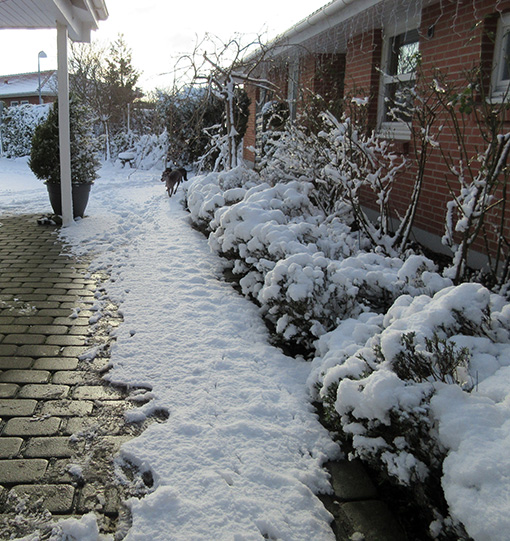 Below, earlier on before 8 am, the end of my road and the house: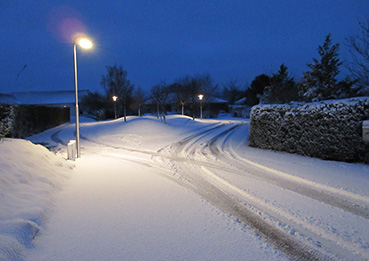 .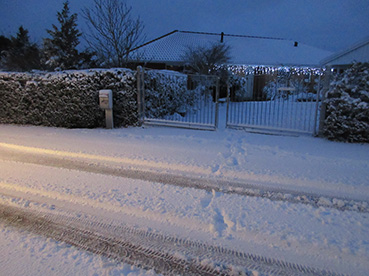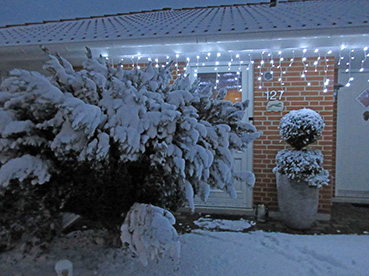 .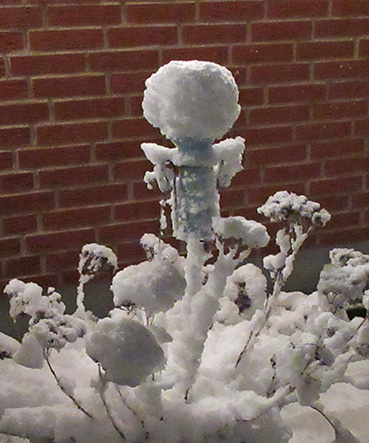 Above right is my rain water measure with 10 cm snow on top! Below, my back garden next day.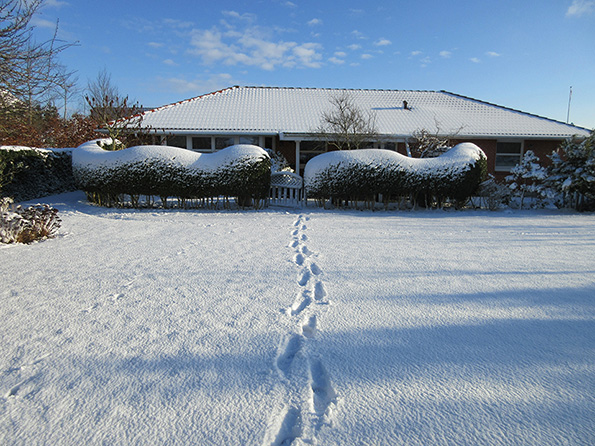 But in total contrast, Copenhagen has none at all, see my son's view over town:

---
Tuesday the 12th of January
The last of the snow - in the form of a snowman sitting on a bench - but melting FAST! (What a great idea!) The dogs were very unsure - if not a human, then WHAT? They even gave it a woof!


.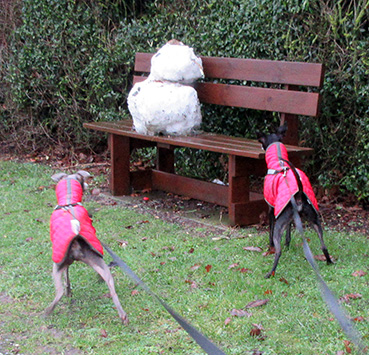 .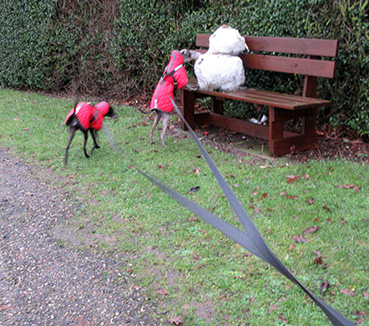 ---
Friday the 8th of January 2021
We have Christmas and New Year behind us and look forward to a Corona-dominated future!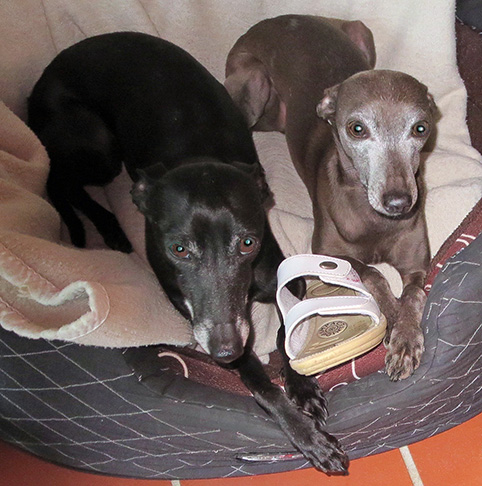 Guess who took that shoe! Below: The mist before the snow came.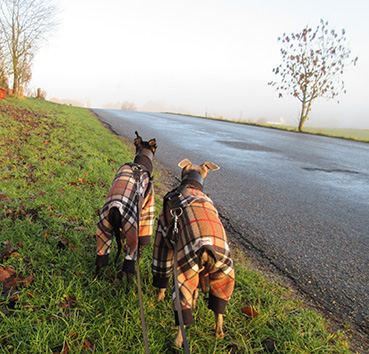 ---
We got snow! Early morning photo from Wednesday.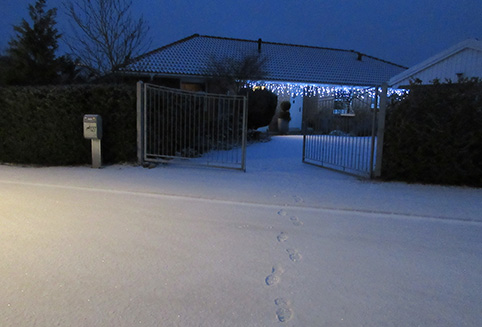 View from my "Ring" doorbell! Everyone should have one! Bring an end to all house break-ins! wikipedia.org/wiki/Ring_(company)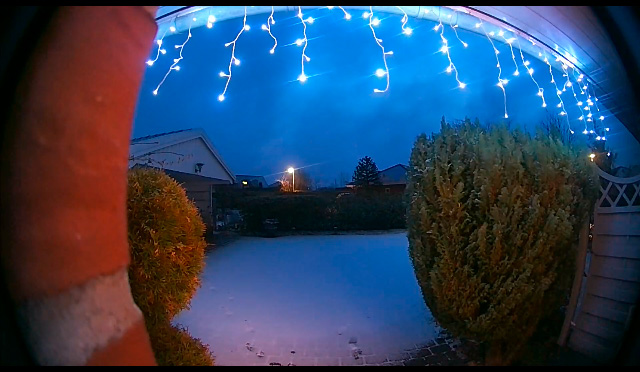 Later on, the Ring door bell filmed me trying to film the dogs in the snow!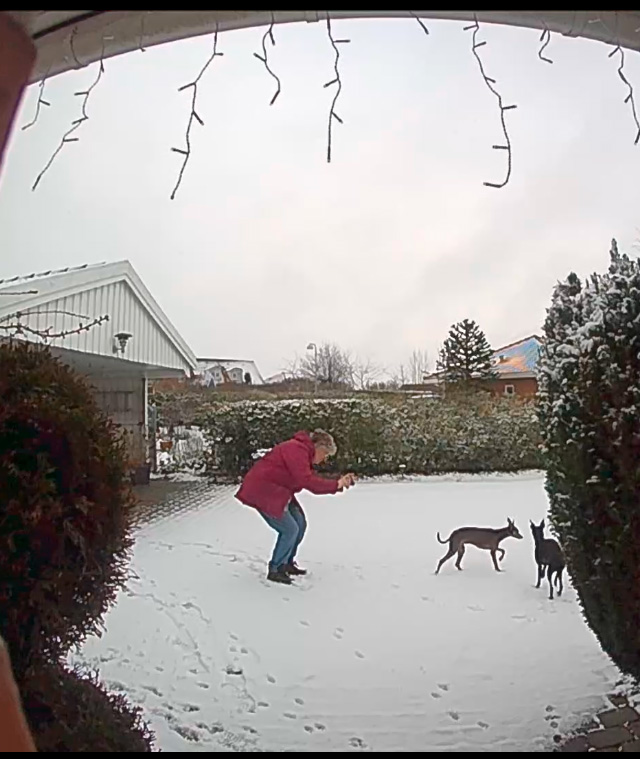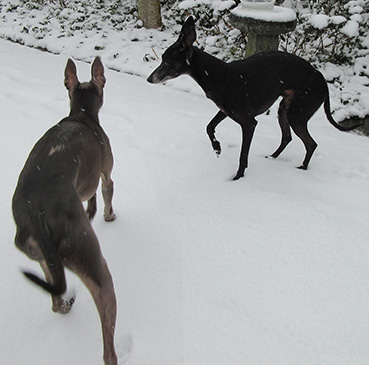 Two days later and much has melted.